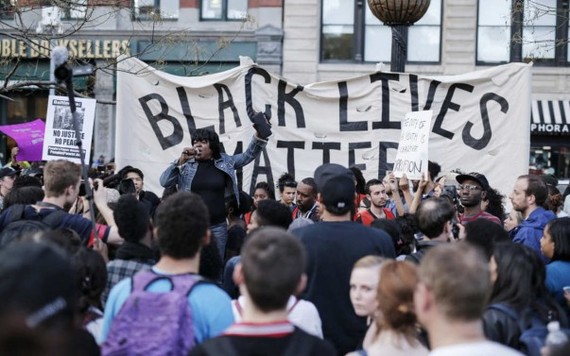 The first of the police officers who were charged with Freddie Gray's death goes on trial at the end of November. The judge has imposed a gag order on all the participants. But it hasn't held back various voices from commentary on what went wrong and what could happen.
At the top of the list is National Book Award winner Ta-Nehisi Coates. In his book, Between the World and Me, he writes a letter to his son, chronicling his upbringing in Baltimore. The author details the death of his best friend, Prince Jones, who dies at the hands of the police. Coates notes the numerous similarities between Jones' and Gray's cases.
"Baltimoreans are upset for the same reason Black people who live in Black communities around this country are upset. Part of living in cities like Baltimore, you're submitting yourself to laws and policies that ensure that there will be a higher/larger police presence."
The author instinctively knows the rage will not go away. He is almost fatalistic in his thinking, "until there is some sort of policy change...I'm just not seeing it now." He knows people will perceive his book as the reason for the anger in the streets. He confesses, "It answers why I was angry."
Trying to make sense of the carnage and symptoms which lead to protests on the street is D. Watkins. Also a Baltimore author, he speaks of his transition from drug dealer to college professor in the Beastside: Living (and Dying) While Black in America. "The anger is not new." He tells me he "attacked these issues long before Freddie Gray and the uprising happened." He explains the anger as inter-generational. His father, his uncles, and older brothers went through the same thing.
"I can't take a day off, I won't even see the changes I want see but, that doesn't make me exempt from trying my best to lay down a foundation for the next group of young people coming up. So it can get a little better," Watkins said.
On the other end of the spectrum is Tyrone Powers, a former FBI agent and expert in the criminal justice field. He wondered aloud, "what is the end game?" He faced a similar question when he worked with the Bloods, Crips and a prison gang known as the Black Guerilla Family. "They wanted to know, what is the step by step process? From evolving in [and] out and to [be] able to successfully take care of ourselves."
Read more compelling African American focused content at EBONY.com.
Calling all HuffPost superfans!
Sign up for membership to become a founding member and help shape HuffPost's next chapter