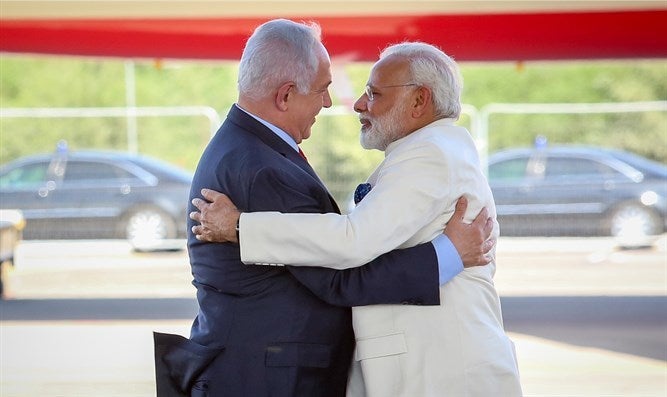 India-Israel ties have witnessed an upswing since Narendra Modi's election as India's prime minister in May 2014. The Indian leader has raised the profile of the bilateral relationship while steadily recalibrating the country's foreign policy toward a more balanced approach in the region. Last June, he became the first Indian prime minister in history to visit Israel, where the famed personal chemistry he shares with Israeli Prime Minister Benjamin Netanyahu was on full display. In a sign of just how close the two countries—and two leaders—have become, Netanyahu is scheduled to visit India later this month.
And yet, India-Israel relations have experienced considerable turbulence in recent weeks. In December, India shocked the Jewish state by voting in favor of a United Nation resolution condemning U.S. President Donald Trump's controversial decision to recognize Jerusalem as Israel's capital. India's own experts predicted the country would choose to abstain rather than vote against its close friend. And earlier this month, one of Israel's leading defense technology firms confirmed the Indian Defense Ministry had cancelled a $500 million missile contract with it to give Indian state-run agencies the opportunity to manufacture an indigenous anti-tank missile instead.
Taken together, these events have resulted in skepticism over strength of the bilateral relationship. A recent headline in Haaretz, for example, declared that India does not want a "serious relationship" with Israel. A retired Indian diplomat echoed a similar sentiment, asserting that the foreign relations between the two states are not as strong as either side believes.
Such conclusions are not just mistaken but misguided. Bilateral ties have proven their resiliency time and time again. The strategic partnership the two countries embarked upon more than a quarter-century ago is one based upon a genuine congruence of enduring common interests, ranging from fighting terrorism to exploring space. To judge the relationship based upon a singular UN vote or a cancelled defense contract is not only myopic, but also belies the multidimensional nature of India's longstanding relationship with the Jewish state. The reality is that India-Israel relations have never been stronger.
Despite sharing a slate of similarities, including British colonials pasts, democratic forms of governments, and hostile neighbors, India and Israel remained estranged for nearly fifty years. India's historic support for the Palestinian cause, the purported constraints created by its own significant domestic Muslim population, and Cold War politics were just some of the reasons explaining India's unfavorable, if not outright hostile, posture toward Israel. The result was a zero-sum Indian foreign policy in the region that reflexively supported the Palestinian position and prompted New Delhi to curtail its diplomatic engagement with the Jewish state. The end of the Cold War finally compelled a reassessment of India's Israel policy and a jettisoning of the outdated assumptions underlying it.
Although India earned the dubious distinction of becoming the last major non-Arab country to establish full diplomatic ties with Israel in 1992, the two countries quickly made up for lost time. The two states established a multifaceted strategic partnership that spans virtually every arena of human endeavor. Defense trade, strategic cooperation, and agricultural & environmental collaboration represent key cornerstones of the relationship. No arena of partnership remains unexplored. The relationship has reshaped geopolitical and geostrategic landscapes in both the Middle East and Asia. Additionally, India-Israel ties appear insulated from the vagaries of partisan politics. Governments in both countries support strong relations regardless of where they sit on the political spectrum.
Moreover, diasporas and community organizations in both countries, as well as in the United States, have played a key role in strengthening ties between India and Israel as well with the U.S. Organizations like the American Jewish Committee (AJC), for example, have proven indispensable in further expanding India-Israel relations.
To be sure, the bilateral partnership has confronted serious challenges. New Delhi's longstanding relationship with Iran, for example, unsurprisingly presented its own set of complex issues for India-Israel ties. Tehran's suspected targeting of Israeli diplomats in New Delhi in 2012 put those complexities into sharp focus. Differences over technology transfer, end-user agreements, and a proposed free trade agreement have also created friction between the two states.
But in the face of these irritants, India-Israel ties have not only endured, but have proven remarkably durable. Leaders in both states have now allowed these, or other areas of disagreement, to jeopardize the foundation of the relationship and the positive momentum surrounding it. Rather, they recognize that differences, even between the closest allies, are inevitable.
As Prime Minister Netanyahu's visit to India next month illustrates, the India-Israel bilateral partnership continues to reach unprecedented heights, particularly as its political and public profile continues to expand. The overall upward trajectory of India-Israel relations will not be compromised by New Delhi's UN vote or decision to cancel the defense contract. Assertions to the contrary are inconsistent with both the history and character of the relationship. It is important to remember that the two countries are bound together by a congruence of common values and interests. Ultimately, the underlying strategic logic of the partnership remains unaffected by recent events and India-Israel relations will continue to flourish.
REAL LIFE. REAL NEWS. REAL VOICES.
Help us tell more of the stories that matter from voices that too often remain unheard.
This post was published on the now-closed HuffPost Contributor platform. Contributors control their own work and posted freely to our site. If you need to flag this entry as abusive,
send us an email
.