KIBBUTZ EIN HASHLOSHA -- For Danny Cohen of Kibbutz Ein Hashlosha, it is hope that keeps the 50-year-old farmer living on the Gaza border.
Originally from Argentina, Cohen is the head of the kibbutz's emergency response team and is among the 60 kibbutz members who have remained on the kibbutz despite the rocket fire and Hamas infiltrations into the region. The rest of the 300 kibbutz residents have temporarily left, seeking relief in central and northern Israel.
"In the last few years, half of the homes on the kibbutz have been struck by rockets, both by direct hits or by shrapnel from rocket explosions fired from Gaza," Cohen told Tazpit News Agency. "There is not one neighborhood on this kibbutz that has not been struck by a rocket."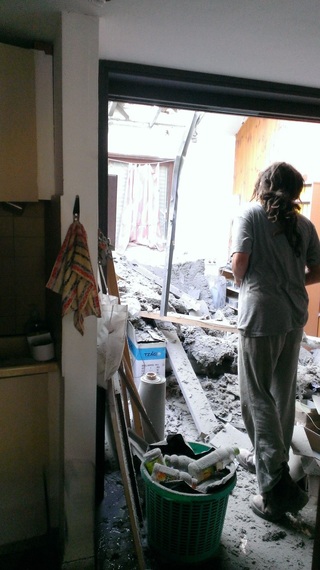 A home in the Eshkol Regional Council in southern Israel directly hit by Gaza rocket on July 26. Photo: Eshkol Regional Council
Cohen points to the most recent house that has been directly hit by a rocket over a week ago, July 17. The blue sky can been seen through a wide gaping hole penetrating the ceiling of the living room and bedroom, which are now full of debris, where a Gaza rocket explosion left its devastating mark.
Chaya Pachuk, the 84-year-old grandmother who lives in the now partially destroyed house, was not home at the time of the rocket strike. Photos of Pachuk's grandchildren and children are among the dust and debris.
Pachuk, who was born in Uruguay, was one of the founding members of Ein Hashlosha. She made aliyah before the founding of the state of Israel and helped establish the Gaza border kibbutz with her husband in 1950. Two days before the rocket strike, Pachuk had gone to her son in Tel Aviv, who had asked his elderly mother to stay with his family during the war.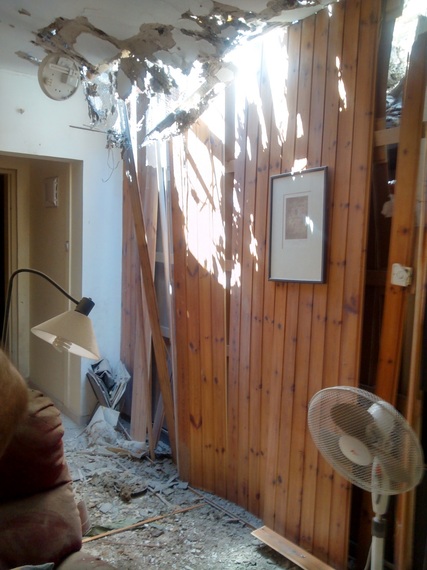 Chaya Pachuk's living room, directly hit by Gaza rocket, 2.5 kilometers away from the Gaza Strip on Thursday, July 17. Credit: Anav Silverman, Tazpit News Agency
"We called Chaya to let her know what had happened," Cohen told Tazpit. "She told us that everything would be fine -- that she would come and sweep up the mess herself with a broom and dustpan. She doesn't realize that she can't sleep in her bedroom because only part of the ceiling remains."
"It's been very difficult for the elderly members of the kibbutz to accept what is happening," Cohen explains. "They can't process the reality of what the rockets are doing to their homes and communities. They are in a kind of denial."
Kibbutz Ein Hashlosha, which is 2.5 kilometers away from the Gaza border, is located in the Eshkol Regional Council, which has been the target of over 500 rocket attacks from the Gaza Strip since the war began nearly three weeks ago. "This is one of the most heaviest-hit areas in southern Israel," says Cohen of Ein Hashlosha.
The Eshkol council, which shares a 40-kilometer border with Gaza and a 12-kilometer border with Egypt, has over 32 communities including 14 kibbutzim, 15 moshavim, and 3 community villages. With a population of 14,000 residents, many are farmers and the region supplies over half of the agricultural produce consumed in Israel.
Since the war began, over half of the population of the Eshkol Regional Council has temporarily left according to the spokeswoman, Ronit Minaker. "Much of the population has relocated temporarily to mostly northern Israel," Minaker told Tazpit. "The Regional Council supports this - this way the lives of our residents are not at risk, as they would be if they remained here."
For farmers, the story is different. "As a farmer, it's not so simple to move away," says Cohen. "This is not only our home, but our livelihood as well. The farmers stay here no matter what -- we have to take care of the livestock, cows, crops, and fields. We can't just leave all this behind."
One of the most worrying developments during the recent war, says Minaker, are the number of Gaza tunnels that have been dug into Israel, through which Hamas terrorists have attempted to infiltrate the Eshkol region on several occasions now. On Saturday, July 19, Eshkol's, Ein Hashlosha and nearby Re'im, Kissufim, and Sufa, were under lockdown when Hamas terrorists infiltrated the area twice through a tunnel dug near Ein Hashlosha. Residents remained in their homes with doors and windows locked for hours on that Saturday. Two IDF soldiers patrolling near Ein Hashlosha were killed by antitank missile and gunfire by the terror cell before the terrorists were stopped.
"Just imagine waking up in the morning and in your backyard, there are terrorists coming out of a tunnel, who want to kill you," says Minaker.
Nevertheless, the communities in Eshkol are very strong, notes Minaker. "There is not one community that is completely empty of people."
"Despite the rockets in the past seven years, there has actually been a 35 percent increase in population -- people move here because of the quality of life, the scenic nature, and good community atmosphere," she explains. "Each kibbutz and village has an emergency response team that addresses the security situation and keeps residents informed. There is also a resilience center as well as a rocket-proof school."
"We just want to continue with our lives," says Minaker, who was born and raised in Eshkol. "We want our children to sleep in their own beds and to be able to enjoy summer vacation the way they should."
"Change and hope for the future is what holds us here - the thought that tomorrow might be a better day," Cohen said. "If we didn't think like this, then it would truly be difficult."
Support HuffPost
The Stakes Have Never Been Higher
Related
Popular in the Community