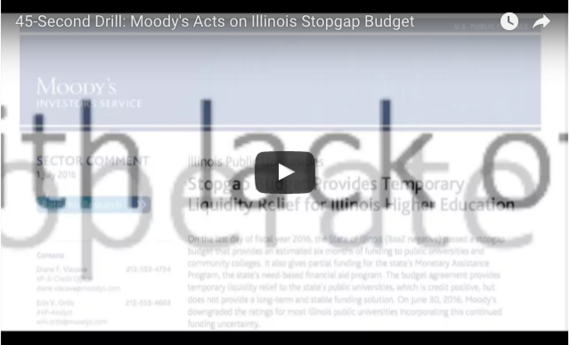 After an entire year without an operating budget, Illinois breathed a sigh of relief June 30 when Republican Gov. Bruce Rauner and the Democratic Legislature finally agreed to a temporary plan to get state government through the end of the calendar year.
To Moody's Investors Service, however, the Illinois stopgap budget was just another symptom of the paralysis that grips Illinois state government. The ratings agency viewed the emergency, six-month plan as yet another example of Illinois prolonging and worsening its fiscal malaise.
Within hours of Rauner signing the deal, Moody's downgraded the credit ratings of most of the state's public universities and said they're being damaged because of state government's failure to enact a true budget that balances its spending and revenue.
"Universities will continue to operate with lack of budget clarity into FY 2017, limiting long- term planning and investment in programs and facilities. They still face high likelihoodof continued state funding reductions and delays given the state's fundamental fiscal challenges," Moody's said. "While the stopgap budget provides temporary operating relief, it does not permanently restore liquidity, which has been severely depleted at many of the state's public universities due to operating without state funding for much of FY 2016."
That's not a message any university wants to send nationwide as it competes for students and faculty.
With Rauner and House Speaker Michael Madigan both adamant that their positions on budget negotiations have not changed, a renewal of the budget impasse of 2016 seems all but inevitable come December.
Related
Popular in the Community