Last month, I traveled with the NY based Creative Time to Athens to experience Document 14, before traveling to Venezia for the Biennale. Both festivals presented opportunities to engage with and assess the current cultural, political and economic status of the European art scene. On the surface, these festivals are simply international gatherings of artists exhibiting their work, but the current politics of instability and uncertainty are strongly represented. Perhaps most ironic and telling about this reinvigorated art scene is that it is taking place in areas that have been hit the hardest by what is considered the worst global refugee crisis in our generation, with nearly 30 million refugees in Europe alone – 65 million worldwide.
Having had residency in Rome for over 20 years, I have witnessed the many recent changes and political challenges, and how the arts have been used as a powerful venue for reflection.
In Greece, which has recently absorbed thousands of refugees and is the center of severe economic problems in the EU, the notion of Germany hosting Documenta 14, its fragmented Kassel art show in the capital of Athens was cynically received by the Greek public, many of whom resent Germany's hold on Greece's economy. The show was referred to as "Crapumenta", and the first few weeks occurred in conjunction with the latest Greek austerity vote, accompanied by tear gas protests and ongoing strikes.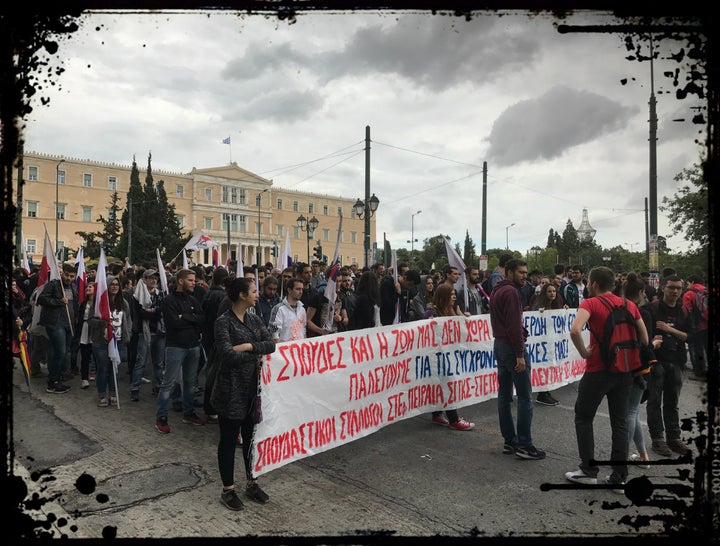 Protests in Athens against the Austerity Vote, organized by major trade unions. May 2017
In collaboration with the Onassis Cultural Center, Creative Time hosted an international gathering, entitled "On Homelands and the Stateless as the World Tilts Right", investigating the challenges facing artists and activist communities under our prevailing economic and political conditions.
A variety of artists and panel discussions highlighted the current and unique Greek reality, and the endurance of an intense and overwhelming influx of refugees, near bankruptcy and social turmoil.
Through these discussions, it was clear that Athens offers a perfect template to explore displacement, debt and identity crisis through the medium of arts activism.
One example of this is Michael Landy's "Breaking News", which uses the Diplarios school building in Athens' city center as an interactive venue, inviting the public to come and express their views. Through blue and white drawings pasted on the walls, representing the colors of the Greek flag, guests reflected and commented on the socio-political and economic grievances facing Greek society. In the midst of chaos, this heightened activism has spurred positive developments for the broadening appreciation, understanding, and creation of contemporary art in Greece.

The messages of artist Michael Landy's "Breaking News" portrayed in Documenta 14, held in Athens, Greece
A few examples include the Stavros Niarchos Foundation Cultural Center, a nonprofit organization with offices in Athens and in New York, and another called NEON, started by Greek entrepreneur and collector Dimitris Daskalopoulos, with the objective of making contemporary culture more accessible. NEON was recently profiled in the NY Times, which stated that "Since its founding, NEON has become one of the most important visual arts organizations in Greece. Because of the country's financial crisis, there has been a real struggle to get funding for the arts. NEON has helped ease that by supporting local Greek artists and curators and by providing grants and funding to numerous programs and organizations."
Alongside the Onassis Cultural Centre, these groups have brought focus and attention to contemporary arts in Greece, a country which had always been largely focused on its ancient heritage.
At the Venice Biennale, a show entitled "Viva Arte Viva", organized by Parisian curator Christine Macel from the George Pompidou Center, was meant to be a celebration of art for arts sake. In her words: "This exhibition is an exclamation, a passionate outcry for art and the state of the artist. It is a Biennale designed with artists, by artists and for artists." That said, while browsing the well known international pavilions in the Giardini and the Arsenale, I found that many of them strongly reflect the current social and geopolitical crises- art for the sake of more than art.
The always impressive Russian Pavilion took on surveillance, terrorism and cybersecurity. "Scene Changes" depicts a metaphor of a new emerging world order, and the growing aggression, terror, irrationality and unprecedented monitoring and control tactics that permeate our society; an obvious reflection on past Soviet times and present day politics.
The Tunisian pavilion in the Arsenale entitled "The Absence of Paths" addresses the displacement caused by the refugee crisis, with three kiosks installed around the city, run by Tunisians on temporary visas, offering visitors fake travel documents called "freesas". Visitors interactively participated by using their thumb print to validate this document which states that it endorses "a philosophy of universal freedom of movement without the need for arbitrary state-based sanction".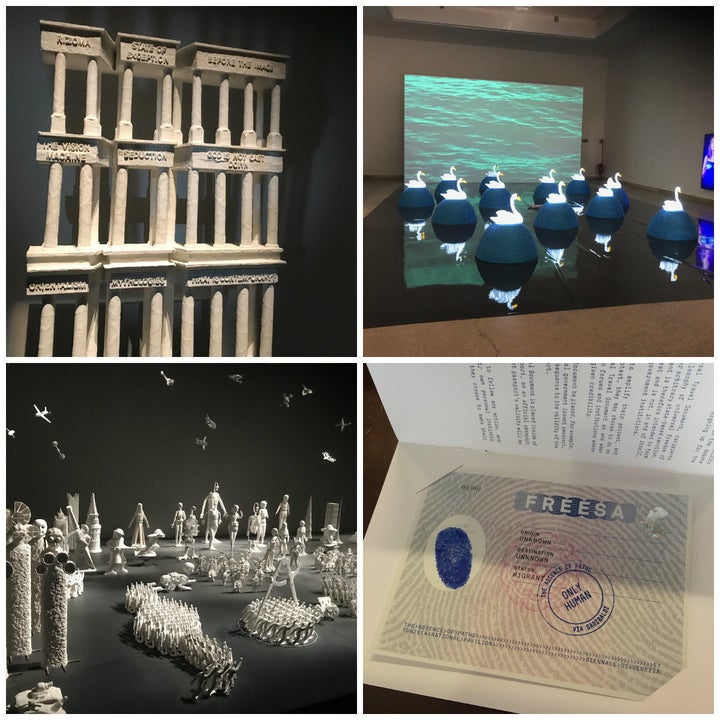 On the left, images of the Russian Pavilion and to the right, the Slovakian (top) and Tunisian displays at the Venezia Biennale
The German pavilion received a lot of attention with its Faustian themed performance art, and barking Doberman Pinschers as background. Visitors watch an alienating, disturbing performance through a transparent floor, with performers interacting, but disconnected from each other. Definitely a metaphor on elements of Germany's dark history, and commentary on the separation, control and surveillance that technology brings to our society.
In contrast to the many artists and pavilions that touched on current geopolitical themes, others, such as Chinese artist Liu Jianhua, Slovakian artist Jana Želibská, Hungarian artist Gyula Várnai, and Brazilian artist Ernesto Neto, have taken their work in the opposite direction, offering a retreat into spirituality to satisfy "the implacable human yearning for constancy in a world driven by unremitting change." Ernesto Neto takes things a step further in his "A Sacred Place" (Un Sacrado Lugar) creating the "Pavilion of Shamans", a Shaman's tent where visitors can spend hours exploring the concept that we live in a time where "the need for care and spirituality is greater than ever".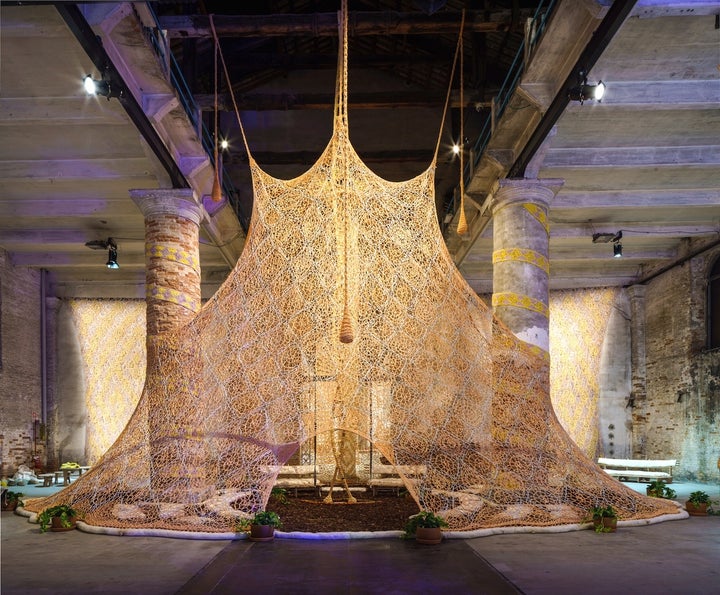 Ernesto Leto's "The Pavilion of Shamans"
The Biennale also took on a commercial and controversial element this year, with the reemergence of Damien Hirst, who has not exhibited new work in the last decade and who was accused of copying a Nigerian artifact in his show "Treasures from the Wreck of the Unbelievable" at Palazzo Grassi. The show has been largely discredited and strongly criticized by top art critics, and up until now, his art dealers have declined commentary regarding sales.
Both Documenta 14 in Athens and the Biennale in Venezia, which took a chance this year in engaging over 100 unknown artists, and was criticized by many in the art world as not being up to par compared to past editions, simultaneously disillusioned, challenged and engaged viewers.
As a representation of today's world full of conflict and instability and at a time when our humanity feels under threat, art mirrors and witnesses our human vulnerability and is a powerful template for expression and introspection. It fuels debates and inspires us to change our world for the better, yet it does not give us concrete answers on how to achieve this.
These diverse shows therefore provide each viewer with a sort of journey; one that is continuously open to interpretation and one that encourages discovery, challenging us to have the courage and the faith to find our own understanding and to make our own choices.
Related
Popular in the Community