North Korea's nuclear test earlier this month, its largest ever and second this year, follows an unprecedented campaign of provocations including ballistic missile launches, which Pyongyang claims are intended to serve as delivery vehicles for nuclear weapons targeting the United States and our allies, South Korea and Japan.
Now I want you to stop for a minute and really think about this. Combining nuclear warheads with ballistic missile technology in the hands of a volatile leader like Kim Jong-un is a recipe for disaster.
I know there's some debate about the miniaturization advancements made by Pyongyang. But PACOM must be prepared to fight tonight, so I take them at their word. I must assume their claims are true – their aspirations certainly are. So we must consider every possible step to defend the U.S. homeland and our allies. That's why the Republic of Korea-U.S. alliance has decided to deploy the THAAD system in South Korea as soon as possible. That's why I continue to emphasize trilateral cooperation between Japan, South Korea and the United States.
All nations must continue to rally the international community to loudly condemn North Korea's aberrational behavior and be prepared to counter this challenge.
"Nuclear warheads and ballistic missiles in the hands of a volatile leader like Kim Jong-un is a recipe for disaster."
Other significant challenges are posed by a revanchist Russia and an assertive China. Both Moscow and Beijing have choices to make. They can choose to disregard the rules-based international order or they can contribute to it as responsible stakeholders. I've been loud and clear that I prefer cooperation so that we can collectively address our shared security challenges.
Regardless, America's ironclad commitment to our treaty allies will never waiver. And across the region, including in the East and South China Seas, the United States will continue to fly, sail and operate wherever international law allows and support the right of all nations to do the same.
From my perspective, we will continue to cooperate where we can and will be ready to confront where we must.
I'm often asked about what to do in the face of these challenges I've spent the last few minutes talking about ― and my response is two-fold.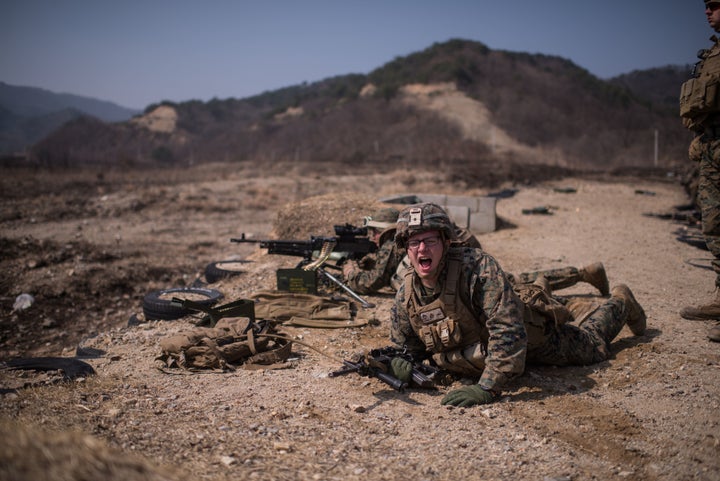 First, as the PACOM commander, I must be ready to confront all challenges from a position of strength with credible combat power. Second, I need help to find creative solutions to the challenges ahead of us.
From Silicon Beach to Silicon Valley and throughout our nation, I need visionaries to continue developing cutting edge technology that helps our military maintain our significant asymmetric advantages.
Thanks to America's strategic "rebalance," everything that's new and cool in the U.S. military arsenal is coming first to the Pacific. Advanced aircraft like the Joint Strike Fighter, P-8 Poseidon and the E-2D Hawkeye. More U.A.V.s like the Triton and Stingray, more advanced aerial platforms like the V-22 Ospreys, and more new ships like the Gerald Ford class aircraft carriers and littoral combat ships.
And, there's the D.D.G.-1000 program. The lead ship, U.S.S. Zumwalt, is scheduled to be commissioned next month and then home-ported in San Diego. Folks, this region is getting a ship even the Klingons would fear.
"The U.S. will continue to fly, sail and operate wherever international law allows, and support the right of all nations to do the same."
And the destroyer skipper's name is Captain James Kirk. You just can't make this stuff up.
Jokes aside, this is serious business. If we have to fight tonight, I don't want it to be a fair fight. If it's a knife fight, I want to bring a gun. If it's a gun fight, I want to bring in the artillery ― and all of our partners with their artillery.
But as I said during Congressional testimony last year, sequestration could reduce us to wielding a butter knife in this fight. So getting sequestration repealed is the first of three issues where we could use the support and brainpower of those in this room.
The second issue is the Trans-Pacific Partnership. Now, no one should misconstrue my comments about T.P.P. as lobbying for legislation. Those of us who wear the uniform know better. And anyone who's met me knows I'm no economist – I have enough problems just balancing my checkbook.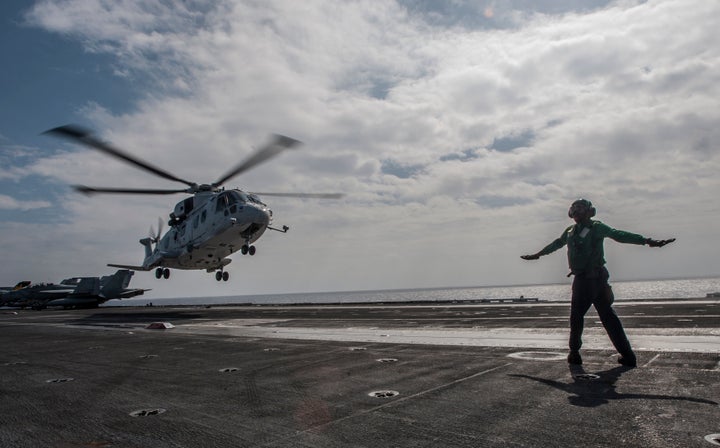 But I'd be remiss in talking about the future of Asia if I didn't mention the security aspects of this proposed 12-nation agreement that would account for nearly 40 percent of the world's GDP.
You don't have to be an economist to know that the foundation of American security is a strong economy ― and the economic future of the United States lies in the Indo-Asia-Pacific. Increased trade binds nations closer together because there's more to lose when there's instability. T.P.P. would strengthen stability and security by deepening our relationships throughout the region and raising the bar to entry to protect the things that matter. This includes enhanced cybersecurity, privacy and intellectual property protections. T.P.P.'s provisions to combat the theft of trade secrets, including by cyber theft, and protects our defense industrial base. And obviously, our partners who've signed up for T.P.P. see it as a vital demonstration of America's enduring commitment to the region.
The third and final issue is UNCLOS, or the United Nations Convention on the Law of the Sea. I think the recent decision on the South China Sea validates the strategic importance of UNCLOS and argues for U.S. ratification of the convention. United States policy is to fully adhere to the provisions in UNCLOS. And our military forces around the world reinforce its standards by operating consistent with the rules in UNCLOS.
In my personal opinion, I think that by not ratifying it, that we lose some of the credibility for the very thing that we're arguing – full commitment and respect for rules and norms in the international arena. While some good people argue that we should not ratify the treaty, I think the positives overcome the negatives. I believe we should align with most of the world – in fact, over 160 countries – and join UNCLOS. At the end of the day, America is a beacon of freedom and hope across the world for sure, but I think that light is brighter if we ratify UNCLOS.
"If we have to fight tonight, I don't want it to be a fair fight. If it's a knife fight, I want to bring a gun. If it's a gun fight, I want to bring in the artillery."
Earlier this month was the 15th anniversary of the 9/11 attacks on our homeland that forever changed our country and our entire joint military force. It's not lost on me that we've been at war these last 15 Septembers – 15 years of sacrifices made by those in uniform and their families.
We're fortunate to have men and women who volunteer to serve our country – whether it's to keep the peace in Asia or to go into harm's way in Afghanistan and Iraq. But we're also richly blessed to have informed citizens who are aware of the challenges, opportunities and dangers we face in the Asia-Pacific and around the world.
General George C. Marshall ― a great American military leader and the only person to ever be secretary of state and secretary of defense ― once noted that "Democracy is the most demanding of all forms of government in terms of the energy, imagination and public spirit required of the individual."
That public spirit is much in need today if we are to find real solutions to complex challenges and have the will to see them through.
Related
Before You Go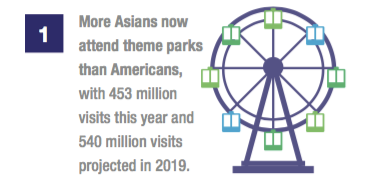 Future of Asia: by the numbers
Popular in the Community