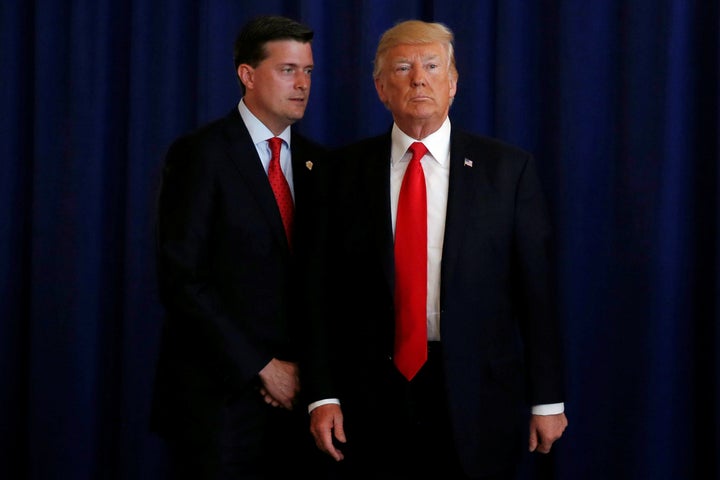 Most Americans believe that domestic abusers shouldn't be allowed to work in politics, a new HuffPost/YouGov poll finds, and those who've followed stories about former Trump aide Rob Porter largely say that he wasn't suited to work in the White House.
Americans of all political stripes have little sympathy for Porter, or for others alleged to have committed domestic violence. But there's a significant intensity gap between the outrage shown by Hillary Clinton's voters and that demonstrated by the rest of the country — one that often outpaces the gap along gender lines.
A 64 percent majority of the public says that someone credibly accused of domestic abuse should be disqualified from serving in politics, with just 11 percent saying they should not be. Eighty-four percent of Clinton voters say that facing such allegations should be disqualifying, as do 56 percent of Trump voters, and 58 percent of everyone else polled, including non-voters and those who chose a third-party candidate in 2016.
Two-thirds of Americans say they've heard at least a little, and 25 percent say they've heard a lot in the news about Porter, who resigned as White House staff secretary after his two ex-wives came forward to say he had physically and verbally abused them. One of the women provided photographs of her injuries. Both said they'd reported their allegations to the FBI during a background check on Porter, who didn't hold a security clearance.
Of Americans who followed the story at all, 51 percent say the allegations against Porter are credible, and just 5 percent that they're not; the rest are unsure or say they haven't heard enough to weigh in. A majority, 63 percent, say the allegations against Porter are disqualifying, with just 14 percent saying they aren't. And a 43 percent plurality say that President Trump and other White House staffers didn't react strongly enough to the accusations, with 24 percent saying the reaction was about right, and just 8 percent that the administration reacted too strongly. (Clinton voters were the most likely to say they were following the story, which perhaps helps to explain some of the results.)
The White House, which has struggled to offer a clear timeline of when senior staff found out about the allegations, initially defended Porter after the abuse allegations broke. White House Chief of Staff John Kelly described him in a statement as "a man of true integrity and honor," before releasing a second statement in which he said he was "shocked" by the allegations and that there "is no place for domestic violence in our society."
In his first comments on Porter's resignation, President Trump said "it was very sad" to hear the news about Porter, but that "he says he's innocent, and I think you have to remember that."
Among those who've followed the story, Clinton voters take the strongest line against Porter and the administration: 82 percent say the accusations against the former staffer are credible, 89 percent that they're disqualifying, and three-quarters that the White House did not respond strongly enough.
Trump voters, are more tepid in their condemnation, but they aren't exactly rallying around Porter either. Just 29 percent say the allegations against Porter are credible, but only 5 percent say they are not credible, with the rest declining to offer an opinion. And by a two-to-one margin, 44 percent to 22 percent, they say that Porter shouldn't be able to hold a job in the Trump administration. Most, however, say they're comfortable with the way the White House handled the story.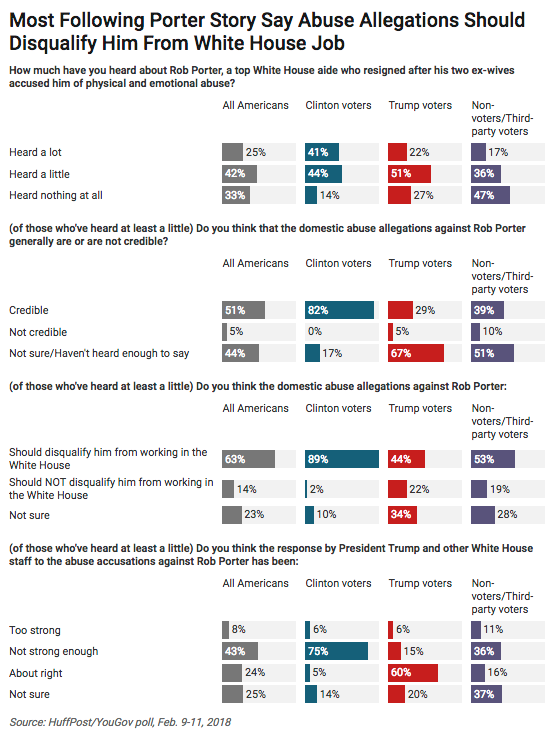 Just over half of all Americans, 51 percent, currently say that President Trump does not respect women, while just 30 percent say that he does. Eighty percent of Trump voters, but just 2 percent of Clinton voters, believe Trump respects women.
There are significant divides over the seriousness of domestic abuse as a national issue. The vast majority of the public, regardless of the gender or whom they voted for, say that it's at least a somewhat serious problem. But women are 19 points likelier than men to say domestic abuse is a very serious issue, and Democrats are 18 points likelier than Republicans. The gap between Clinton and Trump voters is 36 points, making Clinton voters about twice as likely as Trump voters to say domestic abuse poses a very serious problem.
There are some differences by gender inside each voting bloc, as well. Female Clinton voters are 12 points likelier than male Clinton voters to say domestic abuse is a very serious problem, and female Trump voters are 24 points likelier to say so than are their male counterparts.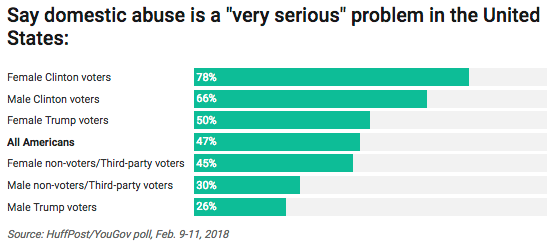 Use the widget below to further explore the results of the HuffPost/YouGov survey, using the menu at the top to select survey questions and the buttons at the bottom to filter the data by subgroups:
The HuffPost/YouGov poll consisted of 1,000 completed interviews conducted Feb. 9-11 among U.S. adults, using a sample selected from YouGov's opt-in online panel to match the demographics and other characteristics of the adult U.S. population.
HuffPost has teamed up with YouGov to conduct daily opinion polls. You can learn moreabout this project and take part in YouGov's nationally representative opinion polling. More details on the polls' methodology are available here.
Most surveys report a margin of error that represents some, but not all, potential survey errors. YouGov's reports include a model-based margin of error, which rests on a specific set of statistical assumptions about the selected sample rather than the standard methodology for random probability sampling. If these assumptions are wrong, the model-based margin of error may also be inaccurate. Click here for a more detailed explanation of the model-based margin of error.
Popular in the Community