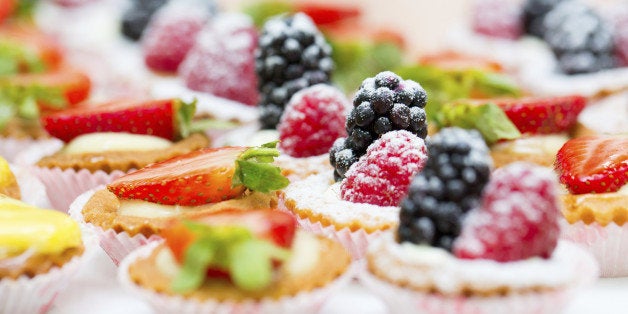 As a pastry chef who makes a living creating desserts with sugar and butter it may surprise you to hear me say publicly we all need to cut back on the amount of sugar and fat we consume.
• One hundred and fifty-six pounds. That's how much added sugar Americans consumes each year on a per capita basis, according to the U.S. Department of Agriculture (USDA). Imagine it: 31 five-pound bags for each of us.
• Nearly one in three (31.8%) U.S. children (23.9 million) ages 2 to 19 are overweight or obese.
• All in all, obesity and overweight account for nearly one of every 10 American deaths, and they also drain our society of $223 billion a year.
Every day a new study comes out exposing the sins of sugar and fat. Movies like Fed Up and Lunch Hour show us how out of control it is. Sugar and fat have become something we eat for breakfast, lunch, dinner and every snack in between.
We are essentially eating dessert several times a day.
Dessert by definition is a sweet cake, pie, pudding or cookie served at the end of a meal. But dessert isn't the villain. It's the amount we consume desserts -- and the added sugar in processed foods -- that we need to address.
In the 1980s, alcohol companies launched public awareness campaigns to help combat drunk driving. (Anheuser-Busch's campaign Know When to Say When is more than 30 years old!). We didn't stop drinking; we are just more careful how much we partake or we order an Uber or Lyft.

We need to look to the sugar and food manufacturers to take the same responsibility. Food manufacturers need to stop feeding junk food to our kids at school and pretending it is ok.

We also need to do our part. You may not get pulled over for eating too many pieces of chocolate cake but your life depends on it.

We need to show them we can (and will) take control of what we put in our mouths. It wasn't that long ago we had a different attitude to desserts. As a kid of the baby boomer generation, I remember desserts as a treat. Something you splurged on occasionally. You didn't have it every night and you certainly did not have it for breakfast or the sugar equivalent in sodas between meals.
One simple thing we can all do is to start the conversation. I'm using #dessertworthy on Twitter, Instagram and Facebook to shine a spotlight on desserts that simply aren't worth the time, calories or sugar and showcase delicious, affordable and healthier options.

Every time you are thinking of having dessert ask yourself if what you are about to eat is really worth the calories. Is it dessert worthy? If so, take a picture and tag it #dessertworthy.

Sure it's hard when we are faced with sugary, fatty foods all day long. But you have to focus on the long-term rewards as well as instant gratification. Desserts should taste incredible or we shouldn't waste our time.

Even the most vocal anti-sugar people, like Robert Lustig, say it's okay to eat dessert when it is occasional and part of a well balanced diet. Desserts taste great and are a large part of special moments in our lives -- layer cakes on your birthday, traditional family favorites on holidays.

If we are smart we can have our cake and eat it too.