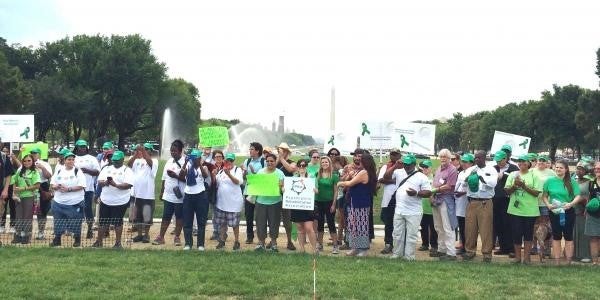 The blue sky was a glistening like a jewel as the crowd gathered at the reflecting pool at the capitol on (October 10th) World Mental Health Day. The energy of the gathering crowd was electric. Hundreds of mental health consumers and advocates, many who had traveled for days by bus – to take on centuries of injustice, prejudice and discrimination. "What do we want?" the crowd roared, full-throated with a vision of a new era. The response, of course is "Dignity – Now!"
As presiding judge of America's first mental health court, dignity is an embedded theme and a procedural fidelity. A problem-solving court, established in 1997, the court advances multi-level goals, including therapeutic justice, the promotion of public safety and decriminalization, with a vision to end the criminalization of people with mental illness. As the court nears its twenty-year anniversary (with close to 20,000 people diverted from Broward's jail) the call for human rights, health equity and enhanced access to community mental health care, housing and supports continues.
The emergence and growth of the Destination Dignity movement has created a new sense of urgency to end the trend of the criminalization of people with mental illness. At the pre-march rally, as speakers took the stage to share the many truths about the dehumanization of discrimination surrounding mental illness, the chasm of what we know about mental health and recovery stood in stark contrast to the state of mental health in America. A reality which was as clear and vivid as the sky above us.
Per the research, hundreds of thousands of people effected by mental illnesses, intellectual disabilities and brain injuries are locked away, out of sight and out of mind, in U.S. jails, and prisons. These institutions which are often under-funded and under-staffed, serve as a shadow state hospital system. A condition, which from a health care and human rights perspective is self-defeating and economically not sustainable. According to major national policy centers, the misuse of jails and prisons, churns a revolving door, and perpetuates myths and stigma that people with serious mental illnesses are incapable of recovery and wellness.
From a civil rights perspective, the failure of governmental entities to promote recovery, sends a subtle message that people with psychiatric and related disabilities are not able to live, learn and engage in the community. A premise, which is not only false, but denies equality and fundamental constitutional protections under law. These irrational and false belief systems prevent progress. Stigma is reinforced through funding shortfalls and enhances barriers to community care, which leads to reactionary systems of care. A dynamic which is exacerbated by a lack of education and compliance with The Americans with Disabilities Act, Title II and Olmstead v. L.C.
Therefore, it is not inconsequential that Broward's Mental Health Court was established as a human rights strategy. At the rally, I share my experience with dignity through the mental health court process. First, that dignity is its own force. Also, that dignity is multi-faceted. Dignity, levels the playing field, allays fears, promotes equality and procedural fairness. More to the point, I have learned "that the rejection of stigma in favor of human dignity and equality, is the essence of social justice."
As we marched through the streets of Washington D.C., mental health consumers and activists were supported by a police escort. Thanks to Destination Dignity and courageous advocates, I am inspired and convinced that the criminalization of people with mental illness will end. Together, with the help of advocacy through social media, the shame of stigma will not survive. Further, I am confident that the universal truth; that there is no health without mental health will prevail. In the meantime, explore the goals of Destination Dignity and be a voice for justice and dignity, to lead change - as a matter of human rights.
REAL LIFE. REAL NEWS. REAL VOICES.
Help us tell more of the stories that matter from voices that too often remain unheard.
This post was published on the now-closed HuffPost Contributor platform. Contributors control their own work and posted freely to our site. If you need to flag this entry as abusive,
send us an email
.