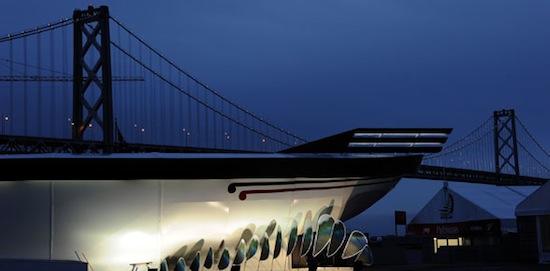 "There's nothing in the world -- and no place in world -- like sailing in the South Pacific," said Warren Douglas, head of communications for Emirates Team New Zealand team.
San Francisco is playing host to the world's most prestigious sailing competition, the 34th America's Cup. New Zealand -- the only country represented officially as a partner in an America's Cup racing team -- created a series of activities to celebrate their nation, and the Kiwi way of life, while on shore. The programs ranged from food and wine events to a new venue at Emirates Team New Zealand's official base on Pier 32. Designed to mirror the shape of a traditional "Waka" or Maori canoe (pictured), the 200-capacity venue can't be missed on the San Francisco waterfront.
At the time of publishing, the race was still going on, but the Kiwis are still the favorite to take home first prize. Nothing is for certain, though, in the world of sports and as these professional sailors will tell you, anything can happen at any time.
But before the races began, I stopped into the Emirates Team New Zealand hospitality tent for a chat with the chaps who had their eye on the prize to learn a little more about what sailing in the South Pacific is really like.
First up, debunking the myths.
Most people know New Zealand as the tiny island off the coast of Australia.
"What people don't realize is how large New Zealand really is," said Doug Reid, a host of Emirates Team New Zealand and part of the shore support team. "They think it's tiny and you can see everything in three days. Spend one week in Australia and three weeks in New Zealand and you'll almost see it all."
New Zealand consists of two main populated islands surrounded by hundreds of smaller, mostly uninhabited islands. It's hard not to take to the water while you're here, so Reid recommends you plan your trip well in advance so you can enjoy the natural surroundings.
"New Zealand is sub-tropical in the North and glacial in the South," he said. "You don't want to holiday here in July -- it will be ice all the time. January, February and March are the best times to go."
Stunning shorelines and pristine waters make yachting here a must-do. There's plenty of on-the-water activity making New Zealand a boaters paradise. But you don't have to know how to navigate the ship in order to sail. All you need a skipper, and a sense of adventure.
"If you have a skipper, you don't need any experience," said Douglas. "But, you won't enjoy a sailing holiday unless you're reasonably active. If you can't scramble in and out of a dingy easily, it's going to be a bit more challenging."
With nearly 10,000 miles of coastline to explore, it's almost impossible not to experience a day at sea while you're New Zealand. So, where is the best place to sail when you're in New Zealand? Who better to ask than the members of this award-winning sailing team.
"The Bay of Islands is hands-down the best place," said Reid.
This idyllic group of 144 islands is rated as one of the world's best cruising spots. Flanked by white-sand beaches, the Bay of Islands has somewhat calmer waters (time of year depending) and is known for its game fishing.
"You don't lock up the boat and go out for dinner somewhere," said Douglas. "You catch your dinner on the boat and cook it there with locals and friends."
As for getting there, Reid offers this little reminder for U.S.-travelers: "It's only a sleep away from San Francisco. Get on the plane, have your wine and dinner, and you wake up in New Zealand. What could be better?"
Here's what some of the other crew members had to say when asked, What's your favorite place to go sailing in New Zealand?
Adam Beashel, Strategist: "My favorite place is the Whangaruru Harbour, on Northland's east coast. I love the isolation of it, the greenery and the white sand beaches. It's a great place to go kite surfing, starting off the back of a boat. It's hard to believe that you can anchor there and be all on your own.
Ray Davies, Tactician: "It has to be the Hauraki Gulf - including Kawau Island, Great Barrier Island and even around Waiheke Island. It's so accessible to Auckland city, that you can really make the most of a weekend break. We've got a launch and we get out a couple of times a month in summer.
Dean Barker, Skipper/helm: "It would have to be the Bay of Islands; it's just stunning. I've sailed in a couple of Bay of Islands Regattas, where you race through all of the islands, and it is amazing - beautiful water, nice breezes, gorgeous white sand beaches. I've tried fishing there, but without much success. I'd like to blame the equipment, but it's more about the fisherman I think... It's definitely a place I would love to spend more time with my family. "
Richard Meacham, Utility: "There are two places in New Zealand that are on a par for me. The first is the Akaroa Harbour, on the coast out of Christchurch. It's a stunning place; when you drive there by land and drop down into the harbour, its beauty is so unexpected, it takes your breath away. My other favourite is the Karikari Peninsula in the Far North, especially Matai Bay. You can just slip into the water and pick out a crayfish, or pull paua from the rocks. It's magical."
New Zealand travel might not be in your plans, but there are options for experiencing the America's Cup.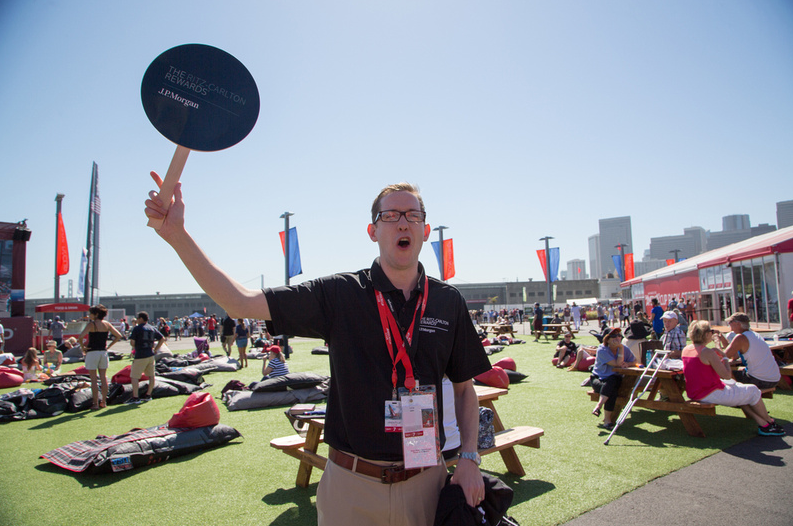 The Ritz-Carlton America's Cup Experience
The advantages of The Ritz-Carlton Rewards program are perhaps nowhere more evident than in its exclusive experiences -- once-in-a-lifetime adventures available to members that would not be available for purchase. On a recent Saturday afternoon, an intimate group of members traveled to The Ritz-Carlton, San Francisco for a backstage pass to this coveted sporting event.
After dinner at the hotel's Parallel 37 and breakfast in the club lounge, guests travelled to the America's Cup Park, an Olympics-style pavilion on Piers 27 and 29, built especially for the event. Guests drank champagne and cocktails during the opening ceremonies, which included team interviews, national anthems, a traditional New Zealand Maori Haka performance and a stunt pilot dazzling spectators with an air show over a cloudless sky.
Once the races were underway, guests climbed into high-speed, open-air RIB boats to watch the action from the best seat in the bay. Riders held on tight as they weaved between sailboats and luxury yachts, including Larry Ellison superyachts the Musahi and the Zenji. Towering above the water were the twin AC72s -- the 13-story Oracle and Emirates boats -- rounding the starting gate.
Once the race was underway, so were the guests, speeding by the Golden Gate Bridge and around Alcatraz Island, keeping pace with the competitors. Oracle and Emirates danced dangerously close to one another, splicing around corners and hurtling through the open water, as the guests chased behind. At the end of the day, New Zealand took the lead, but The Ritz-Carlton members were the victors. As one attendee put it, "I felt like a kid again."
Guests dried off, posed for photographs with the towering trophy and headed back to the hotel, where caviar, champagne and war stories awaited.
Want to know more about sailing in New Zealand? Tourism New Zealand has the answers to all your questions.