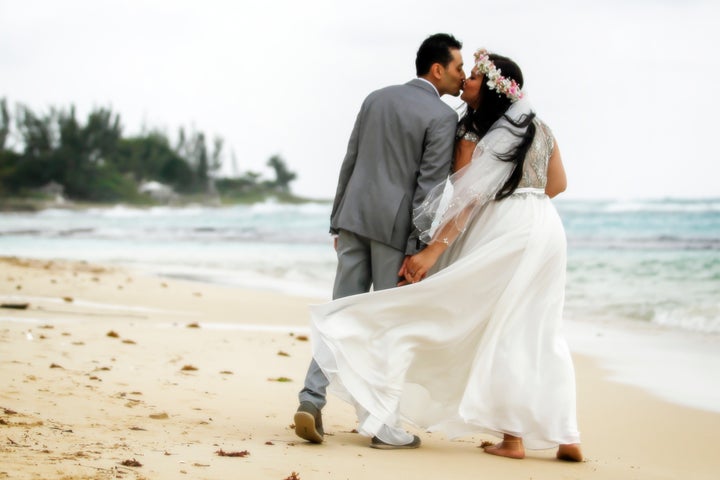 Destination weddings. What's better than combining your wedding day with an unforgettable vacation? Despite the excitement of a wedding getaway, one of the biggest concerns that couples make when choosing to take their wedding on the road is regarding those who can't make the trip to be there with them. Luckily, there are plenty of ways to bring the magic to those at home!
With technology nowadays, it can feel as if someone is right next to you even if they're halfway around the world. With the help of a gadget or two, you can be sure to include everyone in your special day. "Live-streaming your ceremony is a thoughtful gesture to those who want to partake from home, but even a simple Skype call in your wedding attire to help them feel involved can make someone's day," expresses Megan Velez of DestinationWeddings.com, a destination wedding and romantic travel planning company.
Social media also plays a big role, as it's an instant way to connect those at home with the party. "Share your wedding hashtag with friends and family so they can follow along with the photos posted that day," encourages Jamie Chang of Passport to Joy, an online wedding planning program that takes couples step by step through the entire process. "It'll give them a chance to interact and stay on top of the big moments."
In addition to a virtual connection, find a way to physically connect with them as well. "If you are doing regionally-specific gift bags, make up some extras for the friends and family that couldn't make it," shares Kim Sayatovic of Belladeux Event Design, an event design company based in New Orleans. "In New Orleans, we love to give away beignet mix, Tabasco sauce or coffee with chicory. Try to mail them before the wedding so they get them ahead of time and include your wedding hashtag so they can truly be a part of your special day."
Of course, having a destination wedding doesn't stop you from hosting another party at home! "It's important to be understanding of those who can't attend a destination wedding, but that doesn't mean they can't join in on the fun," reminds Velez. "One way to make sure everyone is a part of the celebration is to host a casual get-together once you return home. This allows you to unwind after the Big Day and enjoy the moment with everyone who couldn't make it."
Better yet, "hire a videographer to film the wedding," tells Chang. "Then share it and watch it with those who couldn't make it!"
If your dream wedding is out yonder, there's no reason to do anything but follow your dreams. But, keep in mind that some may not be able to make it, so take some time and effort to include them in your special celebration – they'll certainly appreciate it!
Amanda Zack is a proud millennial and wedding PR specialist with OFD Consulting, based in Richmond, VA. She also serves as a Public Relations adjunct professor at her alma mater, Virginia Commonwealth University. Inspired by the power of words, she is an avid storyteller with a love for animals, weddings, and anything else that elicits a smile.
Related
Popular in the Community