When planning a trip, your laptop screen usually looks like a tangled mess: Dozens of open tabs, hours upon hours of research and more flight-searching sites than you could ever keep track of.
But of course, Google is trying to change that. The tech giant launched a new Destinations tool, which lets you plan and book trips using just your tiny phone screen. Does the new tool work seamlessly? Not quite. Is it cool? YES.
We tested it out -- noting both the pros and the cons -- to find the best hacks that'll let you plan a getaway from your phone.
1. Let Google show you the cheapest trips within your desired travel region.
Say you want to visit Europe in the next few months, but you don't know which city will be cheapest. Google compares flight and hotel prices to recommend which trips will cost the least amount of money. And if that wasn't convenient enough, the tool then tells you which exact days to go for the best deal. To see this in action from the Google homepage, type a place name plus "destination" in the search box, and get your options.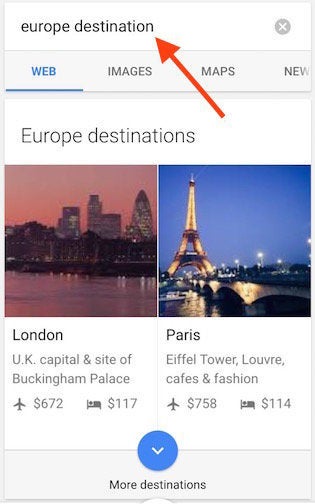 2. Filter your favorite activities, ideal price and narrower dates.
If you want to visit a European beach, for example, you can check off that preference on the "interests" list, and Google will recommend only beach-y cities to visit. You can also tell them your price constraints or specific travel dates in the "Filter" bar.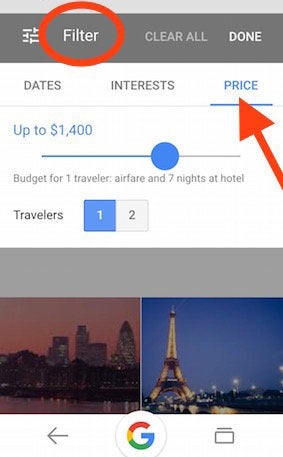 3. Toggle to find the EXACT cheapest days to fly and stay.
A nifty bar graph lets you know how much airfare and hotel will cost, tailored to the length of your trip. Move the bar, and see how swapping up your trip dates will affect your budget.
The downsides here are that you can only see options for up to two travelers, and Google only considers hotels as lodging. It won't factor in any hostels, nor any hotels beyond the seemingly small number in the Google hotels database.
4. Then book flights and hotels, literally on your phone.
From the Google Destinations screen, you can click out to Google Flights and Google hotels to book the flights and hotels you found during your search. As you can see on the screen, the process is a bit jumbled. And while Google Flights has tons of flights in its database, there doesn't seem to be as many options in the hotel category -- it might be better to book lodging with a different tool until the database becomes more robust.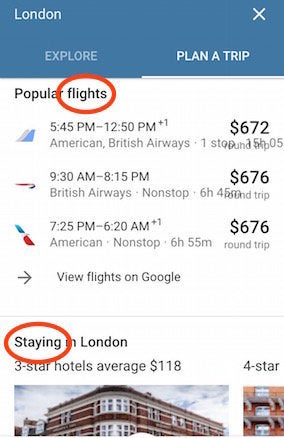 5. Let Google plan your day-by-day schedule (if you're into that).
Some travelers like to roam freely, and others like to plan every last detail of their trip. If you're from the latter camp, then Google's editorial team (many of whom write for Zagat) has come up with all sorts of tour itineraries you can follow on your phone. You might choose to take yourself on a "72 Hours In London" tour or a "Literary London" tour, for example. The problem is these tours only exist for big-name cities: You aren't gonna find a "72 Hours in Segovia" tour, unfortunately.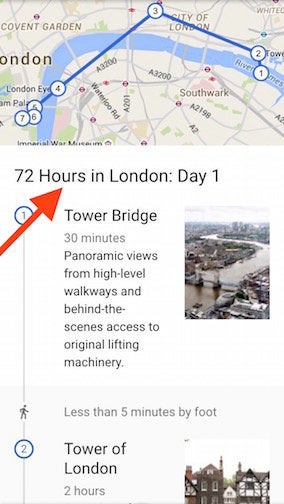 And that's it! While Destinations on Google isn't perfect, it is yet another hack-heavy way to make sure you're getting the best deal -- and having the most fun -- on your next vacation.
So use it, don't lose it, and have a great journey! Bon voyage!
Support HuffPost
A No-B.S. Guide To Life
Related
Before You Go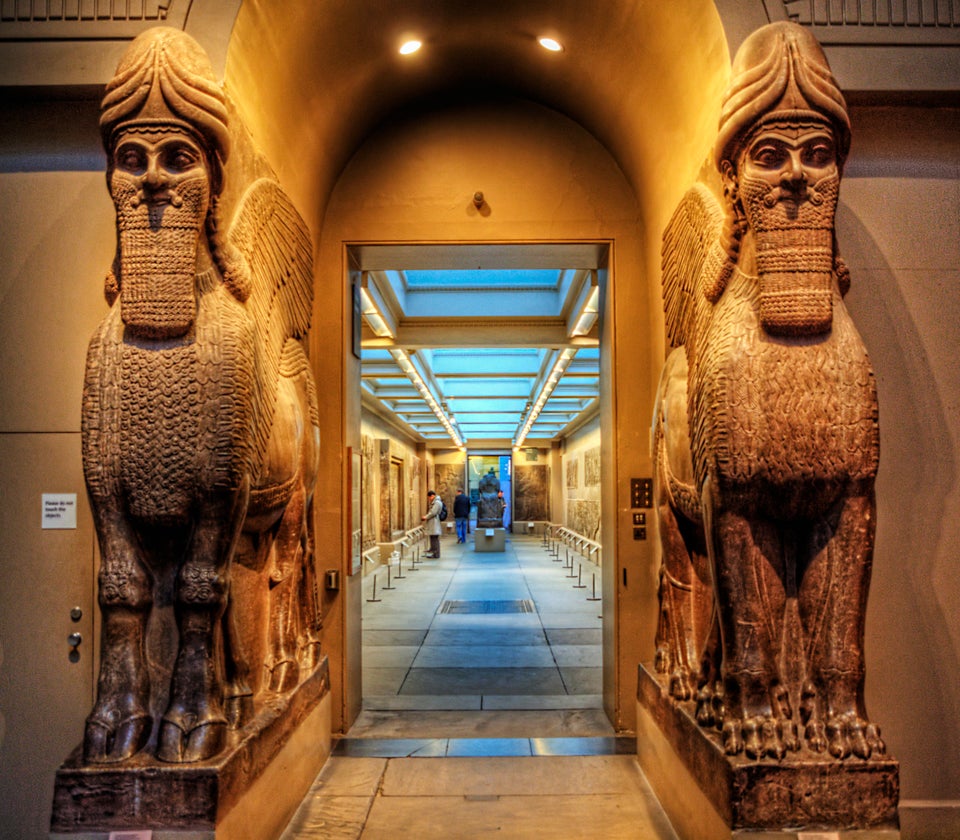 Lonely Planet's Ultimate Travel Top 15 Sites
Popular in the Community