When 26-year-old Destiny Mathis began campaigning for Barack Obama in 2008, her life was tough--but she had hope.
After graduating at the top of her class in 2005, the Hobart, Ind. resident was raising two children on her own while working as a surgical technician. She was also helping her mother, who was battling cancer at the time.
"I campaigned for him hard," Mathis said. "I got the shirts made, the Barack the Vote shirts made. We've done a lot."
But about two years into Obama's term, things took a turn for the worse. She gave birth to her third child, who was born premature and with health problems. With limited daycare options, she could no longer work—and decided to write Obama a letter.
"I wrote him just expressing my concern about what's going to happen in the next two years," she said Tuesday. "I know he's under a lot of stress, but I need to see more results." (Scroll down to read the letter from Mathis, which has been edited to remove some personal information.)
To her surprise, Mathis received a handwritten letter from President Obama in return.
"You have such a positive spirit," Obama wrote. "Please know that things will get better for you and your family."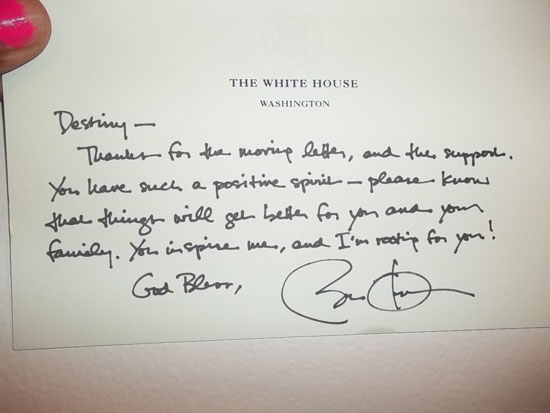 The letter to Mathis from President Obama

But nearly eight months after she sent the letter, things have not improved—and she decided to sell the letter in order to avoid being evicted from her apartment.
"We need to move as soon as possible," Mathis said. "We need a three bedroom. I'm not working, so no one is giving me a chance."
Out of desperation, Mathis contacted Gary Zimet, president of Moments in Time. Zimet has sold eight handwritten letters from President Obama, along with the actual Schindler's List and other pieces of American history.
Zimet said that handwritten letters from Obama on White House stationery are "extremely rare" and he hopes to sell Mathis' letter for $11,000.
"She's a really sweet person and needs the money desperately," Zimet said.
As for Mathis, she hopes the letter sale will lead to a brighter future for herself and her children, Silas, Milan and Londyn. She still supports the president, but hopes to see real change in her own life--and soon.
"I am just a little bit weary of the promises that he's made," Mathis said. "I really haven't been seeing any kind of changes that affect me directly. ... We need the money so we can move into something that's compatible with the kids and to help us out. We are really, really struggling. It's hard for us right now."
Last year, suffering mom Jennifer Cline sold a handwritten letter from President Obama for $7,000 after she lost her job in Michigan. Moments in Time also handled Cline's sale.