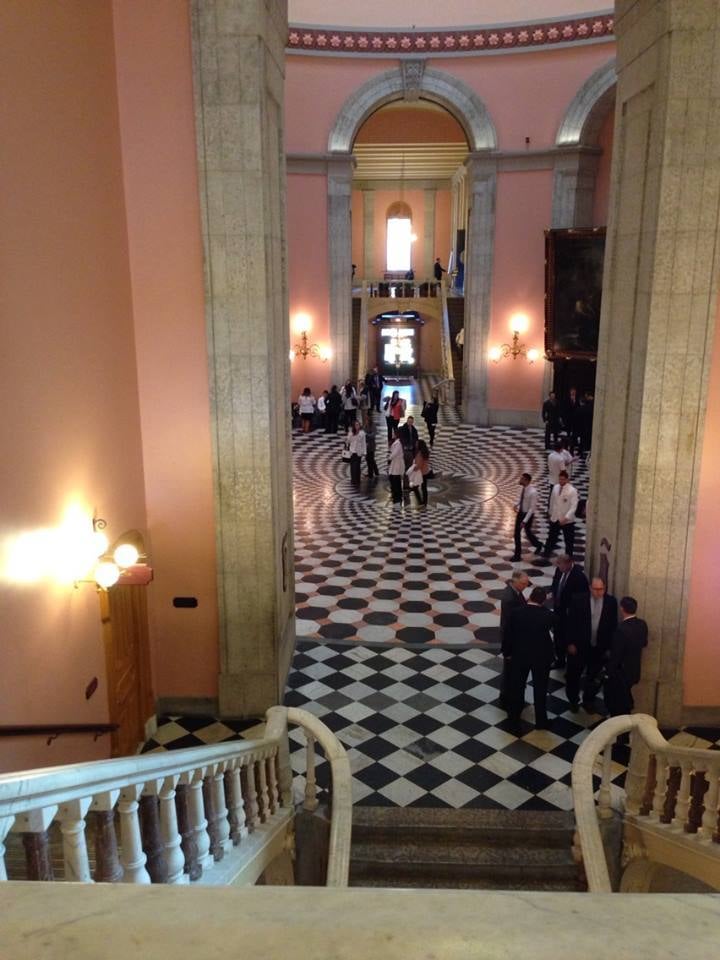 As a lobbyist for the Ohio News Media Association, I sometimes see things in politics that make me want to cry, but I've only teared up once in seven years.
That happened recently during a committee hearing of the Ohio House of Representatives in Columbus, Ohio. A young African-American man, Defonta Little, was the witness. He courageously shared a horrific story of false arrest after being misidentified as his twin brother. He spent weeks in jail. His brother's record keeps showing up as his. He testified that he lost a warehouse job and struggles to find work. Family members wept two rows in front of me. So did many committee members. Others around me fought back tears.
I was particularly struck by the passion of the African-American legislators on the committee, Stephanie Howse and Bernadine Kennedy Kent. House Bill 64, which is pending in the Ohio Legislature, was neither surprising nor some sort of distant, policy-wonk issue to them. They knew that Little's story was not unique, particularly in poor and minority communities. Other expert witnesses reinforced the point.
In this era of hyper-partisan politics, HB 64 has bipartisan sponsors – Rep. Kirk Schuring, a Republican, and Rep. Alicia Reece, a Democrat. The bill says that if people are falsely arrested, prosecutors must start a process in which all the court records and almost all other records related to the arrest would be destroyed. Courts are mandated to order the destruction. The legal term is "expungement."
You won't find a more well-intentioned bill among any of the several hundreds the Ohio Legislature is considering. Making it easier to seal or even destroy public records is a hot and trendy topic for legislators around the country now. Several states already have passed laws with similar language. Give people a better shot at a second chance after they've paid their debt for relatively minor crimes. In the case of false arrest, don't re-victimize someone who already has been through an unfair, shattering experience.
Unfortunately, when it comes to laws, details matter a lot, and good intentions still can result in the problem remaining or larger concerns being unleashed.
And here's where we get wonky. I can't explain this in a quick sound bite.
State laws already allow for sealing records in many situations, though it can be time-consuming and expensive for the person who wants the record sealed. Sealed records can accomplish the same goal as expungement with a huge difference: The government isn't destroying evidence of its acts. Sealed records only are available in highly restricted circumstances, shouldn't become public and aren't supposed to be used against you.
However, it appears the system is badly broken in Ohio – and probably in other states as well. Government notification to agencies is too slow. Different agencies don't communicate. Private companies that do background checks sometimes aren't notified, or they're sloppy about disclosure.
The problem with expungement, most urgently in the cases of false arrest, is that the government is shredding the evidence of its own mistakes. This is a major concern, as the ACLU of Ohio has pointed out, in cases in which the practices and procedures of police officers are in question. The victims themselves may want these records preserved. Sometimes these records become relevant decades later. There also are times when the government has a legitimate need to review records as well.
So, my heart goes out to Defonta Little and the many others like him. But let's fix the record-sealing system and hold agencies accountable for improper release of information. Then there's no need to slide down the slippery slope to allow government to permanently destroy the evidence of what it does to its citizens.
(Note: This is a slightly revised version of a column originally written for Ohio news media outlets.)