Laila El-Haddad is from Gaza. Maybe you know her: She's a journalist and pundit, but perhaps even more prominently she is a blogger, writing about her experiences in Gaza and the United States, and her proud role as a mother of two, Yousuf and Noor.
But in spite of her prominence and stature, Laila is currently sitting with her two children in the Cairo airport for over eighteen hours, denied entry into Gaza on the grounds that the Rafah Crossing is closed, despite a signed letter of consent she received from the Egyptian consul-general in Washington the day she left the United States.
In a unique twist, Laila has been keeping fans, friends, and family alike abreast of her situation by sending updates to Twitter. Using the name GazaMom, Laila has managed to send 26 separate updates, thanks to the airport's (ironically) free wi-fi.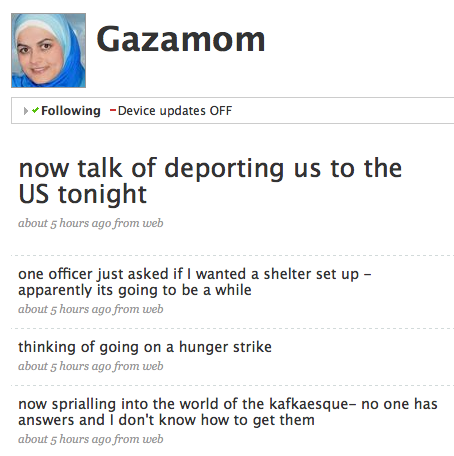 Not only is she tweeting the entire affair, Laila has also been using a Flip camera to record her ordeal.
Long gone are the days of no witnesses; whereas previously someone detained in an airport would be denied communication, save for perhaps a phone call, access to wi-fi means that any absence of updates from Laila will be noticed. And access to a pocket-sized video camera such as the Flip means that Laila is able to record hours of footage, exposing the conditions where she is being held for the world to see.
Popular in the Community