A 35-year old Afghan refugee detained in the Vial detention center in Chios, Greece, is afraid his 5-month old baby will starve. He and his child have been detained since March 21, and his baby has not had enough to eat since they arrived.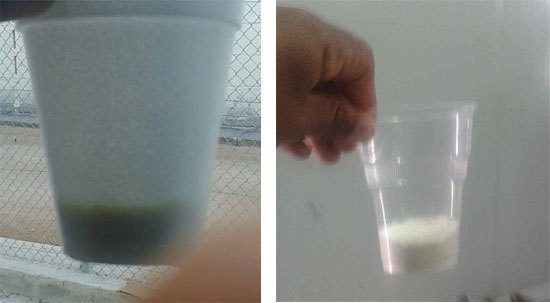 Each cup pictured allegedly holds all the formula a baby at Vial receives each day. Photos sent by interviewee.
This father, who wishes to remain anonymous for fear of reprisal, says his baby cries often and is restless at night. He tries to stave off hunger by spoon-feeding bread mixed with water, but his baby has trouble swallowing it, and it also causes digestive distress. He doesn't always have access to warm water, so sometimes his baby won't take the bottle because it's too cold. At night, when his baby wakes crying, he tries offering oranges.
I asked him how he was coping. With the desperation of an anguished parent he said, "I can't see the crying of my baby any more."
According to the reports of aid workers and refugees, babies detained in Vial don't receive enough powdered formula each day to grow and thrive. When mixed with water, their daily ration makes less than 16 ounces of formula. The American Academy of Pediatrics recommends that babies under 6 months old receive between 24 to 40 ounces in 24 hours.
Of the roughly 1,100 refugees inside Vial, approximately 40% are children, including an estimated 25 babies under the age of 6 months. Vial was converted from an open registration center for refugees into a prison-like camp on March 20, when the EU-Turkey deal for refugees went into effect.
HEALTH IMPLICATIONS FOR THE BABIES OF VIAL
I asked Dr. Aaron Bernstein, a pediatrician at Boston Children's Hospital, to describe what could happen to a baby who doesn't get enough to eat.
"If an average 5-month old baby got 16 ounces of formula per day, they'd not only be starved but at risk of dehydration," Dr. Bernstein said. "Dehydration in an infant puts them at risk for dying from infections or electrolyte imbalances. Longer term, that amount of caloric intake will likely result in stunting, which carries life-long harms to brain and other organ development."
VOLUNTEERS TRY TO PROVIDE FORMULA BUT ARE TURNED AWAY
Many volunteers and organizations who had been providing aid to refugees living in open camps on Chios are trying to provide formula, food, and other aid at Vial.
Nurture Project International, a nonprofit that provides infant feeding support to mothers and babies experiencing crisis, released a statement noting that "infants in Vial do not have a lack of milk available to them, the problem is one of access. Nurture Project International volunteers have been to Vial daily to provide breastfeeding support and breastmilk substitute [infant formula] only to be repeatedly turned away."
REPORTS OF THE MILK CRISIS MOUNT
Amnesty International spoke to three mothers in Vial who "broke down in tears when they described their exasperation at not being able to get the right kind of food or even sufficient milk for their children."
Human Rights Watch also spoke to a mother from Afghanistan who said, "I have five children and two of them are already sick. It is very difficult to take care of them in a situation like this."
UPDATE April 21, 2016: I'm pleased to report that the Vial detention center has opened its gates. Most refugees are now free to come and go as they please, and they need our help. Nurture Project International is providing feeding support to all infants, and The People's Street Kitchen of Chios is providing two warm, delicious meals per day to adults and older children.
I've worked closely with The People's Street Kitchen of Chios and admire their work. They have provided over 120,000 meals to refugees since December 2015, entirely supported by private donors from around the world. They need help to continue their important work.
HOW TO HELP REFUGEES ON CHIOS
Donate to Nurture Project International to support the feeding needs of infants on Chios as well as in other refugee camps in Greece. DONATE HERE
Support the Fund for Child Refugees -- Chios: This fund provides diapers, food for children, milk, and supplies for arts, crafts, and educational activities for children and babies on Chios. You may donate through PayPal or bank transfer. Please specify "Fund for Child Refugees--Chios" when making your donation. Paypal Account: contact@uareuk.com Bank Transfer: Account Name: UAREUK, Bank: HSBC, Sort Code: 40-47-26, Account: 42663929
Support The People's Street Kitchen of Chios: This kitchen delivers two hot meals per day for every refugee on Chios. You can donate through PayPal, Bank Transfer, or Generosity.com. Please specify "People's Street Kitchen of Chios" when making your donation through PayPal and Bank Transfer: Paypal Account: contact@uareuk.com Bank Transfer: Account Name: UAREUK, Bank: HSBC, Sort Code: 40-47-26, Account: 42663929
Generosity.com: Donations are tax deductible through Carry Me Home, a nonprofit working to support refugees overseas. This crowd funding site supports Leslie Merel Schick, a coordinating partner of Carry Me Home, to support the People's Street Kitchen and a warehouse on Chios that provides clothing, shoes, baby carriers, formula, diapers, and other necessities for refugees. All donations to Leslie will fund The People's Street Kitchen, the warehouse, and aid missions on mainland Greece. DONATE HERE
Updated April 21, 2016 with information about Vial and how to support refugees on Chios.
REAL LIFE. REAL NEWS. REAL VOICES.
Help us tell more of the stories that matter from voices that too often remain unheard.