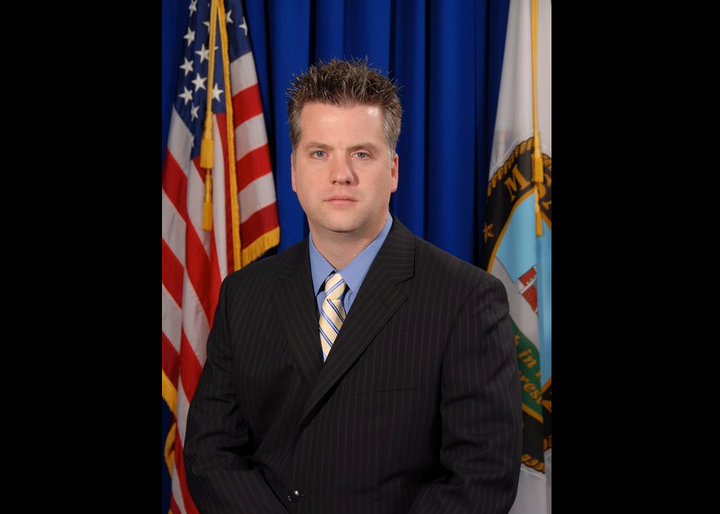 A crimes against children detective shot and killed himself in a standoff at his Virginia home Tuesday after being accused of having inappropriate relations with two boys.
Authorities say Manassas City Police Det. David Edward Abbott Jr., 39, refused to surrender while wanted on two counts of indecent liberties by a custodian and two counts of use of a communications device to solicit sexual offenses.
Abbott had served on the Northern Virginia-Washington D.C.'s Internet Crimes Against Children Task Force and also coached for a local Prince William County hockey league, the Prince William County Police Department said. That's where he was said to have met two of his alleged victims.
Investigators set their sights on Abbott on Monday after allegations emerged of him having inappropriate contact with a 11-year-old boy beginning in June 2013.
"The contact consisted of soliciting sexual acts via phone, text, social media and email," the police department said in a statement posted on its website. The contact also allegedly included "face to face interactions with the victim."
During the course of that investigation, authorities say, they uncovered prior inappropriate contact with a 13-year-old boy, beginning in June 2008.
Authorities did not elaborate on the details of Abbott's interactions with the other boy.
After detectives made contact with Abbott at his Gainesville home on Tuesday, he allegedly refused to surrender. Because he was believed to be armed, authorities evacuated neighboring residences out of caution.
The standoff ended when Abbott fatally shot himself, police said. He was pronounced dead at the scene.
Manassas Police Spokeswoman Adrienne Helms, speaking with The Huffington Post, said several people at the scene witnessed the shooting, which has been ruled a suicide.
The Manassas City Police Department has since expressed heartbreak over the situation.
"This is a tragic and sad day for the Abbott family, the juvenile victims and their families, the Manassas City Police Department, and our community," they said in a statement Tuesday. "In spite of these recent developments regarding the serious allegations against him, we are grateful for the contributions Det. Abbott made during his time with Manassas City Police, to include the prosecution and conviction of hundreds of criminals. His family and peers request privacy during this time as we grieve and struggle to accept the realities of such a loss."
In 2013 Abbott was recognized by his department with the Hillary Robinette Award for his investigation into a series of sexual assaults involving students in the 1990s. His work resulted in a sexual predator being sentenced to 80 years in prison.
In 2014 he served as the lead detective in a controversial case in which Prince William County authorities requested photos of a 17-year-old boy's erect penis for evidence in an underage "sexting" case, The Washington Post reported.
A search warrant was authorized for the photos, though the teen's attorneys fought the warrant in court.
PHOTO GALLERY
10 Major Crimes That Shocked the Nation (SLIDESHOW)
Calling all HuffPost superfans!
Sign up for membership to become a founding member and help shape HuffPost's next chapter