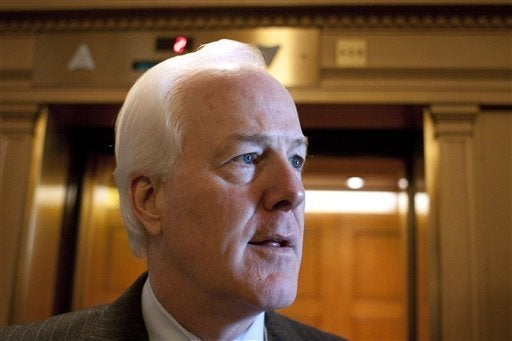 Breaking new ground in the Republican Party's relationship with the gay community, the leaders of the GOP's two congressional campaign committees will be honored at a fundraising reception hosted by the Log Cabin Republicans on Wednesday evening.
Senator John Cornyn (R-TX), Chairman of the National Republican Senatorial Committee, and Representative Pete Sessions (R-TX), Chairman of the National Republican Congressional Committee, are this year's recipients of the Barry Goldwater Award recognizing "leaders in the Republican Party who have served their nation with distinction in the model of the late Senator Barry Goldwater." Cornyn is scheduled to attend the dinner. Sessions was forced to cancel last minute due to a House GOP Conference meeting. He is recording a video message to the group and sending an NRCC staffer in his place.
Neither Texan has a particularly strong gay-rights record. Both oppose same-sex marriage and Cornyn, just on Tuesday, joined other Republicans in blocking consideration of an amendment to end Don't Ask Don't Tell. But being honored at the Log Cabin event is both remarkable and historic, reflecting a small but important tectonic shift in GOP politics. Casey Pick, the programs officer at the Log Cabin Republicans confirmed that it is the "first time" that a single head of a Republican campaign committee has attended the dinner.
The ceremony, he added, symbolized a "détente" or "thawing" of the Republican Party's relationship with the gay community. "We are quite proud of this. It represents unprecedented access and our strength in the party. We are in a very different election cycle than we have been in the past. There is a recognition that social issues are a distraction."
Social conservatives would disagree, of course. And in anticipation of Cornyn's appearance at the Log Cabin Republican event, the Family Research Council's Tony Perkins wrote a scolding letter to the senator.
"In light of all this activity against both Republicans and conservatives, it is deeply troubling to me that you would lend your credibility to this organization," Perkins wrote. "Your work in the U.S. Senate on issues important to the family is well known, as is your close association with Family Research Council and the work we do, which makes the association all the more distressing.
"In deference to the work you have done against the debasement of our culture, I would ask respectfully that you withdraw from attending the event."
Perkins carries weight in Republican circles. And in election cycles past, a letter like his may have persuaded Cornyn's to drop his appearance. But the senator wrote back a few days later relaying that he was going ahead with the Log Cabin event.
"Respecting each other's dignity is not about ignoring those disagreements, but rather being honest about them, and working together where possible despite them," wrote Cornyn.
Paul Lindsay, an NRCC spokesman, meanwhile, defended Session's appearance at the event by noting that: "Part of his responsibilities as Chairman of the NRCC is to meet with Republican groups that share our goal of retiring Nancy Pelosi, and he is open to scheduling a time with the National Log Cabin Republicans at a later date."
Popular in the Community