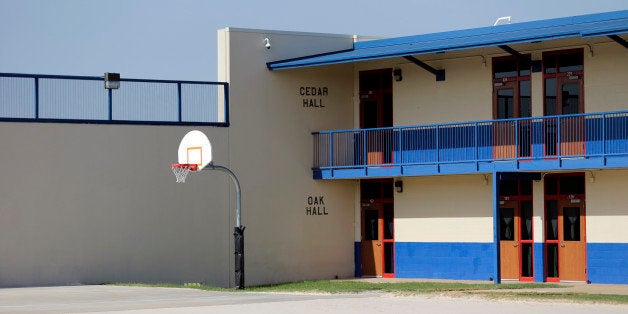 A group of 10 mothers locked in a Texas detention center with their children vowed Tuesday to launch a hunger strike to demand the release of dozens of women pursuing asylum claims, advocates say.
The strike marks the second such protest this month at the family immigrant detention center in Karnes City, Texas. The facility has been at the center of a heated debate in recent weeks, following the Obama administration's decision to resurrect the controversial practice of family detention.
Immigrant rights groups on Tuesday delivered petitions bearing some 10,000 signatures to Immigration and Customs Enforcement Director Sarah Saldaña, demanding the release of the mothers and children from detention.
"These mothers and children have come to the U.S. fleeing terrible violence and seeking safety, and instead are being locked up and re-traumatized," the petition says.
The women participating in the strike will only eat one meal every 24 hours, according to Mohammad Abdollahi, an advocacy coordinator with RAICES, a Texas nonprofit that coordinates pro bono representation for Karnes City detainees. Detainees are ordinarily permitted to clean the facility for $3 a day if they choose, but the striking women say they will refuse to do so. The strike is expected to last one week.
"It comes down to Sarah Saldaña to grant their parole so they can be released," Abdollahi said Tuesday on a phone call with reporters.
ICE said in a statement that its safety protocols require tracking the meals of detainees who take part in hunger strikes.
"ICE takes the health, safety, and welfare of those in our care very seriously," the agency said in a statement Tuesday. "ICE is closely monitoring residents at the Karnes Family Residential Center to verify residents are eating the meals that are served three times daily at the cafeteria, snacks provided by the facility, or food purchased from the commissary."
"ICE fully respects the rights of all people to voice their opinion without interference," the statement continued, "and all detainees, including those in family residential facilities such as Karnes, are permitted to do so."
During the earlier hunger strike, ICE spokespeople had questioned whether all the participants were taking part of their own free will.
Kenia Galeano, a woman from Honduras who was released from the Karnes City center last week, played a leading role in organizing the first strike, which was timed to coincide roughly with the Easter holidays.
Back in her hometown of El Progreso, Honduras, Galeano says, she issued a complaint to police about a gang member who was later arrested and jailed. Other members of the gang began to threaten her in retaliation, she says. On Nov. 4, Galeano crossed into the United States at Hidalgo, Texas, with her nearly 2-year-old son, her sister and her niece, asking for asylum.
However, instead of finding refuge, Galeano and her son were locked up in Karnes City, while her sister was deported and her niece was released. At first she thought she might stay for a few days. But then she spoke to women who had been detained there for over five months.
"I was devastated," Galeano told HuffPost. "Imagine my child and I being locked up for so long."
Her son spent his second birthday detained at the facility.
Galeano's hope returned when she passed her "credible fear" interview -- the first step toward establishing an asylum claim. But she waited for weeks for notice of her bond to arrive, growing more and more worried that she and her son would be deported despite passing the interview.
Along with 77 other mothers detained in Karnes City, she signed a public letter announcing a hunger strike and calling for the release of the mothers and their children pursuing asylum claims. In response, Galeano says, guards placed her and her son in isolation in a darkened room for a day.
"My son wouldn't eat," Galeano said. "I wanted to speak to my lawyer to say that they had put me there, but they told me I was being punished and forbidden from using the phone."
ICE denied that it ever placed any hunger-striking detainees in isolation, saying the Karnes City center doesn't have solitary confinement facilities.
Galeano says guards threatened to separate her from her child if she continued the protest.
"They told us that if we didn't eat, we weren't going to be capable of taking care of our children, and they would take them away from us," Galeano said.
The Obama administration began expanding family immigrant detention facilities last year following a child migrant crisis over the summer. Roughly 68,000 unaccompanied minors -- the vast majority of them from the violence-plagued Central American countries of El Salvador, Honduras and Guatemala -- crossed into the United States illegally last year, along with a nearly equal number of family units traveling together.
The Obama administration had sharply curtailed the practice of detaining migrant families in 2009, arguing that families were less of a priority for detention than people who pose a flight risk or a threat to public safety, according to The New York Times.
But in 2014, facing the unprecedented rise in arrivals of child migrants and families from Central America, the Obama administration expanded family detention once more, saying it would act as a deterrent.
Christina Parker, the immigrant programs director at the Austin, Texas-based nonprofit Grassroots Leadership, said Tuesday that letting private companies run detention centers only creates an incentive to lock up more migrants.
"Every bed and every crib represents more profits for them," Parker said.
Popular in the Community