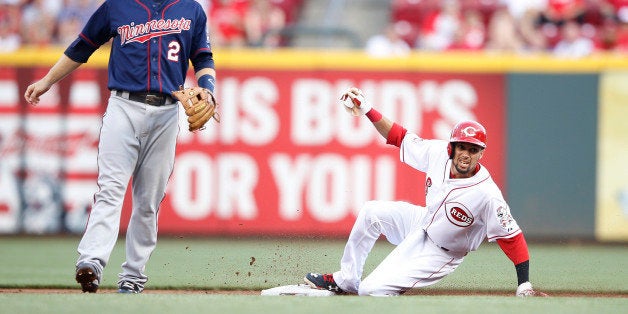 When the Cincinnati Reds drafted Billy Hamilton with the 57th overall pick back in 2009, they projected him as a Major League prospect with elite speed. However, the team likely didn't realize that they drafted the next Rickey Henderson, at least on the basepaths. While I will not imply that Hamilton will ever surpass Henderson's incredible 1982 season in which he swiped 130 bases, it is obvious that Hamilton's speed creates an entirely new dynamic for the Reds offense and that he has the potential to become the league's preeminent baserunner for the next 10 to 12 years. But, what facets of the game does Hamilton have to work on, and can he achieve triple-digit stolen base numbers in the Big Leagues?
When researching the single-season stolen base leaders in MLB history, I found an astonishing name on the list: Billy Hamilton. No, not this Billy Hamilton, but the one who made his MLB debut in 1888 and stole 111 bases in 1889 and in 1891. He also stole 100 and 102 in two other campaigns as well. Therefore, Hamilton has some big shoes to fill if he even wants to become the best Billy Hamilton to step foot on the diamond, unless he can top 914 career stolen bases, which is what the other Billy Hamilton amassed in his impressive career.
Right now, Hamilton leads the MLB with 41 stolen bases, 12 more than Dee Gordon, who ranks second in the league. He has been caught just six times, which is remarkable since he has the green light as soon as he gets on base in most situations. Perhaps what's most astonishing about this number is that he's batting just .224 with an on-base percentage of .275. In comparison, Gordon is hitting .339 with an OBP of .360.
While Hamilton's speed is certainly currently at the Big League level, his approach at the plate has to change. At the time that I wrote this, Hamilton has drawn just 19 walks in 268 at-bats this season. Perhaps this is partially due to pitchers specifically grooving him pitches to avoid giving him a free pass and likely stolen base, but this ratio isn't impressive. As a right-handed hitter, he has drawn just three walks in 80 at-bats in 2015.
The reason behind his lack of hitting ability doesn't lie in which side of the plate he hits from. As a switch hitter, he has hit .218 from the left side and .238 from the right side this season.
In my opinion, the answer lies in his philosophy at the plate. Looking back to his record-breaking 2011 and 2012 seasons in which he stole 103 and then an absurd 155 respectively, his approach seemed to be largely different, despite the obvious lack of Major League talent from his opposition.
In 2011, he hit .278 at Low-A Dayton, but drew 52 walks on the season to go along with his 153 hits on the campaign. This resulted in 103 stolen bases and 99 runs scored in 135 games played.
In 2012, he hit .323 for High-A Bakersfield, and drew 50 walks in 82 games, stealing 104 bases and producing 79 runs before moving on to Double-A, where he drew 36 walks in 50 games and tacked on 51 steals and 33 runs.
Last season, as a full-time member of the Reds, Hamilton hit .250 with an OBP of .292. He struck out 117 times in 563 at-bats and walked just 34 times. He recorded 56 steals on the season, but was surprisingly caught 23 times. Regardless, a decent amount of hype surrounded him entering this season, as some analysts projected him to have 80-plus steals in his sophomore season.
He still has a good shot at delivering that number, but if he doesn't change his approach at the plate, he won't even remain at the top of the Reds lineup. Until Brandon Phillips recently went down with a minor injury, the Reds experimented batting Hamilton at the eight and even nine slots in the order.
As displayed by his numbers, when the speedster gets on base, he has a 50/50 shot at scoring. In fact, it's exactly 50/50, as he has gotten on base 78 times and has scored 39 runs in 2015.
Hamilton is a player who can get on base, steal second, and then steal third on consecutive pitches. The only problem: he has to get on base first, and he's struggled in doing so. Until he can consistently show an ability to be patient at the dish and to swing at hittable pitches, Cincinnati will be waiting for Hamilton's stars to really shine.
If he wants to be better than the other Billy Hamilton, he needs to record 806 more stolen bases in his career, which equates to right around 54 stolen bases per season for the next 15 years.
My prediction: Hamilton never surpasses the .280 batting average mark in the MLB, but maintains a 65-to-75 stolen base average over the next five to seven years. Most importantly, he will not get to the magic number of 100 stolen bases in a single season at the Major League level. What do you think? Will Hamilton emerge as a star in the coming years?
Dan Karpuc is the Team Sports Social Marketing Coordinator for Logo Sportswear (logosportswear.com).
REAL LIFE. REAL NEWS. REAL VOICES.
Help us tell more of the stories that matter from voices that too often remain unheard.