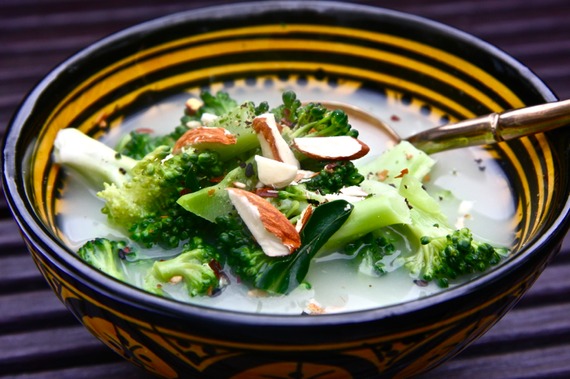 As tasty as it is easy, this simple broccoli soup requires no cooking skills, little time and hardly any ingredients. It came about on a weekday evening when I didn't want to cook but wanted something healthy and light before heading to the gym. I couldn't think of what to pick up on my way and fancied something hot and savory and not heavy. There wasn't much in my fridge apart from broccoli and almond milk and so this soup was born! The almond milk was in fact a real afterthought, having boiled the broccoli, added salt and pepper and tasted it. It just added that much-needed something and seemed to complete it. The soup was so surprisingly good, not bland, that I had to make it again to share it with you. This time, I added chopped almonds, sesame seeds and chilli flakes, just for extra and color. It's the kind of soup you can make in the morning and have a few bowls throughout the day. Super healthy, detoxing, light and just so simple... a real winner!
15g broccoli
500ml water
¼ teaspoon Himalayan salt
100ml almond milk
¼ teaspoon pepper
Garnishing, optional
sprinkle of chilli flakes
sprinkle of sesame seeds (or furikake)
2 chopped almonds
Cut the broccoli into small pieces and place in a pan with the water and salt. Let this cook for 10 minutes on low heat until the broccoli is cooked and soft. Be careful the broccoli doesn't become overcooked. Now add the almond milk and pepper and let this cook for another 5 minutes. Pour the soup into serving bowls, garnish with chili flakes, sesame seeds and almonds and serve.