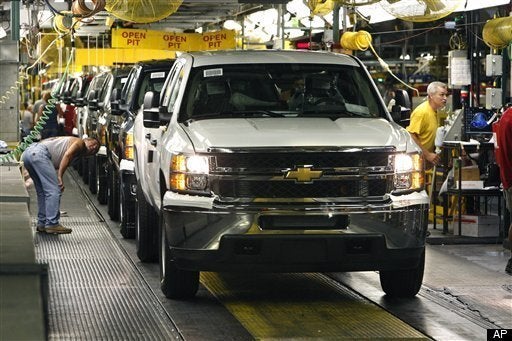 Detroit's history tells the story of the rise of manufacturing and economic prowess in the US. It is the story of the American middle class, built on the back of a booming industrial sector. But today it's become an omen of the struggles for middle- and lower-class Americans and the manufacturing jobs they once relied on. And the city itself is turning into a ghetto.
Convenient to transportation on rivers and rail, Detroit became a hub of industry as far back as the late 1800s, leading to a nouveau riche class of wealthy industrialists. But its real claim to fame would come when Henry Ford piggybacked on the city's established carriage trade and built his first car manufacturing plant in 1899. Ford was the epitome of an American self-made man -- the son of an immigrant farmer who left to apprentice with a machinist and go on to become an engineer and an industrialist. Soon after Ford's plant opened up, GM, Chrysler and American Motors would follow suit, and the city quickly became the world's car capitol. The booming automobile industry sucked in labor, and the city's ranks swelled from 265,000 in 1900 to over 1.5 million in 1930. With the workers -- who came from the South as well as Europe -- came labor disputes and the rise of union activism. It became the fourth largest city in the country. This period was the city's gilded age, during which skyscrapers, mansions, and historic buildings all cropped up, as well as apartment buildings aimed at middle class workers from the factories. This was the American Dream.
Now look at the city today: it is literally falling apart. It has shed roughly 1 million residents since the 1950s, and as the 2010 census showed, Michigan was the only state to lose population. Some analysts estimated that it would also show a drop to 150,000 people living in Detroit, down from 951,000 in 2000. The median price of a home sold in Detroit in 2008 was $7,500 -- less than the price of a car -- and the proportion of vacant homes to occupied ones almost tripled since 1999 to 28%. The city's unemployment rate just fell, but from a dismal 13.3% to a still-pretty-dismal 12%. Median household income dropped nearly 25% to $28,730 between 1999-2008. The auto crisis allowed the big car companies to force two-tier payment systems in GM and Chrysler plants and labor's influence is taking a huge blow in the recession. And those beautiful buildings built with booming auto profits lie in shambles, which look straight off the set of a post-apocalyptic movie. (I highly recommend clicking through and taking in these devastating, striking photos.)
Living in this city is tantamount to living in a lawless state. Just ask Johnette Barham, who stuck it out through more than 10 burglaries and break-ins before her place and most of what she owned were torched. "I was constantly being targeted in a way I couldn't predict, in a way that couldn't be controlled by the police," she told the WSJ. The empty houses that surround her can no longer act as a buffer against crime, and she and many other middle-class people are fleeing the city in droves. Wealthy neighborhoods have resorted to hiring private security firms to police their streets. Why? The Detroit Police Department is down about 700 officers, according to Warren Evans, who was appointed police chief in July 2009. There's no one he can send to take care of crimes like petty theft when they're working round the clock to bring down homicide rates.
It's not just the police force that's feeling the pain from budget cuts. As fires raged through the city in September, which destroyed 85 homes and structures, the level of damage was directly connected to cutbacks. They've led to 8-12 fire company "brown outs" each day, meaning the companies are temporarily unavailable to fight fires, and one of the decommissioned stations was reported to be closest to a neighborhood that went up in flames. The city's public school system is considering a GM-style restructuring to deal with its $327 million deficit and avoid bankruptcy. As Mayor Dave Bing grapples with the city's $300 million budget gap, he's looking to cut services in the emptier parts of town in an effort to shrink the city, which means many areas will be left without basic services such as water and sewage. On top of the cuts at the city and state level, cuts at the federal level also imperil Detroit's economy -- take Defense Secretary Robert Gates' recent announcement to cut the defense budget, which will mean layoffs in Michigan defense companies. Not to mention that just Friday Ben Bernanke said the Federal Reserve won't be helping out any state or local governments saddled with debt. All of these trends are likely to continue or worsen as the recession drags on and cutting budgets and services is in vogue.
And while Detroit's troubles are gruesome, it's not the only city in America that's falling to shambles. Take Baltimore. Roosevelt Institute Senior Fellow Tom Ferguson recently took to the city's streets to explain how it's caught in a housing Catch-22. When cheap loans pushed on the population went sour, they brought down many communities' housing prices, and now without a steady tax base no one is interested in making loans to a city that is desperate for funds. It's no wonder Ferguson tells this story outside boarded up houses.
And it's no wonder that images of Detroit ended up on a blog called Ghetto America. Once our pride and joy, Detroit now reminds us of how far off track our economy has gone and how downtrodden the middle class is. As Roosevelt Institute Senior Fellow Rob Johnson said to me:
Detroit is the canary in the coalmine of America's harsh, unbridled economic adjustment. It can happen anywhere with a violence and swiftness that is only tolerated by suppressing these horrid images and neglecting the human consequences. Such an unnecessary loss of grand creations.
Support HuffPost
The Stakes Have Never Been Higher
Related
Popular in the Community