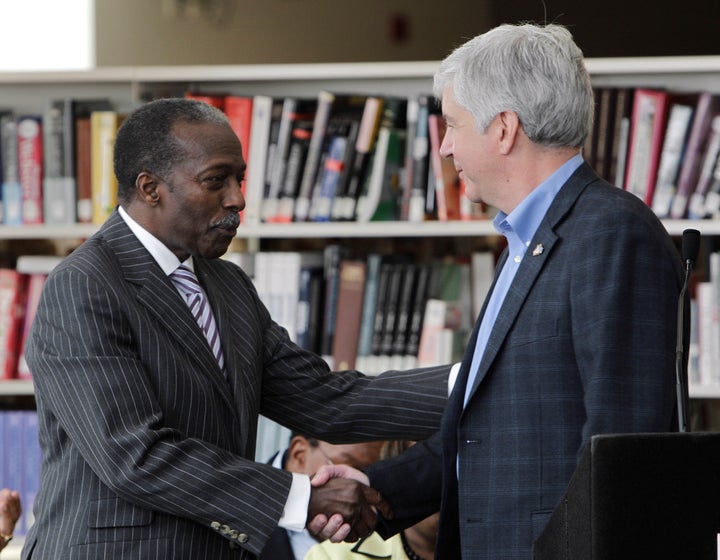 A plan revealed Monday to overhaul Detroit's public schools left stakeholders with more questions than answers about the future of education in the Motor City.
The lowest performing schools in Detroit will be taken over by a new authority created in partnership with the state, Detroit Public Schools and Eastern Michigan University, Michigan Governor Rick Snyder (R) and DPS Emergency Manager Roy Roberts announced at a news conference to much fanfare and some protests.
The new "Education Achievement System" (EAS) has the support of U.S. Secretary of Education Arne Duncan, signaling its resonance beyond the borders of Detroit. Duncan has called the district "ground zero" for education reform and spoke via satellite at the Monday news conference.
Snyder and Roberts also announced a second initiative Monday: a scholarship program that would finance two years of college or vocational school for all Detroit high school graduates. The fund would be sponsored by "businesses and philanthropic organizations," Roberts said.
Though no official has said which groups will contribute the money, a representative in Snyder's office confirmed the program will receive donations from the Eli and Edythe Broad Foundation. Billionaire Eli Broad is a Detroit native, and his foundation has been influential in recent reforms to Detroit's schools.
The idea of targeting failing schools with specific reforms has been promoted by the Obama administration. If done right, Duncan said, the EAS has the "potential to be a model not just for the city, not just for the state, but for the entire country."
The plan mirrors similar efforts in New Orleans and Tennessee that target the lowest-performing schools. But how Michigan's EAS will live up to its promise to improve Detroit's schools -- and address the district's crippling debt -- has yet to be revealed.
What Roberts did say is that the state will run the EAS in partnership with EMU beginning in the 2012-2013 school year. The coming 2011-2012 school year will be an "incubation" period for the development of the system. In addition enveloping schools from DPS, the system is slated to expand to include low-performing schools throughout Michigan.
Schools deemed low-performing based on standardized test scores and student grade point averages will enter the EAS. After five years in the system, an evaluation will determine whether the school can choose to go back to local control.
A parent advisory council will be created at each school, and each parent will be required to sign a contract certifying involvement in his or her child's education.
The new authority will function with an 11-member board. Two members will be appointed by DPS, two appointed by the university and seven by the governor. Five of those board members will make up the system's executive committee, chaired by Roberts.
The goal, Snyder said, is streamlined authority, and the plan includes a restructuring of the DPS central office.
"Only 55 percent of the dollars show up in the classroom," he said. "We need to strive for a system where we get 95 percent of the dollars in the classroom."
Roberts said EAS would help eliminate Detroit Public Schools' $327 million debt in five years, but he did not specify how it would do so.
Detroit's education unions are skeptical.
"More questions than answers remain at this point, not the least of which include who will be part of the planning team, how the new system will be designed, and what will happen to the collective bargaining rights of employees of the Detroit Public Schools and the Education Achievement System," DPS union leaders wrote in a joint statement.
According to a FAQ on the new plan released by DPS, teachers whose schools are moved into the new system would be required to reapply for their jobs.
The state planted the seeds for implementing this type of reform in 2009 by passing legislation to pad its application for federal Race to the Top grant dollars, said Michael Addonizio, Associate Professor of Educational Leadership and Policy Studies in the College of Education at Wayne State University, in Detroit.
"This idea of the 'lowest five percent' [of schools] has been around for awhile," Addonizio told HuffPost.
Despite passing the required reforms, Michigan lost the Race to the Top competition. But officials say EAS, with all its bells and whistles, comes under the auspices of those laws.
"When we did Race to the Top, the failing schools had to be addressed," said state Sen. Phil Pavlov, a Republican involved in crafting the EAS plan. "This partnership is another tool to help implement that."
Snyder first approached EMU several months ago, according to Roy Wilbanks, chair of the Board of Regents at the university.
"If we can be of service to any of the k-12 districts out there, I think it's incumbent upon us to provide any service and expertise we can," he said. But when pressed for specifics on the day-to-day management of the schools, he told HuffPost, "You probably know more about this than I do."
The plan was developed to mirror earlier efforts by former DPS emergency manager Robert Bobb, as revealed in documents subpoenaed by a lawsuit, said Donna Stern, national representative of BAMN, an activist coalition in Detroit. Bobb's plan called for an aggressive conversion of failing DPS schools into charter schools, but had been since tempered by Roberts.
When asked whether EAS would focus on creating charter schools, Wilbanks pointed to the eight charter schools EMU runs across Michigan. "That's one mechanism we might use to improve performance," he said.
The FAQ on EAS says the system will include input from "top quality charter authorizers" in developing its "objective criteria for identifying high quality schools."
"Performance against these criteria will be the basis for all decisions made within the EAS," the fact sheet reads.
Anthony Adams, president of Detroit's school board, said he had heard bits and pieces of the plan over the last week.
Before Monday's announcement, the school board -- which has been stripped by the emergency manager of its powers -- met with Roberts to learn about the plan's details. That meeting resulted in a heated exchange, Adams said, when one member asked for details on eliminating the district's debt.
"One of our board members wanted more detail regarding the deficit elimination portion of the plan," Adams told The Huffington Post. "The emergency manager didn't necessarily like the questions. People here are very aggressive."
Requests for comment from Roberts following the news conference were not returned.
The official announcement took place at Renaissance Academy, a high-performing magnet school.
Some teachers were curious to hear about the changes to their schools, but they were turned away at the door, so they started picketing, forming a crowd of about 20.
Joined by several students, they chanted: "No layoffs, no cuts, Detroit won't get to the back of the bus."
Among the student protesters was Leroy Lewis, a 16-year-old rising senior at Southeastern High School.
"They were holding a press conference to destroy public education, so I wanted to see it," he told HuffPost. "My school is on the list of failing schools. I'm prepared to fight around it and gather up support."
"They took our teachers away, cut our fine arts program. It's very difficult to learn here," he added.
Some critics said the move to create a separate district run by an appointed board invites further privatization of Detroit's schools.
"This is the next level in the attack on public education," said Nicole Conaway, a science teacher at Catherine Ferguson Academy. "They're trying to implement a New Orleans plant model that will have severe brutality and be segregated."
"Classrooms will be overcrowded. Supplies will be shorter. It is like the new Jim Crow in creating a second-class tier of schools," she added.
Some Detroiters said they were upset to learn about EAS, because it places decision-making power in the hands of an appointed, rather than elected, board.
"There's a notion that the people who live here don't know what's best for them," Adams said.
Michigan's recent Public Act 4 grants an emergency manager almost unlimited power to manage Detroit's schools. That law passed the state legislature in March along party lines, with no support from Detroit's representatives.
"I believe it is a loss of democracy," said state Rep. Harvey Santana (D-Detroit). "It's insulting. What the state has done is effectively saying, 'You don't know how to make decisions on your own behalf.' That flies in the face of democracy."
Roberts took over Detroit's indebted schools with increased powers as his predecessor, Robert Bobb, stepped down as emergency financial manager. Roberts was formerly an executive at General Motors.
Addonizio, the Wayne State professor, drew a parallel between the Detroit schools' predicament and the auto company.
"[EAS] reminds me of the model for restructuring General Motors," he said. "You had a good GM and bad GM, financially speaking."
Adams said he is reserving his judgment.
"I still need more detail," he said. "There are a lot of empty spaces that need to be examined much closer."
But he noted that EAS seems to be yet another drastic reform designed to promise the same thing.
"What did we spend the last two years doing?" he asked, referring to the emergency manager takeover of the school system. "We need to have greater transparency so people don't have to guess what's going on," he said.
Pedro Noguera, a professor of education at New York University, said plans that target failing schools can only succeed with community buy-in.
"Where do the people of Detroit fit in?" he asked. "Questions of accountability have to be still raised. Otherwise whole communities will end up disenfranchised."
Support HuffPost
The Stakes Have Never Been Higher
Related
Popular in the Community