 Detroit doesn't have much these days, but it does have its masterpieces.
Now, one of the city's biggest creditors says the city needs to sell its art collection -- likely Detroit's most prized asset -- in order to pay off its debts in bankruptcy court. And they've found several investors who are willing to pay top dollar.
Financial Guaranty Insurance Co. (FGIC) is asking Detroit's bankruptcy judge to force the city to negotiate with private investors, some foreign, who have made tentative offers to purchase city-owned treasures from the Detroit Institute of Arts (DIA).
The offers, which include a $2 billion loan for the art, could tempt Judge Stephen Rhodes, who has previously called one-time influxes of cash "unsustainable."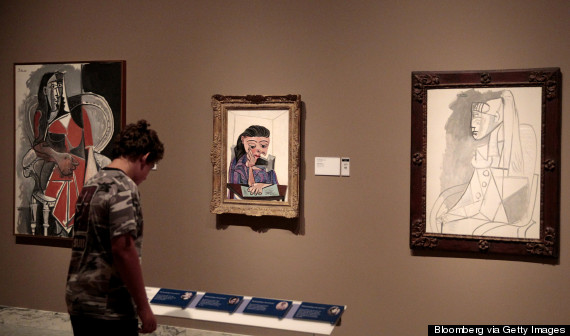 A visitor views a wall of paintings by Pablo Picasso displayed at The Detroit Institute of Arts in Detroit, Michigan, U.S., on Friday, July 19, 2013. (Jeff Kowalsky/Bloomberg via Getty Images)
The City of Detroit has at least $18 billion in debt, and pensions for retired city workers are underfunded by at least $3.5 billion. As Emergency Manager Kevyn Orr grapples with creating a plan to exit bankruptcy court that will satisfy all debtors, a fierce public debate rages over the fate of the DIA's collection.
Orr has negotiated a deal, dubbed "The Grand Bargain," which would transfer the city's art holdings to a separate nonprofit in exchange for $816 million pooled from state funds, the DIA's own money and donations from foundations. That $816 million would be applied to offset pension cuts for retirees, and the art would be kept in the public trust.
But union leaders for retirees and other debtors argue that the "Grand Bargain" is protecting art at the risk of not maximizing the dollars those works might recoup on the open market. On Wednesday, FGIC submitted paperwork asking Rhodes to force the city to cooperate with the potential art investors, who would pay or make loans of close to $2 billion for the city-owned portion of the collection, valued at between $454 million and $867 million by Christie's auction house of New York, the Detroit Free Press reported. "The Window" by Henri Matisse, a painting owned by the city of Detroit, is displayed at the Detroit Institute of Arts. (AP Photo/Carlos Osorio)
Among the priciest masterpieces? Bruegel's "The Wedding Dance," which could fetch between $100 and $200 million, van Gogh's "Self Portrait," valued at $80 million to $150 million and Rembrandt's "The Visitation," which could be worth $90 million. According to the Free Press, the top 11 pieces in the museum's collection, created by artists like Degas and Monet, account for three-quarters of its total value. On June 13, 2013, Detroit Institute of Arts docent Lea Schelke points out details in the Self-Portrait by Van Gogh displayed at the museum in Detroit.
"Blindly proceeding with the obviously below-market 'Grand Bargain,' in the face of the proposals, is a fundamentally flawed approach," he said. "The result will be less money in the pockets of retirees and the perception that municipal investment in Detroit is a fool's bet."
Free Press Editorial Page Editor Stephen Henderson had a few different terms for the investors seeking to score part or all of the city's masterpieces: vultures and buzzards.
"...[T]hink about what FGIC's proposal would do from an art standpoint: Take pieces that are part of a public collection and sell them into privacy for the super-rich. It drips with a galling elitism that says art is for the privileged, not people in cities like Detroit," he wrote. In a photo from Tuesday, Dec. 10, 2013 at the Detroit Institute of Arts in Detroit, the painting "Graziella" by Pierre Auguste Renoir, a painting owned by the city of Detroit, is displayed. (AP Photo/Carlos Osorio)
Whether Judge Rhodes, who is overseeing the bankruptcy case, even has the power to order the city to sell its art is also up for debate. While Chapter 9 bankruptcy code bars the judges from interfering with cities' governmental powers, the judge is also supposed to seek the best possible solutions for all of the cities' debtors -- bondholders included.
FGIC also has a vested interest in how much cash the Motor City can raise to pay off its debtors. The New York Times points out that FGIC insured $1.4 billion in securities in 2005 to invest in Detroit's ailing pension fund. They would receive one of the lowest recovery rates because Detroit now regards the deal as a sham investment. In a photo from Tuesday, Dec. 10, 2013 at the Detroit Institute of Arts in Detroit, the painting "Dancers in the Green Room" by Edgar Degas, a painting owned by the city of Detroit, is displayed. (AP Photo/Carlos Osorio)
There is another complication in trying to force a Detroit art sale: many of those masterpieces were gifted to the museum with legal stipulations that they never be sold. Such court battles could take years to unfold.
"The citizens of this State recognize that abandoning or selling the public's artwork would damage not only the City's but the State's cultural commonwealth," wrote Schuette in a 2013 legal opinion. "In Michigan, we not only appreciate our cultural treasures, we guard them zealously in charitable trust for all state residents, present and future."
Calling all HuffPost superfans!
Sign up for membership to become a founding member and help shape HuffPost's next chapter