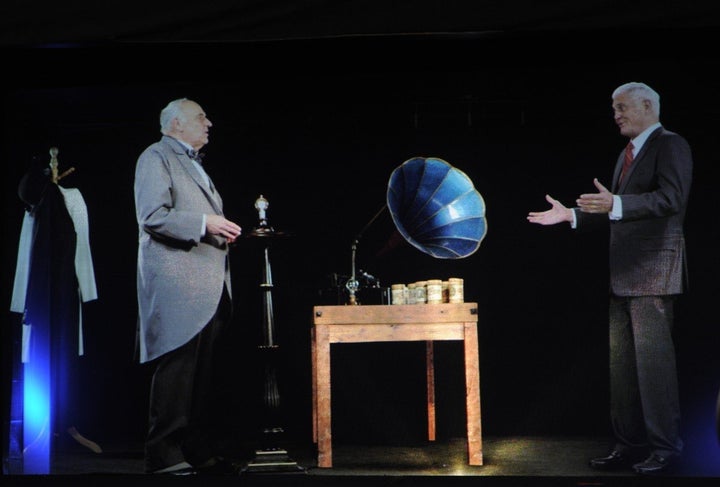 There may not be any flying cars at this year's North American International Auto Show, but 2013 promises huge innovations on behalf of many automakers displaying their new concepts in Detroit. For those making hybrid and electric vehicles, their flashy presentations only added to the buzz generated by their fresh green-friendly designs.
VIA Motors, a privately held company that produces electric trucks and vans, even brought a little time travel to the event by using a hologram of inventor Thomas Edison to kick off a discussion about the future prospects of electric-powered vehicles. He was joined onstage by Bob Lutz, a retired (but very real) GM exec, who was instrumental in the development of the Chevy Volt.
VIA also debuted a full-size concept pickup truck at the auto show. The company's SUVs and vans run on an engine they say has more than 400 horsepower, can drive for extended distances and can be used as an outside power source.
Volkswagen broke fresh design ground with a new type of electric vehicle -- a plug-in hybrid SUV featuring two electric motors and a diesel engine. The midsize CrossBlue SUV, which is still a concept vehicle, can drive 14 miles in electric mode before shifting to its diesel engine. VW said it would have 305 horsepower and get about 35 miles per gallon while in hybrid mode. In in electric mode, that number would jump to the equivalent of about 89 miles per gallon.
In a surprising move that could change people's perceptions of hybrid cars, GM rolled out their new Cadillac ELR, the company's first electric-powered luxury vehicle. It relies on the same type of battery and gas-powered power system used by Chevy Volt.
The vehicle will have a maximum driving range of more than 300 miles. Although fuel efficiency numbers haven't been released, it should be comparable to the Volt, which gets the equivalent of about 98 miles per gallon.
Don Butler, Vice President of Marketing for Cadillac, told the Associated Press that the new electric vehicle didn't need to be a massive hit to succeed.
"With luxury it's not necessary to reach a lot of people. Luxury buyers want something that's special, that's unique, that's different from everything else on the road," he said.
In comparison, Nissan is hoping to energize sales of its electric vehicle lower the price of the Nissan Leaf by lowering the price $6,000 to $28,800. The vehicle can travel about 73 miles before the lithium ion batteries need a recharge. The 2013 model will be on sale next month.
Start-ups were also represented in Detroit at NAIAS. Most notably, California's Tesla Motors rolled out a new electric Model X crossover. The seven-passenger falcon-winged vehicle blends aspects of an SUV and minivan. The fully-electric Model X be offered with either 60 or 85-kilowatt-per-hour batteries and will be able to accelerate from 0 to 60 in under 5 seconds.
The company also announced plans to increase its network of super-charging stations, which allow Tesla owners to power their vehicles free of charge. According to its website, Tesla seeks to expand from nine active charging stations to 100 by 2015. The stations are designed to charge half a battery in about 30 minutes, which would allow 150 miles of travel with the 85 kilowatt hour battery.
Automakers also raised the prospect of self-driving cars. Nissan-owned brand Infiniti unveiled its new 2014 Q50, which features two of these technologies, Direct Adaptive Steering and Active Lane Control. Direct Adaptive Steering substitutes an electronic device in place of a regular mechanical steering system and allows the vehicle to adjust in response to input from the tires, Autotrader.com reports. Active Lane Control uses a camera to keep track of lane markers on the road, according to the website.
Continental Automotive says it has similar plans in the works. It is gearing up to develop and launch partially automated systems by 2016 that will be able to operate autonomously up to 20 miles per hour in stop-and-go highway traffic, MLive reports. The company currently has 1,300 specialists and engineers working on the technology and hopes to develop fully automated vehicles by 2025.
For a look at some of the vehicles mentioned above, scroll through our NAIAS 2013 slideshow.

PHOTO GALLERY
2013 Detroit Auto Show
Calling all HuffPost superfans!
Sign up for membership to become a founding member and help shape HuffPost's next chapter
BEFORE YOU GO