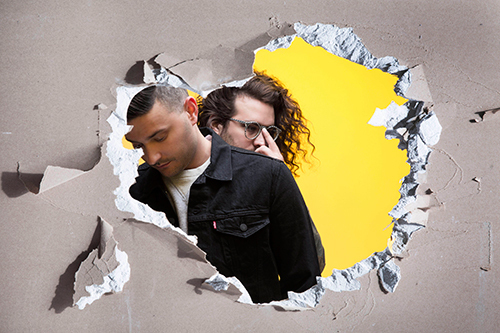 (Photo Credit: Travis Shinn)
When we first saw the band Dale Earnhardt Jr. Jr., they had that crazy name and wore Nascar jumpsuits on stage, but they made some damn good music. It was through that music that the duo of Joshua Epstein and Daniel Zott were able to shine through and let the art speak for itself.
Now that they have ditched the Nascar suits for a slicker, cleaner look and have shortened the band name to JR JR, they have naturally progressed in a way in which the music still stays true and is the center of their being.
Recently, I was able to chat with Joshua Epstein and Daniel Zott while on their current tour about the band's ascendance over the years with their new self-titled album out now.
Besides the name change, how do you think you have progressed on this album?
Joshua Epstein: When we first started making music, we wanted to make ballad, popular music in the way we were into popular music like Paul Simon or Joe Jackson, stuff like that. I think we kind are like a more refined version of it and tap into elements of the first two records.
This is the third full-length album. How is it is feel to be this far along?
Joshua Epstein: Its crazy. I heard that we're now a legacy artist at Warner Bros, which is insane. I can't believe it. Every time I go there at the Warner Bros office, I'm welcoming the new people into the company because I've been there for so long.
What's been the feedback to the name change and the new look of the band?
Daniel Zott: I think people are into it because it seems like its fitting for the sound and for the direction. I think the change went really well on social media. Dale [Earnhardt] Jr. tweeted about it and people seemed to like it, like it was just a natural thing that should have happened, but was also kind of fun that it happened the way it did. What's great about it in general is that people show up and its really not this totally different name that makes people have to relearn about us and rediscover us. It's like 'Oh that made sense!' I think that's what we wanted out of that, where people were like 'That's cool. That's a good progression, but it's not like they're trying to completely remaking themselves.' I think that would have been too much. I've seen bands do that and its scary what happens sometimes. Its overall been really great because it really hasn't been that much of a huge deal and that's what the goal is. The goal is to be about the music and this is just going to be a small thing that steered us into a different direction, but people wouldn't have to spend too much time trying to re-find us or think about, but more just something that they would nod their head with and be like 'Cool, this makes sense and I like the new record.'
Even with the original name, there was this whole idea within the band of being limitless. How does that still hold true?
Joshua Epstein: I think the sound of the record kind of stretches all the way from "Philip The Engineer", which has like a 70s Paul McCartney vibe, to "James Dean", which has more modern sounds. I think we take elements that we like and use them. We don't have to worry about whether it fits with what we do.
Daniel Zott: I think we have already established that so well, I think we could literally do anything. The name was sort of part of that, but since we have established it, we're golden. We can do anything and I feel it would work. It still feels very free, but just a little bit more focused.
With the success of this band, how do you feel to have a project that has been something really special?
Joshua Epstein: I think giving that we both had projects that didn't necessarily achieve the level of success that we had hoped for, it feels like we paid our dues and we can appreciate things. It's been more like a steady trajectory for us. It wasn't just like all of a sudden overnight things got huge. It's just been like steadily increasing. It just feels gradual. Because of that, it's been easy to be appreciative of everything that's happened.
JR JR's new album is available now. They will be playing at the Royal Oak Music Theatre on Friday, November 13th. For more information, visit jrjrmusic.com.
REAL LIFE. REAL NEWS. REAL VOICES.
Help us tell more of the stories that matter from voices that too often remain unheard.