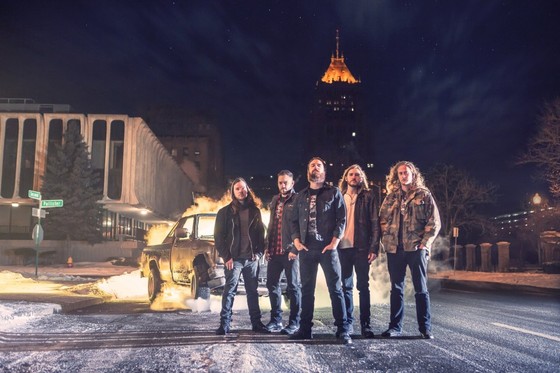 It's the 10th year of one of America's largest and most notable rock festivals Rock on the Range happening May 20 - 22, 2016 at MAPFRE Stadium in Columbus, OH, and a few Detroit bands will be included in the experience this year with a line up headlined by the likes of Disturbed, Megadeth, Rob Zombie, Five Finger Death Punch, Lamb Of God, Red Hot Chili Peppers, Deftones, and Bring Me The Horizon.
With three days of music on three stages, there's also the ROTR Rolling Rock Comedy Tent that includes Jay Mohr, Bethany Dwyer, Mike Baldwin, Jay Snyder, Adrian Cosby, Eddie Trunk, Don Jamieson & Jim Florentine from That Metal Show, Craig Gass, Madison Malloy, Big Jay Oakerson, Nate Bargatze, Bill Squire, Jay Armstrong, and Chad Zumock.
Detroit acts Pop Evil, Wilson, and We Came As Romans are among the vast list of bands on this historic year's line up of Rock on the Range that covers all realms of hard rock and heavy metal.
Pop Evil has become one of the most successful hard rock bands coming from the Detroit area in modern times. The five-piece band hailing from Grand Rapids, Michigan take a personal stance with their music. It's like each one of their songs are a chapter of a book of the lives of its members and the time they are living in. Pop Evil has a strong connection to their audience, with their fan base being more like family than anything else. They try to push the boundaries of modern hard rock and have become quite the success in the rock music community.
Wilson is a hard rock band that represents the true grit and struggles of Detroit. No glamour or glitz, Wilson goes balls out with the music, while still having this sense of hope for the city they love. In an interview I did here on Huffington Post Detroit with Wilson lead singer Chad Nicefield back in September 2015, he described how Detroit ties into their music as "Just making your own way and not letting anything stand in the way of that and I think just in general, the city has so much more to grow, however we've made leaps and bounds for the past five years for sure." Wilson makes music for the everyday working man, the blue-collar attitude of Detroit. Nicefield describes it as the following "Being that 99%er, those are the people we connect to, those everyday men and women that are out there, they don't really give a shit about what the other people are doing, they just know they need to do these sort of things to survive or to get by. They will take whatever necessary steps to make sure their family is safe and sound." Wilson is definitely one of the most promising hard rock bands coming out of Detroit these days with their fun attitudes that connect with the people.
We Came As Romans have had an astronomical rise in music since they became a band over a decade ago. Starting as teenagers, the band, much like brothers, grew into adulthood together and have become one of the most respected modern metalcore bands in the industry these days. Having released their self-titled album last July, We Came As Romans took a much more personal approach to the project, and as lead vocalist Dave Stephens described during an interview I had with him at the time of the album's release on Huffington Post Detroit, "The six of us really came together creatively on it. It was the first time we just wrote really honestly. We wrote straight from the heart. We didn't try to censor anything or hold back at all. Same thing musically, we wrote exactly what we wanted to hear, what we wanted to play. We weren't worried about what the critics thought of it. We were just writing for us. Seemed appropriate to self-title the record." We Came As Romans have now transitioned from being some kids on the road to being solidified veterans in rock music.
Detroit has a long legacy of rock music and Rock on the Range clearly is representing some of our best and brightest of hard rock and metal in this seminal year of the festival.
Currently, weekend tickets for the festival are sold out, however, as part of a partnership with the Ohio Lottery, ROTR fans have the chance to purchase a limited number of single day tickets at face value. For more information and to take advantage of this amazing offer courtesy of the Ohio Lottery, go to facebook.com/ohiolottery.
The 10th annual Rock On The Range happens May 20, 21 & 22, 2016 at MAPFRE Stadium in Columbus, OH. For more information and full line up, visit rockontherange.com.
Calling all HuffPost superfans!
Sign up for membership to become a founding member and help shape HuffPost's next chapter