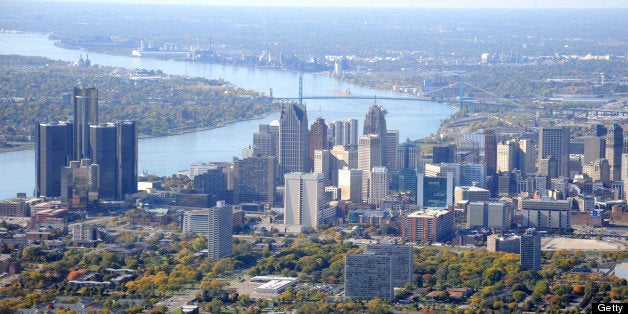 DETROIT, June 10 (Reuters) - In his first public meeting, Detroit Emergency Manager Kevyn Orr said On Monday the city has a 50/50 chance of filing for bankruptcy.
Speaking to an audience at Wayne State University, Orr delivered a message of fiscal discipline but offered few details of his plan for negotiating with Detroit's creditors, public employees or retirees.
Detroit is believed to owe about $17 billion in debt and other liabilities. When he released his first official report on Detroit's finances last month, Orr said the city will have enough cash on hand to meet its existing obligations through at least the fourth quarter.
Asked about the possibility of a bankruptcy filing, Orr said: "I'll take a dive and say 50/50.
"And I will learn more in the coming weeks once we have discussions with stakeholders and creditors."
Orr, a bankruptcy lawyer who was appointed as Detroit's emergency financial manager in March, is scheduled to meet with the city's creditors on Friday.
Dozens of incensed Detroiters were locked outside of Orr's first public forum in the rain after police said the 285-seat auditorium had reached capacity. Many of them chanted, "Let us in!" and pounded on the glass lobby doors, questioning why the meeting was held in such a small room.
At one point, police physically removed protesters and members of the media who were wedged into the lobby.
"I was not expecting this breach of democracy," said Lila Cabbil, a community activist. "This continues to be designed to diminish the participation of the everyday citizens who are paying the bills."
In remarks that drew heavily from his May 13 report, Orr indicated he intends to impose fiscal discipline and is willing to reject a proposed plan by the mayor and city council if it does not meet his standards for spending control and debt reduction.
"There is no foreseeable future, without this process, for the city to go forward by continuing to accumulate debt. We have to break the addiction to debt," Orr said.
"If you're borrowing and can't meet your obligations, you're not going to make it up on volume," he added.
Calling all HuffPost superfans!
Sign up for membership to become a founding member and help shape HuffPost's next chapter
BEFORE YOU GO
PHOTO GALLERY
American Cities Going Broke