I'm 34 years old, and I'm retired.

It's not because I struck it rich or inherited a fortune. Quite the opposite. I'm a Detroit firefighter and three years ago, the brick façade of a burning building collapsed and took me with it. I was paralyzed from the chest down. Today my work consists of grueling physical therapy to try keep myself healthy and recover as much as possible.

Even with my wife's income, like a lot of people in Detroit, we're struggling to make ends meet. Like the thousands who currently serve or worked for the City of Detroit, the retirement savings that we've invested in over decades could go up in smoke, leaving us with nothing. That means more home foreclosures, more seniors falling behind on bills, and more money being drained from our neighborhoods.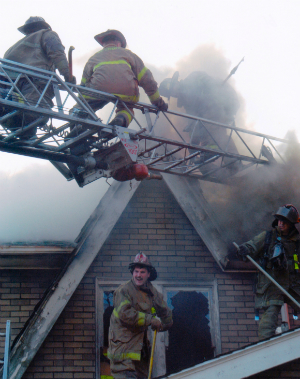 That means more families like mine pushed into poverty.

When I signed up to be a firefighter, I knew what I was getting into. It's a dangerous job, especially in Detroit, a city that has been known to get more than 30,000 fire calls in a year. When I made the commitment to protect my city at any cost, the city made a commitment to protect me and my family, too.

That included ensuring I can afford physical therapy and the medicines and doctor visits that come with being a paraplegic, providing some financial security to the families of police officers killed in the line of duty, and making sure city workers -- our middle class -- aren't forced to choose between groceries and heat.

A lot of the people I work with remember that not too long ago, being a firefighter or a police officer meant that your family was economically secure, despite the danger of the job. But politicians have not held up their end of the bargain. We've already seen deep cuts to our health care and our salaries. It's gotten so bad that this fall, the children of Detroit firefighters became eligible for discounted school lunches.

It's no secret that our country faces growing inequality between those at the top and the rest of us. We feel it every day. When our families budget for groceries and medicine, we see on the news that another Wall Street CEO gave themselves another multimillion-dollar bonus with our tax dollars.

What's less obvious is that our families' belt tightening and Wall Street windfalls are two sides of the same coin. Modest pensions for firefighters, police officers and teachers didn't cause financial problems for our cities -- it was wild speculation and gambling by Wall Street, and irresponsible politicians who used the money for corporate tax breaks. But they're not the ones being held accountable for it. In fact, they're getting rich while we're falling farther behind.
Detroiters learned the hard way that budgets are not about the most efficient way to balance the books. They're about the political priorities and agenda of the people who create them. Detroit managed to give away $285 million in public money to build a brand new stadium, which sure does benefit the team's billionaire owners, but is little consolation to residents of Detroit who struggle to find jobs that pay decent wages, and who may not be able to afford to retire after a lifetime of public service.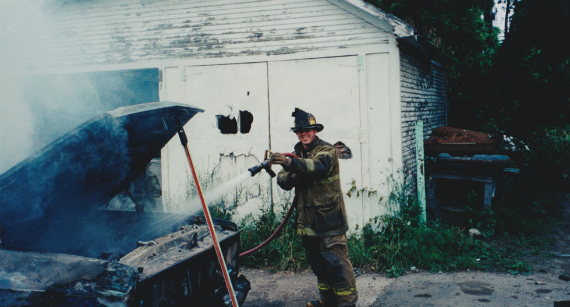 Keeping promises to retirees who spent their careers serving their cities is not a luxury, as many politicians would have you believe. It's critical to building strong communities and a necessary step to real economic recovery. Ask any public worker why they do what they do -- we want to serve our communities. Whether that is as a firefighter, a police officer, a teacher, or one of the many hardworking people who keep our water clean and our potholes filled, we all work every day to make our city and our neighborhoods better.

What's happening in Detroit is about more than retirement and health care coverage for workers and families. It's about the kind of communities we want to live in -- the kind where we keep our promises to each other, and where we put the interests of working families ahead of big banks and wealthy CEOs. That's the kind of community that made me want to become a firefighter in the first place, and what I was willing to risk my life for. It's what I hope we can get back.
Photos courtesy of Brendan Milewski
REAL LIFE. REAL NEWS. REAL VOICES.
Help us tell more of the stories that matter from voices that too often remain unheard.