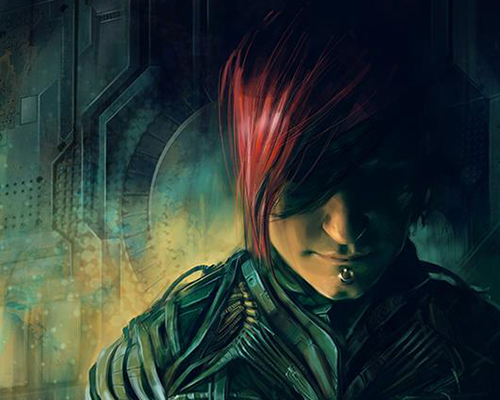 Celldweller is the brainchild of the electronic music producer and musician Klayton. Originally from New York, but now based in Detroit, Celldweller is a cinematic amalgam of heavy electronic elements that toes the lines of drum-n-bass and dubstep over an undercurrent of hard rock/metal. The filmic sounds of his music have been featured in all sorts of shows, movies, and video games like Need For Speed, Iron Man, X-Men, and Call Of Duty: Elite.
Klayton is back with a new Celldweller album titled End of an Empire, and we have a sneak peek into the project with the track "Jericho" along with a short Q&A about the song and album.
What's the story behind the track "Jericho"?
I specifically remember the tale of the great wall of the city Jericho and how it toppled. I paralleled that visual in the song, imagining an ego-driven megalomaniac sitting high up on his/her throne, with an overinflated sense of self-worth, feeling untouchable and immortal, until their walls fall like Jericho. Damn, payback's a bitch.
What's the theme behind the new album End of an Empire? And how does it differ from your previous work?
Thematically, it's grittier and darker than my last album, Wish Upon a Blackstar. I reconnected with some of my musical roots and that sparked inspiration to modernize some production styles I had used when I first started producing. I also did almost all the synth and sound design work for End of an Empire on my modular synth rig. Even organic instruments, like guitar, bass and drums were processed through that gear. The opening gritty sound of "Down to Earth" is a live bass I played through a distortion and filter module, for instance. You can watch me do a bunch of this in some of my "Recording Cession" videos on my YouTube channel.
What's the concept behind the comic book that accompanies the album?
Visually I built a sci-fi world of cyborg & alien characters throughout the release of my "Chapters" (2 songs released as an EP that would eventually be joined with a few final tracks which becomes the final album.) The comic tells a piece of the story and gives the characters context and assigns a certain sense of purpose for each character. There is a deeper meaning behind the story as it ultimately is an allegory for a few possible things we can relate to in our current day. I'll let you read it and decide what it means for you, instead of spoiling it. #nospoilers
Celldweller's new album End of an Empire is available now. For more information, visit celldweller.com.
Calling all HuffPost superfans!
Sign up for membership to become a founding member and help shape HuffPost's next chapter