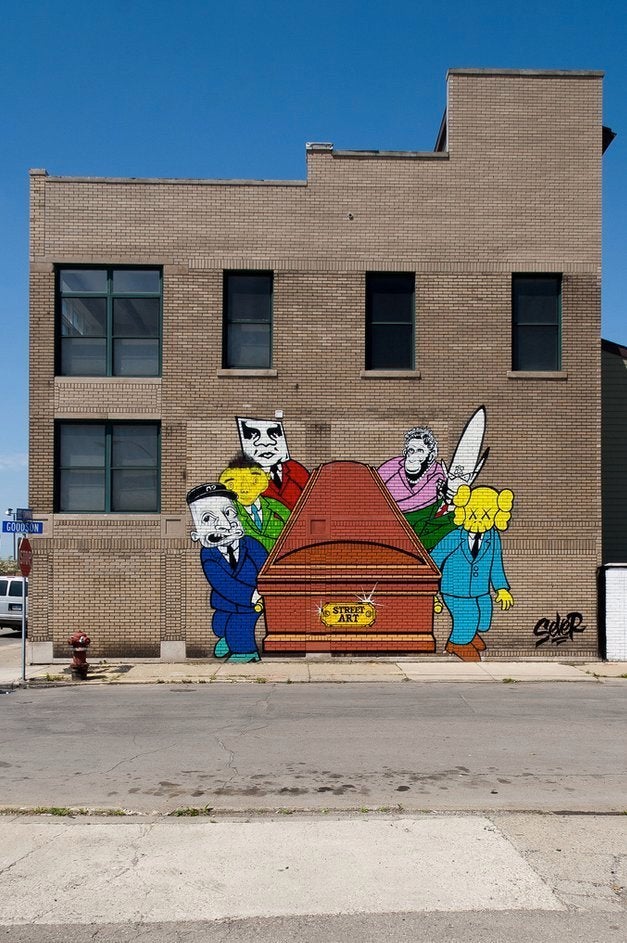 A new mural in Hamtramck claims street art has gone mainstream, and it's causing enough controversy to show public opinion on graffiti remains divided.
But while SEVER's loaded, tongue-in-cheek "Death of Street Art" piece at Joseph Campau and Goodson St. -- featuring a coffin labeled "Street Art" carried by cartoon-like characters riffing on notable artists -- received accolades from graffiti fans, it rubbed several local residents the wrong way.
Michelle Trzin, who works at the city's New Dodge Bar and describes herself as "a little old-school Hamtramck," said she didn't think the city should allow graffiti artists to tag local buildings.
"You take a building bought in the 1920s and you put graffiti on it, no one's going to buy it then," Trzin said, referring to the history of the building with the "Death of Street Art" mural, which she says was recently renovated.
The Detroit Beautification Project was started by artist REVOK and featured many others, including RISK, STEEL, REYES, DMOTE, WANE, ASKEW and CES, with support from the 323 East Gallery, 1X Run online art store, art collective Contra Projects and spray paint company Montana Cans.
Contra Projects President Thomas Thewes said more than 20 artists flew to Detroit to participate, some on their own dime.
"They were excited to participate and put something into the community," added Jesse Cory of 1X Run and 323 East Gallery.

The group had secured permission for city-owned buildings to be used as canvases through Hamtramck's Community and Economic Development Director Jason Friedmann, who helped artists connect with business owners as well.
Friedmann explained Hamtramck's collaboration with the Detroit Beautification Project was an effort to foster the artistic community in a hugely diverse city. But in Trzin's opinion, the art could end up alienating some long-time residents.
"We're still trying to preserve some of the older culture … [they're] trying to make it this hip, artsy town, but it's not," she said.
Trzin and 40-odd people opposed to SEVER's mural signed a petition that they brought before Hamtramck City Council on Tuesday. Supporters of the graffiti project spent the day collecting more than 100 signatures on a counter petition backing the work. When the issue was discussed at the meeting, a majority of people spoke in favor of the art. For now, the mural will stay.
According to Friedmann, the artists, who had full creative control over their work, agreed in advance to paint over any work that was found offensive or disliked.
When it's not a question of tagging private property, the debate over graffiti becomes more about taste. Some, like Trzin, think downtown streets filled with graffiti will deter businesses and attract vandalism.
The project's promoters believe the opposite -- that sanctioned, more intricate pieces stop willy-nilly graffiti because taggers are less willing to hit spots artists have painted. And the murals, they say, give people a better feeling about their neighborhoods.
"There are a lot of dilapidated empty buildings that don't do much," Cory explained. "When you put some art work on it, it gives you a better feeling about your surroundings."
"The challenge is getting people to understand the difference between street art and the people who do stuff illegally," Thewes said.
Despite the mixed reactions to the artwork, which mirror constant arguments about graffiti's "worth" as art or public decoration, in many respects Hamtramck and Detroit are more welcoming to street artists than most places, with plenty of vacant buildings to write on and many residents happy to see an extra splash of color.
"One of the [artists] was grumbling when I walked past, 'Everyone is so damn nice here it pisses me off,'" Thewes said. "It's really true. ... People love coming to Detroit to paint because its been called the greatest blank canvas of a city in the country."
"With public art you can't please everybody," he added. "Just because you don't like something doesn't mean it's offensive."
Below, check out some pieces from the ongoing Detroit Beautification Project and let us know what you think in the comments.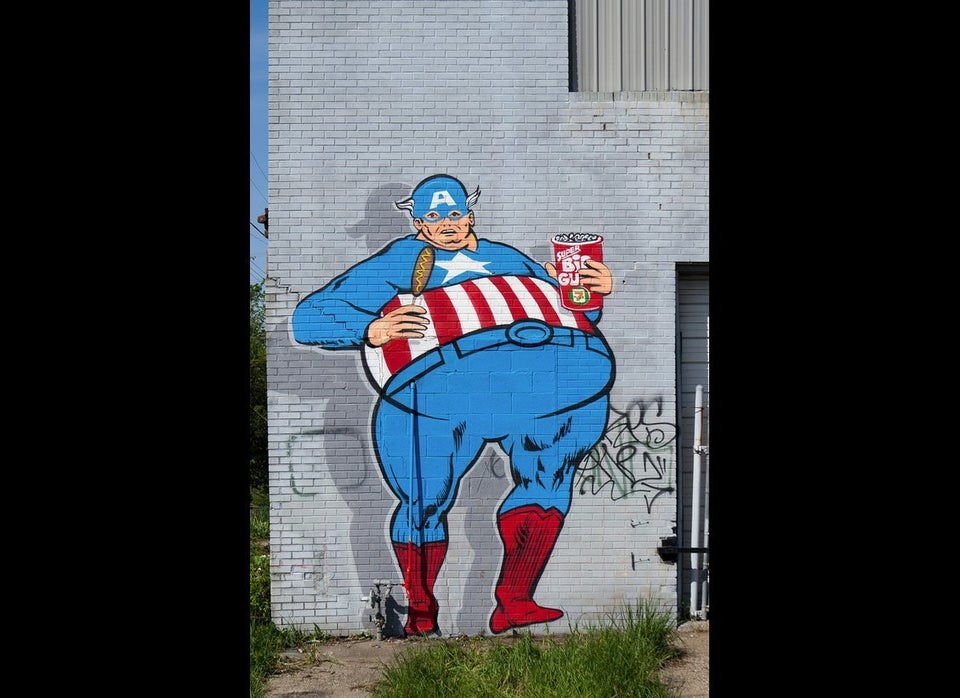 Street Art From The Detroit Beautification Project
Support HuffPost
The Stakes Have Never Been Higher
Related
Popular in the Community