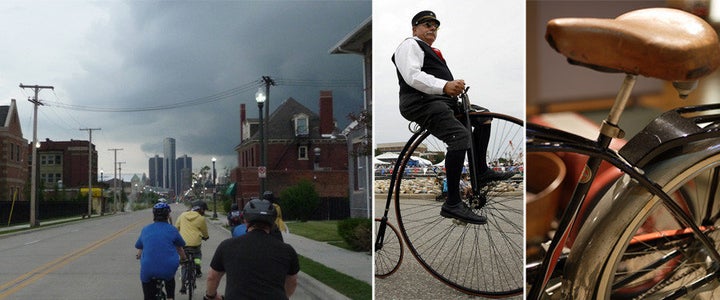 If you are a bicycle commuter, a parent with a kid who rides a bike, an olympic cyclist, the owner of a fixed gear or just the type of person who likes spinning wheels, you might be interested in Saturday's bike expo at Cobo Center in Detroit.
Detroit Bike City will bring "Detroit's first annual Bicycle Show and Swap Meet" to the city. While the words "swap meet" might conjure up images of a flea market or a bazaar, organizer Jason Hall told The Huffington Post visitors should expect the bike equivalent of the Boat Show or the Auto Show.
"They're going to see everything," he said. "Tables of hardcore bike people who have pedals to get rid of all the way to bike shops selling whole frames. Kids stuff, custom bikes, racing, bikes, art bikes -- anything you could imagine."
Back in January, Dante LaSalle of the Ypsilanti-based Tree Fort Bikes approached Hall and Mackool about putting together a bike show.
"When we started we thought: 'Let's have a bike swap,'" said Hall. "This is the home of big shows. Why not bring that back to Detroit?"
As many as 100 vendors from across the Midwest will converge at Cobo, the traditional home of the Auto Show, for the event. Attendees can also win giveaways, participate in activities like a tire-changing demonstration and hear music from Mr. Right Now and Erno the Inferno.
Representatives from local bicycling hotspots will be on hand as well: Wheelhouse Detroit will provide free attended bicycle parking and The Hub of Detroit will supervise a game of B.I.K.E.O. (their version of Bingo) as well as other activities.
The local cycling emphasis is intentional. Hall and fellow organizers, Mike MacKool and Mike Sheppard, are all Detroiters and active in the city's cycling scene, which Hall said is growing.
"Every time I open my eyes, there's a new club," he said. "Everybody rides."
Hall admits the show is a bit of a departure from the small-scale origins of Detroit's contemporary bike scene, but he says the point is to bring that culture to a wider audience.
"Were trying to reach the person who wants to swap bikes, the person trying to hang out and do something cool on a Saturday, people coming out to see the Red Wings game who just want to see what's going on," he said.
Detroit Bike City: Bicycle Show & Swap Meet takes place Saturday March 24 from 10 a.m. to 6 p.m. at Detroit's Cobo Hall. For more information see www.detroitbikecity.org.
Check out the Detroit Bike City documentary on cycling in the city below:
Related
Popular in the Community