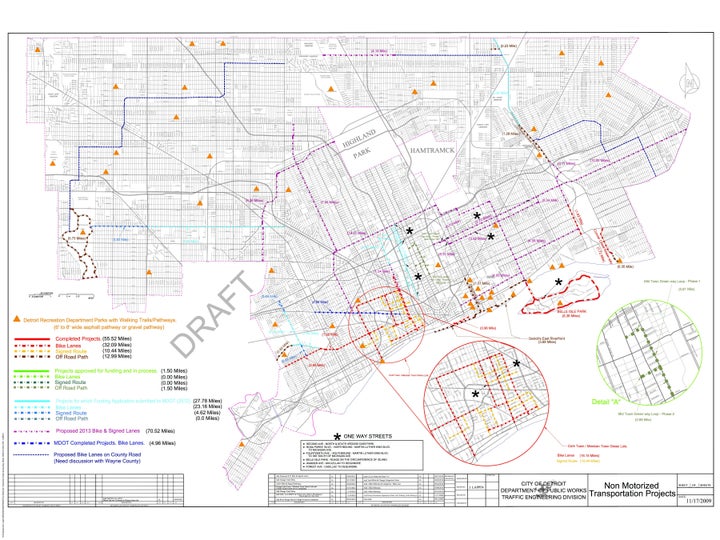 Newly painted bike lanes in several Detroit neighborhoods are changing the relationship between cars and bicycles in the Motor City. They're also changing who rides bikes.
Detroit's bicycle lane network has expanded to a total of 55 miles since the city ramped up efforts to install paths in 2008. The network is mostly in Midtown and Southwest Detroit and on Belle Isle, according to Ron Brundidge, director of the city's Department of Public Works. And there's the almost three-year-old Dequindre Cut bike path and greenway from Eastern Market to the river. The city expects to complete nearly 30 more miles of bike lanes this year and an additional 70 miles in 2013.
Brundidge said Detroit is aggressively building bike lanes to promote a healthy lifestyle and to encourage environmentally conscious behavior. "We just feel it's our responsibility to do everything we can to have our citizens have the option and ability to get out there and bike," Brundidge said.
All that white paint marking bike lanes along Detroit streets brings a certain distinction.
"After next year, Detroit should be the Michigan city with the most miles of bike lanes," said Todd Scott, the Detroit coordinator for the Michigan Trails and Greenways Alliance. "I think we'll pass Ann Arbor next year." (Detroit is Michigan's largest city by population. Ann Arbor is sixth largest and has 38 miles of bike lanes.)
The Trails and Greenways Alliance advocates a statewide network of greenways, bike lanes and cycling routes through parks and along railways. Scott, a consultant to Detroit's efforts to be more bike-friendly, said painting lanes on roads is an inexpensive way for the city to support bicycle travel, because the city already repaints road lines each year. "You can get more bang for your buck using paint to make pathways," he said.
Scott said he appreciates that Mayor Dave Bing's office has been "very aggressive" about adding bike lanes. But making roads safer for cyclists involves more than slapping paint on pavement, he said. He advocates a Complete Streets program that takes bicycles, cars and pedestrians into account.
"Just to go in and add bike lanes doesn't address blighted houses, potholes, glass and stray dogs," Scott said. "We need to make sure we're going in and addressing these concerns in the community and doing more than just putting paint on the road."
Brundidge said the Department of Public Works aims to link new bike lanes with city parks, existing paths and other bicycle-focused efforts to create a streamlined, two-wheel travel network.
City planning often integrates public bike routes with private efforts, like the Detroit East Side Community Collaborative's Conner Creek Greenway. The greenway runs roughly along Conner Avenue, once the route of an old creek on Detroit's east side. When complete, the trail will stretch from the Detroit River to 8 Mile Road and pass a variety of interesting Detroit sites, including Chandler Park and the Better Made Snack Food factory. Currently, about five of the route's nine miles are complete. The non-profit has been collaborating with the Michigan Trails and Greenways Alliance and the city of Detroit on the project, and soon planners will install mile markers and directional signs.
The Midtown Loop is another bike project spearheaded by a private organization, Midtown Detroit Inc. When completed, the trail will cover almost two miles wrapping around Kirby, John R., Canfield and Cass. Cyclists will be able to bike by many of the neighborhood's attractions, including the Detroit Institute of Arts, parks and restaurants. The project is in its second phase and will eventually link with other greenways, including Detroit's RiverWalk.
The RiverWalk is an older bike-friendly project, headed by the non-profit Detroit RiverFront Conservancy. Work on the promenade for cyclists and pedestrians along the Detroit River started in 2003. It currently runs along the Detroit River from Joe Louis Arena to Rivard Street and from Stroh's River Place at Jos. Campau to Mt. Elliott Park. Four-year-old Wheelhouse Detroit offers an adjacent bicycle rental and retail shop.
When completed, the full RiverWalk should cover the 5.5 miles from Belle Isle to the Ambassador Bridge. The Detroit Riverfront Conservancy is developing sections along both sides of Chene Park and adding a plaza with a kid's splash park to Mt. Elliott Park.
These ongoing efforts, in addition to privately organized bike tours offered by Wheelhouse Detroit and mapped trails like the Underground Railroad Bicycle Route soon available in a brochure from the Trails and Greenways Alliance, makes it an exciting time for cyclists.
Scott said the Trails and Greenways Alliance surveyed a neighborhood in the lower east side of Detroit about effects bike lanes have on non-riders.
"The people who did not currently bike said if you built greenways [they] would bike," Scott said. "I explained the little white line doesn't prevent cars from hitting you, but people feel it's their space and it makes them feel safe and they're more likely to bike."
The urban planning conclusion: "If you build it, they will come," Scott said.
Support HuffPost
The Stakes Have Never Been Higher
Related
Popular in the Community