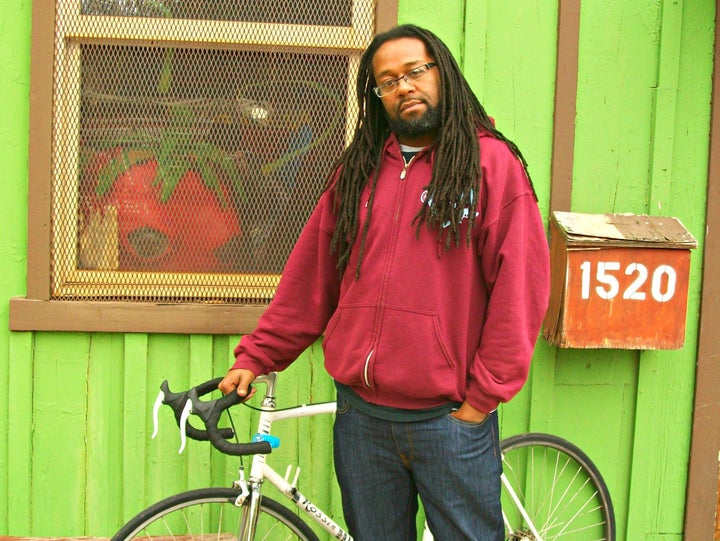 It's known as "The Shack." For nearly seven years, the little carriage house located on Merrick and Trumbull in Detroit's Woodbridge neighborhood has served as an underground music venue for DJs and rock-and-rollers.
But now the space is getting retooled as a venue with a little less music and a little more clangs and bangs -- a bicycle shop specializing in custom and vintage bikes.
The pub's owner, Jim Geary, recently purchased the building to get the project off the ground and is renting it to the entrepreneurs. Jason Hall told The Huffington Post that the decision to acquire the space was a "no-brainer."
"The pub has always been our home," Hall said. "One day we had 130 people out there and our whole crew was changing tires and pumping stuff up, and I'm like 'Wait a minute, The Shack is available.' Why wouldn't we open a shop where we're already every Monday, doing a pop-up shop?"
Although there are already a number of other places in the area that sell rebuilt bikes, like The Hub of Detroit and Third Avenue Hardware, Hall isn't worried about fighting over clients. His shop will be oriented towards a pricier market, and he plans to refer people looking for an inexpensive bicycle to other local vendors.
Bikes at the new shop will range from about $500 to a couple thousand for some of the hand-crafted ones. The proprietors plan to carry cycles from local factory-owner Zak Pashak's Detroit Bikes brand, but their focus will be on remade vintage and custom designs. Hall said his partner Mike Sheppard already makes bikes from his home under the name 313 Bicycle Works. Plus, plenty of the bike club's members are gearheads who will gravitate toward their creative efforts.
"Our shop came really from our group of people needing a creative outlet for what they do. We're going to have wheels and tires and things like that, but we're really trying to be a boutique shop," he said. "It's not about making bikes to sell. It's about the originality."
The shop will offer drop-in repair service and rentals for their weekly ride. In addition, it will serve as a base of operations for the Detroit Bike City expo and a clubhouse for the Bikes & Murder bicycle club, which gets its name from its members love of cycling and video games.
There's still a lot of work to do before the shop can get up and running. Hall and his crew want to add new walls, bathrooms and a second floor. The work will be nothing new for Mike MacKool, who was friends with The Shack's original owners and helped with past renovations. Once the work is done, the crew hopes to open the storefront by Spring of 2013. As for its name, for now, they're are sticking to what works.
"It's still called The Shack for right now, because the name has such a connection to a lot of people in the community," said Hall.
In its heyday, the space served as the headquarters of Woodbridge Records, which put out music by local groups like I,Crime, The Summer Pledge and the house band, Noman. Shayne O'Keefe co-founded the record label with The Shack's former owner Andrew Beer, who recently moved to New York, and played drums with him in Noman.
He has fond memories of the place, which, while influential in the neighborhood, probably only hosted about 100 shows during its run.
"It'd usually be rock bands, touring people and then late night dance party ragers with DJs," he told The Huffington Post. "Andrew Beer got a house and just maxed out his credit cards trying to fix the stupid place up so we could have a little chunk of this town."
O'Keefe, who works at The Hub and is a founder of the bicycle-based Hot Spokes lunch delivery service, said he wishes the new crew good luck with their venture.
"I hope it does well. It's a popular little corner. A lot of those people have been around The Shack and come to parties and shows and stuff there for years," he said. "I think it's great they've already been involved when it was The Shack and now they get to have a stab at it."
Calling all HuffPost superfans!
Sign up for membership to become a founding member and help shape HuffPost's next chapter
BEFORE YOU GO
PHOTO GALLERY
Detroit East Side Riders' Amazing Custom Bikes