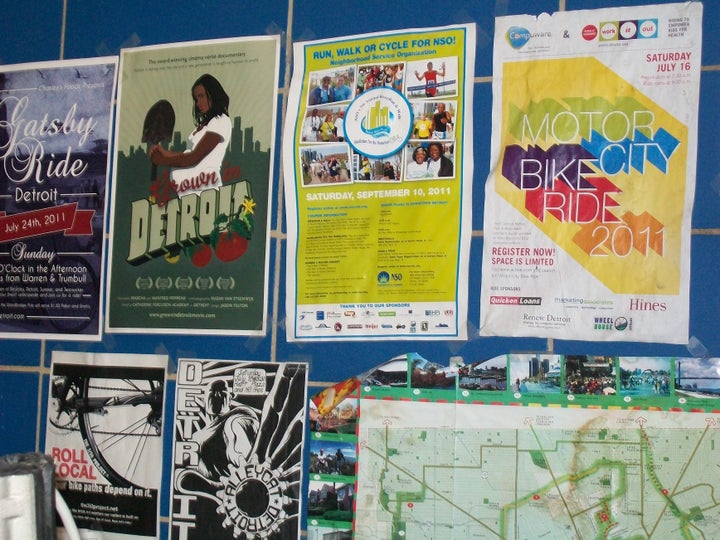 In a city where cars have long reigned, bicycles are gaining visibility in Detroit -- and not just because of their lights and reflectors. More and more Detroiters are biking, some to fill gaps in a struggling public transit system and others simply for pleasure.
As the city's public transit system continues to suffer, more Detroit residents are biking to work. A 2012 report by the Alliance for Biking & Walking found the number of bicycle commuters in Detroit rose 258 percent over the last two decades.
Jason Hall, one of the event's organizers, believes the city is experiencing a bicycling renaissance that cuts across demographic lines.
"The culture is in bloom. Everybody rides," he said. "If you go to the east side and go to the neighborhoods, you're going to see a guy with a rack hooked up to his bike riding around. At Wayne State you'll see someone riding a fixed gear. You see bikes everywhere."
Hall thinks changing perceptions about the city have contributed to the growing popularity of bikes.
"I think people understand it's okay to ride a bike in Detroit," he said. "There was a stigma, concerns about safety. That mindset about people's fears is changing.
Hall rides as part of one of the city's many bicycle clubs, which include Suicide Squad, the Woodward Avenue Riders and the East Side Riders. Together, these groups make up what Dywayne Neeley, another bike club leader, calls "Bike Nation."
Neeley started East Side Riders with his brother four years ago. Back then, there weren't many cyclists in his part of town, but Neeley says things have changed. His club now has about 30 members, men and women from ages 3 to 62, and they've helped changed how people think about bicycling on Detroit's east side.
The East Side Riders are known for wild bikes, decked out with lights, radios and other modifications. Their style appeals to neighborhood kids.
"They want their bikes to be like our bikes," Neeley said. "The little kids are like, 'Hey, can you do that to my bike?'" he said. The club has gained a following, and after one ride the members suddenly found themselves outnumbered. "We looked up and there was more kids riding in the pack than us. It's crazy."
'THIS IS MY TRANSPORTATION'
There are plenty of reasons to bike, including fun, health and easy access to downtown parking spots. But Neeley said he suspects the increasing presence of bikes in Detroit reflects another vehicular trend.
For many Detroiters, rising gas prices and high insurance rates mean that car ownership in the Motor City is not an option.
Roughly 24 percent of Detroit households do not own cars, trucks or vans, according to the U.S. Census American Community Survey, and recent cuts to the city's bus service, including the elimination of overnight service, are leaving Detroiters with fewer transportation choices.
Joe Simpson bikes out of necessity. The 61-year-old used to work for the nonprofit Focus: Hope, but he's currently unemployed. "Cars are an inconvenience on my economic level," he explained. "I can get into the city by bike at least as fast as I can by bus, and that's not even considering the wait for the bus."
Simpson teaches bike maintenance to youth at The Hub, a nonprofit bike shop and community center in the Cass Corridor. The Hub attracts a diverse mix of patrons, including many who, like Simpson, use bikes as their primary mode of transportation.
"This is my transportation, that's why I bike," Simpson said. "It's not exercise. It's not a hobby. That's my involvement in bike culture right there."
Joey Aasim, who works in The Hub's bike shop, also noted the tension between the idea of a bicycle-as-transportation and "bike culture" as it's often portrayed.
Aasim finds media coverage of cycling tends to have a recreation-focused bias and often ignores issues like dark streetlights and potholes, which are of greater concern to those who use bikes to get around. And in Detroit, that divide often breaks down along racial lines.
"A lot of those [issues], they don't get talked about, specifically through the lens of people of color -- with Detroit being a predominantly a city of color," Aasim said.
But many Detroit and suburban bikers are looking for recreation as well as transportation. The city's emerging bike culture is what motivates them to hit the streets.
Dan Masterson, an auto worker from nearby Warren, Mich., makes frequent bicycle trips to the city. "I come in for all the bike events because Detroit's such a bike-friendly town," he said.
In the suburbs, Masterson says he can't ride on the road because cars refuse to share it with him. "You remain to either just the sidewalk or side streets that are off the beaten path, but you can't bike a main road," he said. "As soon as you cross 8 Mile, you can hop onto Woodward, Gratiot, Jefferson -- any of them -- and act just like traffic, and no one gives you a hard time."
Masterson also appreciates out-of-the-ordinary opportunities for biking. In the summer, a cyclist can find a semi-organized ride nearly every day of the week, as well as special events like a transnational Windsor-Detroit ride called Bike the Bridge that takes place in June. He thinks the organized biking activities help many folks get behind the handlebars in Detroit.
"There's more people getting out and doing it," he said. "The more bikes you see on the road, the more people want to try it."
Related
Popular in the Community