 DETROIT, July 25 (Reuters) - If you want to tackle Detroit's thousands of abandoned homes and trash-strewn and overgrown lots, there are few better places to start than in Brightmoor in the northwestern corner of the city.
"Brightmoor is arguably one of the most blighted areas in Detroit, which makes it one of the most blighted areas in the country," said Kirk Mayes, executive director of community group the Brightmoor Alliance. "If you can tackle blight in Brightmoor, you can do it anywhere."
Local non-profit, the Detroit Blight Authority, aims to do just that, with a budget of up to $500,000 to clear 14 blocks of this neighborhood and more to come once it raises more funds.
The group has hired 25 local residents, clearing an urban jungle of brush, trees and garbage to the point where occupied and abandoned homes are visible from the street and to each other. In a Detroit neighborhood like Brightmoor that is regarded as a victory.
When Detroit's state-appointed emergency manager Kevyn Orr filed last week for the city to enter into the largest municipal bankruptcy in U.S. history, he cited the need to tackle widespread blight, including many abandoned homes and other buildings, as one of Detroit's most urgent problems.
"Perhaps no issue is as fundamental to - or emblematic of - Detroit's decline as urban blight," Orr wrote in a declaration in the filing, adding "These decrepit eyesores dramatically undermine Detroit's efforts to maintain public safety (as they contribute to the proliferation of crime and arson) and contribute to declines in property values."
The rise of Detroit alongside the U.S. auto industry brought a tide of humanity to the area, making this the fastest-growing city in the world in the first three decades of the 20th century and reaching a peak population of 1.8 million mid-century. That tide ebbed as automotive jobs faded and initially white residents - and later middle-class black residents - fled to the suburbs, leaving thousands of decaying buildings and just 700,000 residents.
The city estimates it has 78,000 "abandoned and blighted" structures, roughly one fifth of Detroit's housing stock, and 38,000 are considered dangerous. This in an area of 139 square miles - big enough to fit Manhattan, Boston and San Francisco.
As part of a proposal to city creditors in June, emergency manager Orr outlined plans to spend $1.25 billion over the next decade to overhaul its police, fire and emergency services and modernize Detroit's infrastructure. The proposal also calls for $500 million to be spent on blight removal through 2019 and mentions the Detroit Blight Authority as a group the city would work with.
But given it costs the city more than $8,500 to tear down just one home, that might not be quite enough to deal with the full extent of the problem.
"If you address Detroit's blight problem, you make the rest of the city's problems easier to solve," said Brian Farkas, executive director of the Detroit Blight Authority and a former assistant attorney general for the state of Michigan.
Residents of Brightmoor, which is about 12 miles from downtown Detroit, fear that open discussions about downsizing Detroit mean they will be deprived of the few basic services they currently receive and hope the blight cleanup project will help their efforts to prove theirs is a viable community.

When homes are abandoned they become a magnet for crime, not least because of the dense brush and high grass that grow up around them. Drug dealing and prostitution are common, plus Detroit's contractors drive into blighted neighborhoods from outside the city to illegally dump waste they would otherwise have to pay to dispose of.
Of Detroit's 12,000 fires each year, 60 percent involve blighted and unoccupied buildings. If you live next door to one, forget about homeowner's insurance.
In clearing the brush from the 14 blocks in Brightmoor, the Detroit Blight Authority found 300 tires, tons of garbage and a dead body. Drive along streets in Brightmoor that are not part of the project and the brush is so dense you could easily hide a corpse there.
Backed by local foundations and businesses, the non-profit authority was founded by Bill Pulte, grandson of Pulte Homes founder William Pulte who built his first home in Detroit in 1950. It selected Brightmoor because 7,000 of its 23,000 residents are children, many of whom have to walk to school through the area currently being cleared.
This particular area contains 562 properties, 108 occupied houses and 71 abandoned homes have so far been identified as "candidates" for destruction. Using an approach based on the way Pulte Homes builds large numbers of homes fast, as opposed to the city's piecemeal, regulation-laden process, the group has reduced demolition costs to under $5,000 a property.
"This has been a long time coming," said Terence Gore, 25, a home remodeler who lives right in the middle of the blight removal site and has been hired to work on the project. "This area is supposed to be called Brightmoor, but it's been gloomy around here as long as I can remember."
In a pilot project earlier this year, the Detroit Blight Authority cleared a 10-block area not far from the downtown area known as Eastern Market.
Andrew Arena, formerly a Federal Bureau of Investigation special agent in charge of the Michigan area who now runs a non-profit called the Detroit Crime Commission, said that area was low on population but was a center for drug and prostitution operations before the cleanup.
"There's nothing going on there now," Arena said. "The criminals who were there are like cockroaches. If they've no place to hide they move on."

Pittsburgh could serve as an example of what blight removal can achieve. Like Detroit, that city had begun to decline after hitting a peak population of nearly 680,000 in 1950 and that accelerated when Pittsburgh's steel industry base disintegrated in the early 1980s. In the 60 years following the city's peak, the population fell to just over 300,000.
Concerted blight removal efforts in Pittsburgh have been underway for more than two decades, with abandoned land turned into green space and parks. The city still has more than 10,000 abandoned buildings, but local groups say that is a manageable number. Home prices have ticked up an average of 3.3 percent annually over the past decade and the population rose by a few thousand from 2010 to 2012.
Ernie Hogan, executive director of the Pittsburgh Community Reinvestment Group, said the focus now is on reconstructing abandoned homes for new owners instead of demolition.
"The question now is how do we stop tearing down these assets?" he said.
In Detroit, a tech-fueled boomlet has pushed residential occupancy rates to more than 95 percent in the downtown and midtown areas.
NCB Capital Impact, a lender that operates in areas traditional banks tend to leave well alone, has a $30 million fund geared toward refurbishing stone and brick buildings in neighborhoods bordering on the midtown area.
"We are focused on the parts of Detroit that work," said NCB's chief lending officer Scott Sporte. "Not on tearing down buildings where people no longer live."
Still, Detroit's population decline has given rise to a debate over whether to provide services to sparsely-populated areas. People in these areas argue they are already largely ignored by the city's underfunded police, fire and emergency services.
"These areas are like the mining towns in the Old West: the gold and silver have run out," said Richard Ebeling, a conservative economics professor at Northwood University. "Many of these neighborhoods will have to be abandoned."
For Brightmoor residents, the debate over Detroit's future footprint has encouraged them to embrace the blight removal project alongside other efforts to prove people live here and deserve the services they pay taxes for. They don't want to be cast off.
"Brightmoor has not come out favorably in conversations about the future of Detroit," the Brightmoor Alliance's Mayes said. "Our actions are fueled by urgency because if we don't make a mark with our own vision we could become a throwaway community."

Before You Go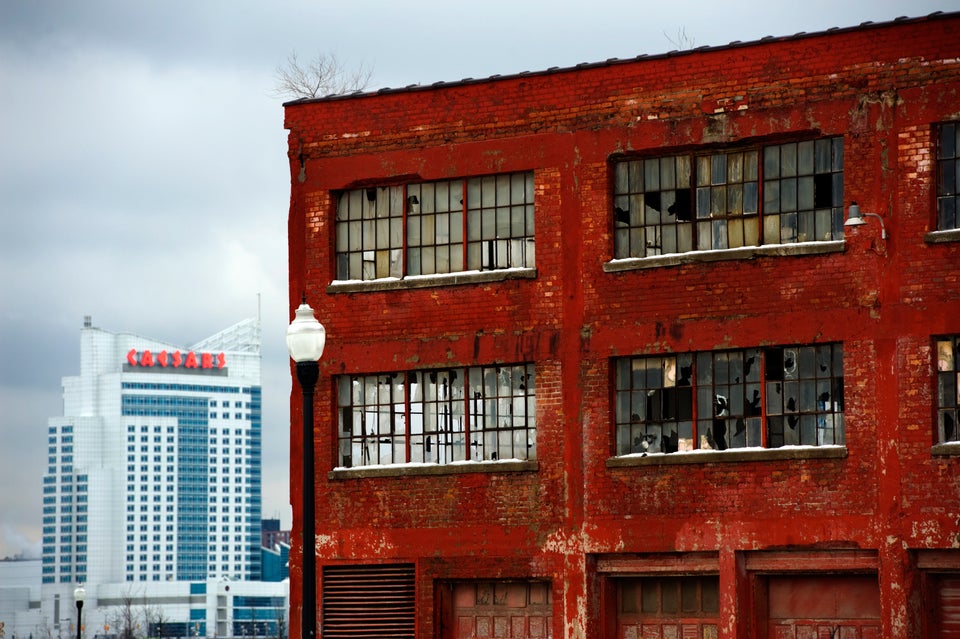 The Ruins Of Detroit
Popular in the Community