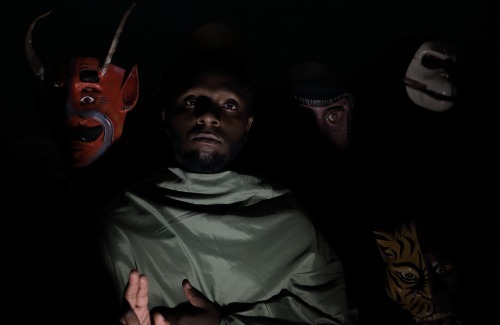 Denmark Vessey is a bit of an oddball, but his awkwardness is a part of the charm. This Detroit-born hip-hop emcee and producer has become one of our next artists up to bat for the city already releasing noteworthy projects with Quelle Chris under the Crown Nation collective, along with producing tracks for the likes of Danny Brown and Elzhi. Denmark comes off as a nice, humble guy both in person and on the mic. There isn't heavy bravado with Denmark Vessey; he's just a regular guy and through his music we are continually hearing what makes him tick.
Denmark Vessey, alongside emcee/producer Scud One from Chicago, have created a conceptualized project titled Cult Classic that touches on many prevailing vices that reality throws at us, while also acting on Denmark's own experiences growing up in Detroit. The influences with ill intent that power, fanaticism, money, and sex bring with them are the core of Cult Classic, tapping into religion as the backdrop to show how such people of clout can unseemly use their authority to gain all kinds of wealth. "Cult Classic is about power, influence, religion, humans, and life really," explains Denmark Vessey.
"Mostly it's about a man who wants power and money, and uses religion as a way to get them both. I grew up in the church and I went to St. Christopher's in Detroit and St. Alphonsus High School in Dearborn. A lot of my family is still religious, which is fine for them but not for me so much."
Cult Classic is not an attack on religion but more of an example of the evils that people with affluence can hold upon their subjects. To Denmark, his upbringing in both black Baptist and Catholic churches was fun at times and a bit preachy at other times, but he eventually grew out of the aspects that could make one feel guilty about the way you live your life. "I don't have a problem with religion," says Denmark.
"Just some of the people in power use their power in horrible ways. Same thing with anyone in power that misuses their position be it religious, community leader, teacher, or politician; all that is connected to me."
What emerged in Denmark Vessey's life is a more communal minded take on existence with hopes that his music can become a vessel to do more for the people around him. There's a grim reality painted in his music at times but it's not to glorify but rather find a way to educate and uplift. "I noticed early when I try to do bad stuff and I know for a fact it's bad, I get instant karma," explains Denmark about what inspires his own positivity.
"Lying, cheating, stealing always instantly come back to bite me. Karma is a real thing and it keeps me balanced for the most part. I want to help because you got to give back. Simple as that, it's the flow of life. I want to make music, make money, and help genuine people who need help, help build up communities."
If all goes well, Denmark wants to use hip-hop to create great things for the community. He has his sights set on ideas like after-school programs to teach kids about making music and how to use other sorts of multimedia, along with looking into other trades such as urban farming. He's already off to a great start music-wise, and his heart is in all the right places, so let's hope Denmark Vessey can make the impact that he strives to make.
Denmark Vessey and Scud One's Cult Classic is now available via Dirty Science. For more information and to purchase Cult Classic, visit thedirtyscience.com.
REAL LIFE. REAL NEWS. REAL VOICES.
Help us tell more of the stories that matter from voices that too often remain unheard.