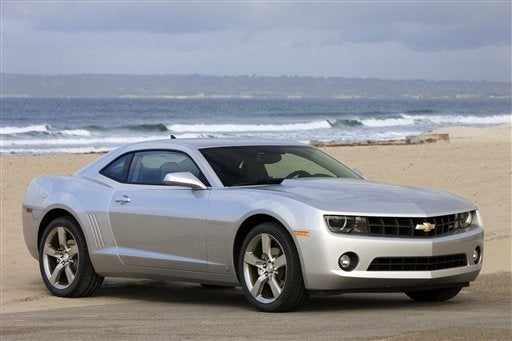 Forget for a moment the lost sales, the lost jobs, the lost taxes from car sales which states and cities rely on for their annual budgets - the perfect financial storm decimating the US auto industry could also result in the nation's largest manufacturing industry falling even farther behind overseas competitors when it comes to developing much-needed cars and trucks of the future.
As GM and Chrysler wait in line at US Bankruptcy Court and Ford tries mightily to sell Volvo to at least continue to appear solvent, other car makers worldwide are moving full-speed ahead with their electric vehicle R&D programs.
And nearly all industry analysts say that, long-term, an all-EV fleet should be the ultimate goal coming out of the current plethora of various technologies, many still in development, some available now, from clean diesels to gas/electric hybrids to bio-fuels like ethanol and everything else in-between.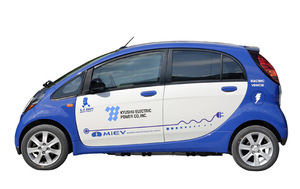 Mitsubishi's plug-in EV, the i-MiEV.
Whether fueled by electricity from new, vastly-upgraded national power grids or using fuel cell and other systems which make their own electricity, future EVs will have a place in almost every garage as oil-fired internal combustion engine fleets are replaced throughout the rest of this century. And experts agree it will take about 100 years for the world fleet to swap most all the oil-burners for real EVs.
Industry journal Automotive News reports, "Shares of Mitsubishi Motors Corp. jumped to a three-month high on Friday after a news report said the automaker would double its annual electric car production capacity target in the business year to March 2012.
"Shares of the Japanese carmaker rose as much as 7.3 percent in early trading after the Nikkei business daily said Mitsubishi Motors would lift its target for output of the i-MiEV electric car to an annual 20,000 units and more than double output of lithium ion batteries.
"A lithium ion battery joint venture between Mitsubishi Motors, GS Yuasa Corp. and Mitsubishi Corp. will invest roughly 3 billion yen ($30 million) to more than double capacity at a plant in Shiga Prefecture, western Japan, to 5,000 units a year by autumn 2010, the paper also said."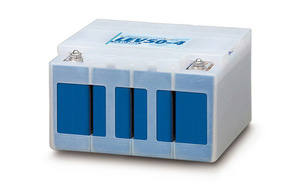 Lithium-ion battery pack for the i-MiEV; at the 2005 Tokyo Motor Show, Nissan displayed smaller, lighter and less-expensive versions of then-current l-ion batteries, and Renault-Nissan is making a strong commitment to these battery systems and overall EV technology.
About the only positive thing coming from the drop in the dollar versus the yen, from a high of Y360 to USD$1 following WWII (set then by General Douglas MacArthur, the occupation "American Emperor"), to its current rate of about 100 yen to $1, is that it's pretty easy to figure out, in your head, without paper or calculator, that 3 billion yen is indeed around $30 million.
And that a 1,000 yen cup of coffee is ten bucks in "real" money ... something Americans visiting Japanese Starbucks are reminded of every day.
Also this weekend, there's this from the Detroit News: "The Renault-Nissan alliance said Friday that it was teaming up with the government of Ireland to promote the use of ultra-clean electric cars.
"The partnership with Ireland's energy ministry and Electricity Supply Board is the latest in a series of accords that Renault SA and Nissan Motor Co. have forged with utilities and national and local governments in Israel, Denmark, Portugal, Monaco, Japan's Kanagawa Prefecture and Yokohama, the states of Tennessee and Oregon, Sonoma County in California and the American cities of Tucson, Ariz., and San Diego to make it easier for people to drive electric cars by providing stations where they can recharge their car batteries.
"Irish Energy Minister Eamon Ryan said the government's objective is to have electric vehicles account for at least 10 percent of the market by 2020.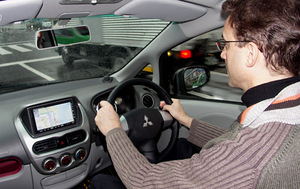 A journalist test-drives i-MiEV on Japanese roads; the US auto industry cash-crunch could hurt American development of future EVs for the world market.
"Under the terms of a preliminary agreement signed Friday, the Renault-Nissan alliance would supply zero-emission electric vehicles to Ireland within two years.
"Nissan has said it plans to introduce zero-emission vehicles in the United States in 2010 and mass-market them worldwide two years later."
A decade-or-more ago, a Chrysler executive was asked if the then-flush American car-maker might be interested in buying Nissan. That Japanese car-maker was struggling through Japan's 1990's burst bubble economy with "voodoo banks" (so-called because they had had no money, and now unfortunately a concept familiar to Americans, too), a collapsed real estate market and vast overspending on social and infrastructure programs. The Chrysler exec said, to fairly-closely paraphrase, "The best thing anyone could do with Nissan is fill a ship with $5 billion in gold, paint the word 'Nissan' on it, then shoot a missile and sink it."
What can anyone say now but: Oh my, how the times have changed.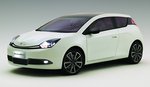 China has made a strong commitment to be a world leader in EV technology; shown is a 2007 model from Chery, one of the Chinese car-makers expected to make this "great leap forward" into replacing the world's fleet of oil-burning cars and trucks with EVs..
Perhaps most startling, the NY Times' Keith Bradsher writes this week from Beijing: "Chinese leaders have adopted a plan aimed at turning the country into one of the leading producers of hybrid and all-electric vehicles within three years, and making it the world leader in electric cars and buses after that.
"The goal, which radiates from the very top of the Chinese government, suggests that Detroit's Big Three, already struggling to stay alive, will face even stiffer foreign competition on the next field of automotive technology than they do today.

"China is well positioned to lead in this," said David Tulauskas, director of China government policy at General Motors.

"To some extent, China is making a virtue of a liability. It is behind the United States, Japan and other countries when it comes to making gas-powered vehicles, but by skipping the current technology, China hopes to get a jump on the next."
You can read all of Bradsher's piece by clicking anywhere on this line.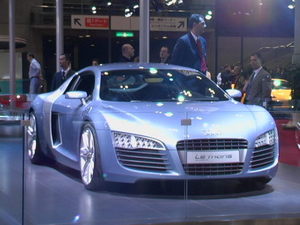 I shot this Audi "LeMans" concept car at the 2003 Tokyo Motor Show; the car eventually went into production as the R8 sports car, and one R8 has been fitted with a V12 TDI clean diesel engine with a view towards using that technology throughout the Audi line worldwide.
Audi announced just a few days ago that while the company is cutting-back on budgets company-wide, there is one area where funding is actually being increased: in their future product research and development sections.
As truly bad as things are presently for the US car-making business, the real losses - to our environment, our planet and ourselves - may not become plainly evident for decades. The current budget cutbacks may well hinder the US' ability to become big players in making the EVs the world needs now - and in our short- and long-term futures.

Related
Popular in the Community