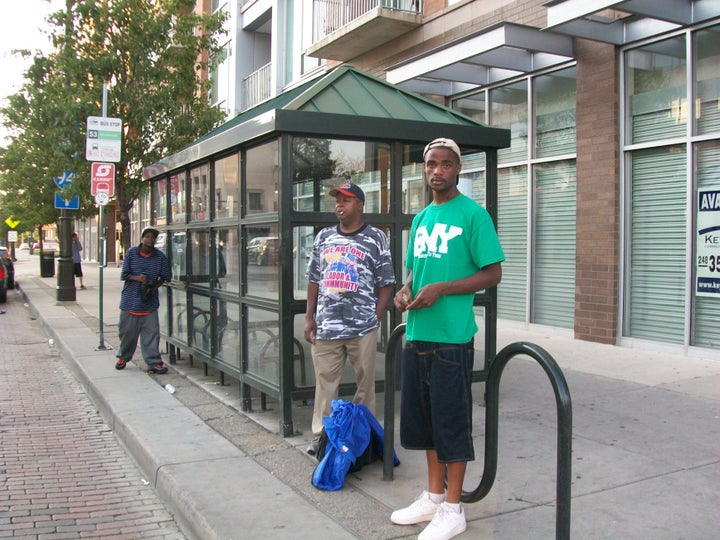 This article is part of a Huffington Post series on the global impact of austerity -- "A Thousand Cuts" -- from affordable housing funds lost in San Francisco to increasing class sizes in New York, food inspector cuts in Canada, disability benefits taken away in the United Kingdom, decimation of France's solar industry, and more. Click here for information on how you can help people affected by these measures.
DETROIT -- It's hot, nearly 100 degrees, and Ron Johnson, 56, has been waiting about 20 minutes at the bus stop on the corner of Warren and Woodward Ave. The stop is located near Wayne State University, and a young student is waiting with him. It's about 9 p.m. on a Thursday in late June. Johnson guesses it could be another 10 or 15 minutes before his bus arrives.
"When I was growing up, they used to have no problem with the bus service," said Johnson, a retired chef, barber and cosmetologist. "They used to say you could light a cigarette and the bus would be there before you finished."
Waits have been getting longer for many of the roughly 107,000 to 117,000 daily passengers who depend on Detroit's bus fleet. The city has lost about half of its bus service since 2005, according to Transportation Riders United, a rider advocacy group. Under the Detroit Department of Transportation's new "415" plan, the city has increased service along its four busiest routes, with buses now running every 15 minutes, but the new schedule necessitated tradeoffs elsewhere. In March, the department, whose management had recently been privatized by the city, shortened hours on more than 30 routes and discontinued all service between 1 a.m. and 4 a.m.
The changes, which the city anticipates will save $40 million a year, have forced an estimated 3,200 nighttime travelers to come up with alternative plans for getting around town and left others waiting longer on the side of the road.
"I'm hurting. A lot of times they don't come around, and when they do, they pass you by," said George Jones, 57, who was waiting with his wheelchair a few blocks away from Johnson at the Mack and Woodward stop, located on one of the "415" routes with increased service. "I can't do nothing but wait and read and weep and pray."
To address the financial crisis that has threatened to bankrupt the city, Mayor Dave Bing (D) announced this year that he would eliminate more than 2,500 city employees, including police officers, firefighters and transportation workers, and slash the budgets of city agencies. The transportation department's budget for the 2012-2013 fiscal year was reduced from $53 million to $43 million.
"No one wants these cuts -- especially not the citizens who have already suffered as a result of declining budgets," Bing said while presenting his budget in April. "But they are essential to ensure the city's long-term financial sustainability."
__________________________________________________________________________________
HuffPost readers: Have public transit cuts made it hard to get where you need to go? Tell us how you cope by emailing offthebus@huffingtonpost.com, and include a phone number if you're willing to be interviewed.
__________________________________________________________________________________
In June, the Port Authority of Allegheny County, which covers Pittsburgh, agreed to eliminate 46 bus routes, reducing overall service by 35 percent, as part of a cost-cutting plan to help eliminate the agency's $64 million deficit.
"With the financial crisis, cities have less revenue," said Larry Hanley, international president of the Amalgamated Transportation Union. "Their tax bases are dwindling, and they take it out on transit."
High gas prices and a lack of federal funding for transit operations have made the problem worse, he said.
Meanwhile, more individuals than ever are relying on public transportation. Ridership increased 5 percent nationwide during the first quarter of 2012, compared to the same period last year, according to the APTA.
The problems are especially acute for the poor and disabled, and for workers who clock out late at night, when transportation options are already limited.
Shelly Young, 68, a former bar worker who is now on Social Security, used to take taxis to get around Detroit at night, but can no longer afford the fares. "It's terrible," she said after just missing her bus at Mack and Woodward, adding, "You got to take a bus; otherwise you can't go nowhere."
Michael Ruffin, 54, who works late at night in Detroit's New Center area, a commercial and residential district that's home to the Henry Ford Hospital, knows this situation well. He said the elimination of overnight service has left him with few options.
"When I get off, there's no bus to take me home," said the Detroit resident, waiting with some friends near a stop on East Grand Boulevard close to his office. "It's a mile-and-a-half walk. It's dangerous. You can see abandoned houses. It's scary."
Ruffin said he's been stuck at the city's central transit center several times because his connecting bus had left before he could make his transfer. "I've been stranded downtown until 4 o'clock or 5 o'clock, depending whether it's a weekday or weekend," he said. "I had to sit in a casino until the buses started again."
Naomi Patton, a spokeswoman for the mayor, defended his record on public transportation.

"It has been well reported that Mayor Bing has consistently worked with the [U.S.] Department of Transportation and Secretary Ray LaHood to get assistance for DDOT," she told HuffPost.
Despite these efforts, the city agency's future looks lean due to Detroit's financial troubles. The city's 2012-2013 budget mentions "route rationalizations" and stricter control of overtime.
"Route rationalizations occur when DDOT adjusts routes to meet the demands of the public, assessed with ridership data, and to meet the confines of DDOT's budget," Ron Freeland, the agency's chief executive, said in a statement to The Huffington Post. "Many of these services changes and modifications have been implemented since March."
Freeland noted that ridership has remained consistent since those changes and said that additional modifications will be made as needed.

The mayor's across-the-board personnel cuts are also likely to affect transportation workers -- and recent changes in the city's governmental structure will leave unions with little room to negotiate.
Henry Gaffney, president of Amalgamated Transit Union Local 26, which represents city bus drivers, said he is expecting news about layoffs within the next two months.
"I know I'm going to be hearing about that," he said. "If they lay off firemen, ain't nobody safe."
Exactly what lies in store for the transportation department is unpredictable -- the same complaint some riders have with the city's bus service.
Johnson, waiting at the Warren and Woodward stop, said it's impossible to plan bus rides anymore. But he tries to look on the bright side.
"I'm just glad when the sucka comes," he said.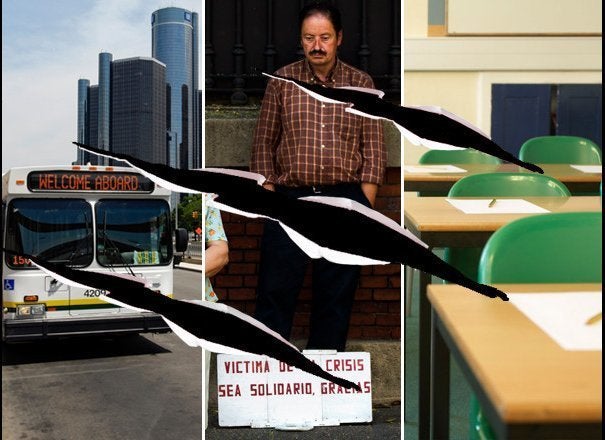 A Thousand Cuts: Life Under Austerity Measures
Popular in the Community