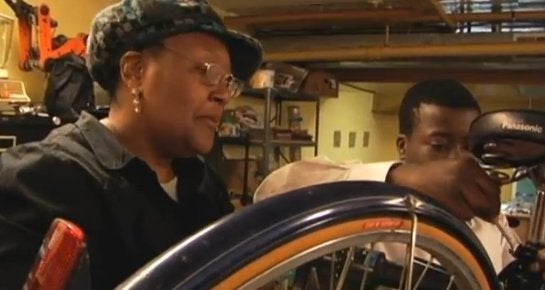 Nine local organizations that promote public engagement in Detroit are being recognized for their innovative contributions with big foundation money. A total of $65,000 will go to these groups through a collaboration between the John S. and James L. Knight Foundation and CEOs for Cities, a national network of urban leaders.
Knight works to support already existing organizations, finding projects with momentum and using its resources to bolster these efforts. Rishi Jaitly, Detroit program director for the foundation, said the city already has lots of energy and enthusiasm around the issues of social entrepreneurship and citizen-centered public engagement. "Detroiters are blending entrepreneurship, creativity and civic action in imaginative ways," he said.
The groups will split the $65,000 total grant, and CEOs for Cities will track each of the organizations' efforts to gauge their success over the course of the next year.
While the programs represented are quite varied and appeal to a wide range of citizens, they share several traits. "They're quite accessible and doing the kind of things people can learn from," said Jaitly, "With all these grants, we observed leaders who are making it easier for others to lead."
Here's how the grant's winners plan to use their awards:
Street Democracy will use its grant to sponsor The Authentic Engagement Project, which encourages k-12 and college students to initiate programs based around the principles of participatory democracy.
The People of Detroit, a photography blog and project, will pursue a 2012 Photo Documentary Project to raise the profile of those who live, work and make an impact in Detroit.
Publius.org, an interactive voter guide, is developing a Context Visualization Lab to create infographics and other visual tools to explain issues and explore solutions to challenges facing the city.
The Mt. Elliott Makerspace organizers will use their grant for a program of Integrated Maker Learning Experiences, which will assist residents in the development of market-worthy products and services related to transportation, electronics, digital tools and clothing.
LOVELAND Technologies is planning a project called Imagine Detroit Together, a technological and organizational infrastructure that allows Detroiters to link up with one another rapidly for large-scale demonstrations of unity. The database will help citizens communicate and allow them to see one another in real time on a city map.
After 5 Detroit, an events website, intends to link up young professionals and encourage them to stay in the city with Connect After 5, a series of social programs.
The Michigan Municipal League will encourage community groups to develop under-used public spaces by awarding prizes to community groups that want to improve them. The goal is to promote projects that make neighborhoods safer, more attractive and more welcoming.
The Sunday Dinner Company, an east side soul food restaurant, will extend its efforts to host community forums on governance issues and step up the workforce and personal development services it offers to at-risk youth and returning citizens.
Peoplemovers.com will bolster its Knit the Mitten project, an effort to help its network better connect with leaders, organizations and others across the state to communicate and collaborate on solving shared challenges.
Supporting civic engagement is the primary focus of the grant, according to Jaitly.
"No single institution has enough money or any capital to solve the problems of today," he said. "The communities that are most vital are those where people have access to information about their communities and are able to act on what matters to them."
Find out more about one of the grant recipients, the Mt. Elliott Makerspace, below:
Related
Popular in the Community