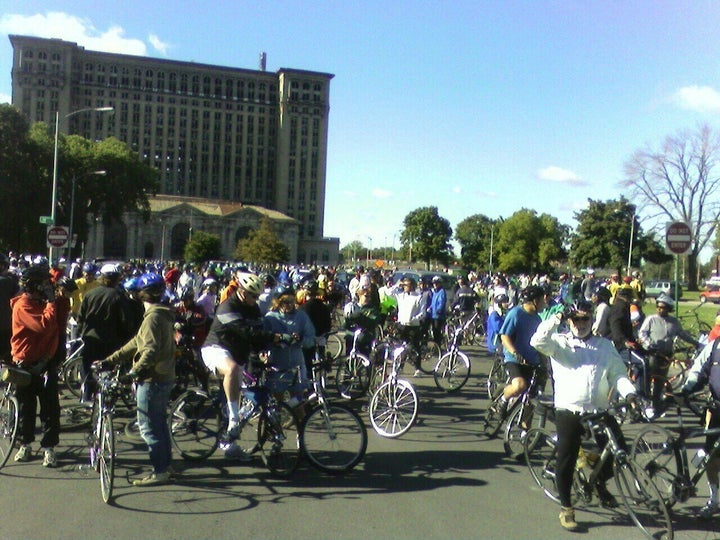 In April 2010, Detroit received a federally-funded grant from the Michigan Department of Community Health to support efforts to pass "Complete Streets" policies, which dictate that pedestrians, bicyclists, motorists and transit riders of all ages and abilities must be able to safely move along and across a complete street.
The Detroit Complete Streets Coalition was born, bringing together an all-star team comprising many advocacy groups, including the Michigan Trails & Greenways Alliance, Department of Public Works, City Planning Commission, Detroit Department of Transportation, Detroit Police Department, Detroit Food & Fitness Collaborative, Wayne State University, City Connect Detroit, Michigan Trails and Greenways Alliance, Southeast Michigan Council of Governments, Transit Riders United and plenty of committed community members.
Its mission is to bring complete streets policies to life in Detroit, but its members won't be starting from scratch.
"It's the best city I've ridden a bike in," said Todd Scott, Detroit Greenways coordinator for the Michigan Trails & Greenway Alliance.
Citywide, changes are going into effect that are steadily making Detroit more accessible for walkers and cyclists. This year, the Southwest Detroit Greenway installed bike lanes and routes throughout the neighborhood.
The Southwest Detroit Greenway had been in the works for while, but had some fits and starts. The Greater Corktown Development Corp. had been supporting the project, until the group went defunct. A mix of funding from the Community Foundation for Southeast Michigan, Tour de Troit, and MDOT finally made the project a reality.
"Almost all the projects have occurred because there's a local champion who wants to see it happen," Scott explained. When complete, there will be 24 miles of new bike lanes and 11 miles of marked bike routes in the area.
The coalition is also working to get the Detroit Non-motorized Master Plan implemented. The document was passed by City Council and calls for 400 miles of bike lanes in the city.
Next year will see the beginning stages of a north-south greenway connecting Cass Tech High School to the Fisher Building, converting Second Ave. and Third St. into two-way streets with bike lanes.
Scott said there is sometimes concern that people will not take advantage of the projects Michigan Trails and Greenways has implemented, but anecdotal evidence (for example, the often crowded revamped Riverfront) and community information show how much the greenways are impacting the lives of Detroiters.
While the Motor City's automobile heritage is often celebrated, Scott reminds people not to overlook the long legacy of cycling in Detroit. Biking advocates went on to become the founders of the auto industry, from the Dodge brothers, who first made bicycles, to Henry Ford, whose first car, the Quadricycle, was made using bike parts.
And motorists have been amenable to the recent greenways changes -- Scott said that bike riders in Southwest have been surprised at how well drivers share the road and adhere to the new traffic rules for bike lanes.
And biking seems to be making a comeback. "We've seen a tremendous uptick in people out walking and biking," Scott said. "We really just want to see more and more folks choosing to walk and bike and building a healthier, more sustainable, more green community."
Related
Popular in the Community