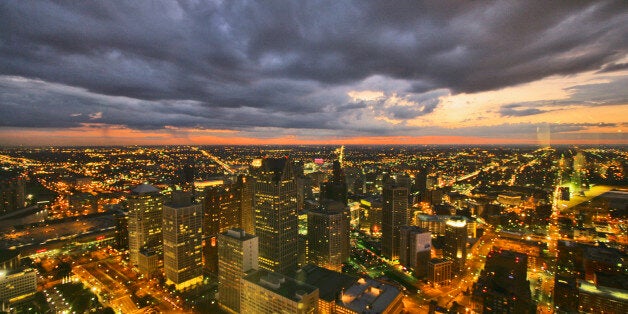 And while new charges show Kilpatrick's conviction wasn't the last instance of breaches of the public trust, officials seem to have made rooting out corruption a priority. On Thursday, Michigan Attorney General Bill Schuette announced the filing of felony bribery charges leveled against seven current and former inspectors in Detroit's Buildings, Safety Engineering and Environmental Department (BSEED).
"The nod-and-a-wink justice days, those days are gone," Schuette said at Thursday's press conference. "The message here is clear as a bell: When you break the law, there are consequences."
Six of the seven have turned themselves in and are set to be arraigned Friday at the city's 36th District Court. A total of 17 charges have been filed.
Schuette said the bribery charges go back to 2007, with the most recent instance occurring last year. The allegation state that some inspectors solicited, accepted and even demanded bribes ranging from $200 to $3,000 from contractors and property owners
"The little things add up," Schuette said. "These inspectors perpetrated a culture of corruption in Detroit that put the health and the safety of Detroit families at risk. And that's unacceptable."
"Here's the point," he added, "when you violate the public trust, it's a big deal."
The case originated from the FBI's Detroit Area Public Corruption Task Force and the Michigan Attorney General's Public Integrity Unit. In a statement, Schuette said the charges were filed against building, plumbing and electrical inspectors who had allegedly taken bribes to ignore building code violations and projects lacking the proper permits.
"Detroit needs more safety, not less, and that starts with public officials doing their job instead of lining their pockets," he said.
Mayor Dave Bing issued a statement thanking the FBI and attorney general for their work towards eradicating unethical and illegal behavior, but stressed that it was not indicative of city employees in general.
"Today's action in no way indicts the thousands of dedicated, city employees who perform their jobs with honesty and integrity daily. Likewise, BSEED continues to be committed to enforcing city codes and protecting the safety, health and welfare of our citizens."
The department's mission is to provide for the "safety, health, welfare and improvement of quality of life of the general public relative to buildings and their environments in an efficient, cost effective, user-friendly and professional manner."
Popular in the Community