"We're getting a dog," It wasn't a question just an inevitability.
"We can't have a dog. We have no time for a dog. Anyway, we don't have the space." Was his answer.
Reason and logic were, of course, totally on his side. We had been dating a year, living together for six months, and had just began subletting our first space to ourselves from a friend in the Corktown neighborhood of Detroit. We were also in the middle of figuring out a new direction of the small technology start-up that we had co-founded with a friend from San Fransisco, which is an amazing adventure to be told another time and probably by another person. So there was no time for a dog, no place for a dog.
And now, here we are, with this goofy mutt and no yard to exercise him in.
In the next 10 days, Detroit Dog Park is trying to cap off a $15,000 fundraiser through Kickstarter.com to build a dog park at Macomb Playlot in Corktown, around the corner from my house. To have this park would mean the world to me and my dog, but it would also do the thing our startup is known for: dealing with addressing Detroit's land use problems.
"Fine then. We're not getting a dog. I am getting a dog."
"Whatever. I'm not interested in being an equity partner."
More than a year later, I saw a litter posted by Last Day Dog Rescue: "Dd Litter: German Shepherd/ Labrador Retriever mix". I sent an email, I filled out an application, I visited the litter, I fell in love. On Monday, September 19th, 2011 I brought home a nine-week-old, 14.5 pound Pasta "Jacob" Batman.
I'm no stranger to the work that it takes to care for and train a dog, Pasta Batman is the sixth dog I've owned. However, he's the first dog I've had all on my own (save my non-equity partner) and he's the first dog I've had since becoming disabled. I'll mention again that we don't have a yard. While our neighborhood, Corktown, is one of the most walkable and dog friendly neighborhoods in Detroit, with a bad leg long walks aren't for me. Thank goodness for tennis balls and a retriever instinct, right?
Despite having a rather large vacant lot directly behind our house that is enclosed on three sides, my lack of a yard quickly became a problem. I like to think of Pasta Batman as the best of both of his breeds: he looks like a Labrador, which is generally not threatening to people, but he acts like a German Shepherd, up to and including shyness, bonding with an individual, and protective behaviors. So when the vacant lot next to our house became a place he felt he had to protect me in and took off chasing our mailperson, I knew we needed something else.
Instead of using the lot behind my house, I began to use Tiger Stadium across the street. The block and a half walk to Tiger Stadium is close enough to be comfortable for my bad leg, and the 2.1 acres of completely fenced-in space is perfect for Pasta Batman to run and play. I knew some of my other neighbors were taking their dogs out to the stadium for exercise, so we started to coordinate and make plans to meet each other out there for our dogs to play. I even got a girl who adopted one of Pasta Batman's litter mates to bring her dog out. I decided to level up. It was fun being out there with the dogs. I put a call out on Facebook to see if any of my friends had interest in having a pop-up dog park with me out at Tiger Stadium. In less than five minutes I had more than 30 people positively respond to my request, so I scheduled the first "Dog Party at Tiger Stadium" for Easter Sunday 2012 and then promptly changed it to April 1st... no joke.
After the second dog party I was approached by a representative of a group called Detroit Dog Park. We met at a Corktown bar, and she talked about their mission and how important it was for Detroit to have a dog park. As busy as I already was with the technology start-up and the non-profit I work with, I politely told her that, "I'm really busy, but I love the idea. So keep me posted on how I can help." I went home and thought about what she had said, about what her group wanted to do, and realized: I needed a dog park. As much as I love Tiger Stadium, one day it will be developed (hopefully, for all of south east Michigan's sake, with thought and sensitivity) and when it is, it will not be a dog park. I told my boyfriend/partner I was signing us up and I wrote an email that night letting Detroit Dog Park know that I was in.
I have since joined the board of Detroit Dog Park, which is currently pursuing its 501c3 approval. And as a partial and completely biased party, I will tell you why Detroit should have a dog park, just like every other progressive and functioning city.
The single most important reason for a dog park is that to have a healthy, happy, well behaved, and mentally balanced dog is to have your dog regularly exercised and socialized with other dogs and people. Dogs that do not have outlets for physical, mental and emotional energy will often create their own outlets through destructive behaviors. When a dog is introduced to a productive outlet and positive social interactions, these behaviors can decrease, disappear or be avoided all together. And (while this may seem overly optimistic) a decrease in undesirable behaviors could potentially lead to fewer owner forfeitures, lessening the burden on our already overtaxed animal control, shelters and foster-based rescues.
With the city of Detroit having effectively 40 percent of all of its area unused or underused, the answer to "Where can I exercise my dog?" should be "almost anywhere." But it isn't. I have, as well as many others, an inability to walk my dog on leash the distance he needs to be properly exercised. And though it is an uncomfortable thing to acknowledge, some Detroiters don't live in a neighborhood safe enough to walk their dog on leash the distance they need to be properly exercised. Very simply put, dog parks solve this problem.
Dog Parks also create community and friendships, not only between a dog and its owner, but between other owners and other dogs. Over the last eight months that I have hosted "Dog Party," I have made numerous friends -- some that I have come to value very much. With community comes an information exchange, and just through my limited experiences I have learned about training, nutrition, behavior, medical issues and breed specific traits. The relationships I've built through a dog park community have made me a better dog owner.
It's not just the dog-lover-freak-people and their familiars that dog parks benefit. A dog park has a positive impact on the larger community as well. Currently, dog owners have to take their dogs out of the area to visit a dog park, and they often patronize the surrounding businesses. Building a dog park within Detroit would instead have the opposite effect and bring in owners and dogs from outside Detroit, which could generate revenue for local businesses. Cities and neighborhoods that have dog parks are viewed by people as pet-friendly, potentially increasing home sales and rentals in areas. Where there is a safe and sanctioned place to run a dog, owners will be less inclined to let their dogs run in public or unsanctioned places. And to bring it full circle, a dog that is well-exercised and socialized not only makes a good pet, but a good neighbor.
Detroit Dog Park is working with the City of Detroit and its Adopt-A-Park program. We are being very deliberate in our efforts and documenting all of our steps so that they can be easily replicated. This will allow us to take decommissioned parks in other neighborhoods in Detroit and create pocket dog parks within easy distance for all Detroit residents and the residents of the collar suburbs. It will also set an example of working with Detroit city government to repurpose unused or underused city owned space and turn it into a community asset.
I can't make dog-lover-freak-people out of all of you, but I can ask you to either contribute to or share our cause and story, which you can find here. I'll be content with making one "non-equity partner" fall unequivocally in love with a 60 pound goofy black mutt.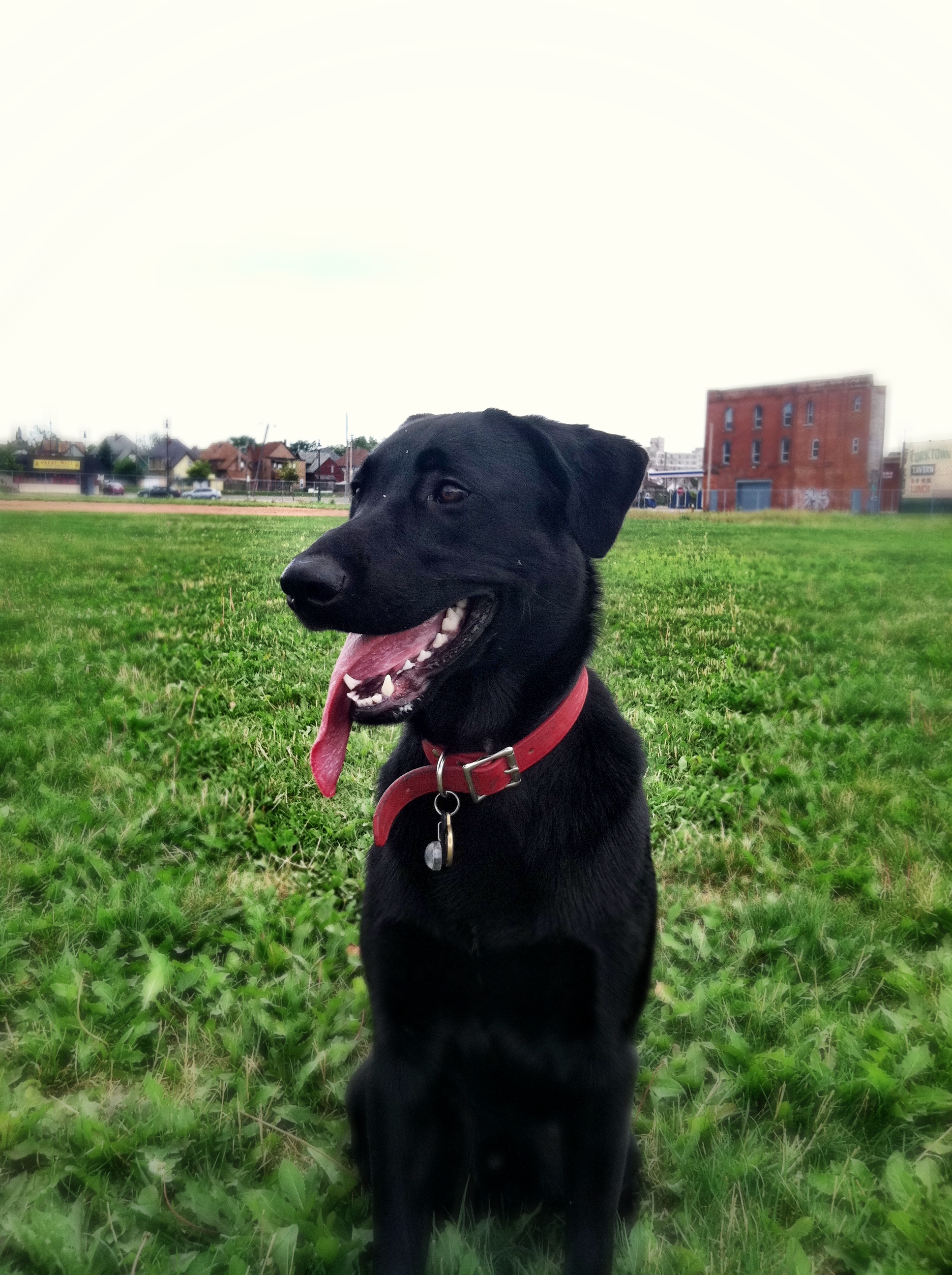 Calling all HuffPost superfans!
Sign up for membership to become a founding member and help shape HuffPost's next chapter