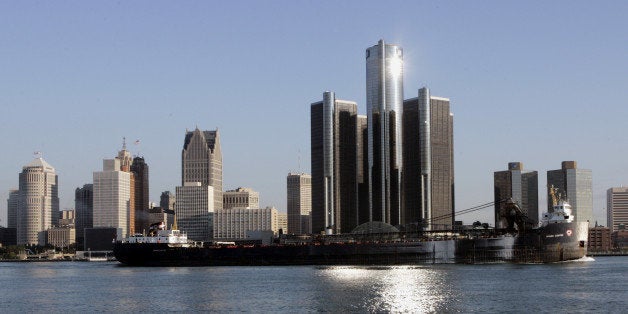 DETROIT, Dec 10 (Reuters) - Detroit will officially exit the biggest-ever U.S. municipal bankruptcy later on Wednesday, officials said, allowing Michigan's largest city to start a new chapter with a lighter debt load.
The city, which filed for bankruptcy in July 2013, will shed about $7 billion of its $18 billion of debt and obligations.
"We're going to start fresh tomorrow and do the best we can to deliver the kind of services people deserve," said Mayor Mike Duggan.
Once a symbol of U.S. industrial might, Detroit fell on hard times after decades of population loss, rampant debt and financial mismanagement left it struggling to provide basic services to residents.
Later on Wednesday, payments to city creditors will be triggered under a debt adjustment plan confirmed by a U.S. Bankruptcy Court judge last month.
Most of the settlements with major creditors, including Detroit's pension funds and bondholders, will be paid with a distribution of about $720 million of bonds. The city will also reissue $287 million of existing bonds and borrow about $275 million from Barclays Capital to finance its exit from bankruptcy.
Along with the debt, the exit plan relies heavily on the "Grand Bargain," where foundations, the state and the Detroit Institute of Art will contribute $816 million over time to ease pension cuts and protect city-owned art work from sale. The plan also aims to provide Detroit with $1.7 billion through June 30, 2023, to improve city services and infrastructure.
Wednesday also marks the end of Kevyn Orr's 21-month term as Detroit's state-appointed emergency manager. He told reporters that the city was wrapping up wire transfers, disbursements and other matters to end the historic bankruptcy.
"There may be some other administrative things the court may have to handle but the city will have emerged from bankruptcy," Orr said. "12:01 a.m. tomorrow morning the city will be out of bankruptcy. I will no longer be the emergency manager. I will be unemployed."
Orr's departure returns complete control of Detroit to Duggan and the nine-member city council. However, the city will have a nine-member, state-created oversight board in place to approve financial matters.
In confirming the bankruptcy plan, Judge Steven Rhodes raised questions about possible conflicts of interest from having Duggan and a city council member sit on the board.
"The city is running the city, with some financial oversight on budgetary matters," said Michigan Governor Rick Snyder about the financial review commission. "My goal is probably to have (the commission) be as least active as possible."
The Republican governor told Reuters in an interview that the commission will help ensure Detroit does not slip back into bankruptcy. He also ruled out direct financial aid to the city in the future.
"We're not really aiming to be there as a backup to the city in terms of financial resources," Snyder said. "We're there to be a supportive partner."
He added that many of the other 16 local governments and school districts under state oversight in Michigan are "transitioning out of their problems" without the aid of bankruptcy.
"People should not be aspiring to go into bankruptcy to solve your problems. It's tough process and it's a last resort."
Orr said court-ordered mediation on fees paid to consultants during the bankruptcy process was continuing on Wednesday. Outside lawyers and consultants charged the city more than $140 million, sparking protests from Duggan. Orr said some of the issues were "resolved last week."
With the exit, "all of the consultants are being phased out pretty quickly," Duggan said. (Writing and additional reporting by Karen Pierog in Chicago and Lisa Lambert in Washington; editing by Matthew Lewis)
Related
Popular in the Community