Claudette Wilson, a worker at a Detroit-area Burger King, feels she needs more than the state's minimum wage of $7.40 an hour to get by. So the 20-year-old woman skipped work Friday to participate in a wildcat strike including local workers from McDonald's and other national fast food chains.
The Metro Detroit actions are part of a national movement of fast food employees that have walked out or skipped work to demand a $15 per hour wage and union representation in an industry where collective bargaining is scarce. Similar actions have taken place in Chicago, New York and St. Louis in recent months. The strikes are notable for the Detroit region's labor movement, considering that Michigan became a right-to-work state last December.
Organizers with the campaign, which is called D15, estimate there are about 53,000 fast food workers in the Detroit Metro area. They say that's more than twice the number employed by the region's auto industry. The Bureau of Labor Statistics put the number of "food prep and serving workers" in 2010 nationally at 2.9 million, and calculated their average wage at $9.18 per hour.
Wilson, the Burger King worker, said her employer's industry brings in billions annually and should compensate employees better, so that they could better provide for their families.
"I work very hard, and I feel that I deserve more than $7.40," she told The Huffington Post at afternoon rally in Detroit's New Center district. "It would break the stress, because I have responsibilities like my car and insurance and school."
Wilson was attending a rally at the headquarters of the Detroit Federation of Teachers union, next door to a McDonald's on West Grand Boulevard, where several employees left their posts to join in the demonstration.
Tequila VanHorn, 21, was one of them. She's two months pregnant and wants better wages so she can provide for her baby. "I have other support, but this is my child," she told The Huffington Post. "This is my support!"
The walkout was just one of many actions that took place across Metro Detroit on Friday, beginning with a 6 a.m. strike at another Detroit McDonald's on Gratiot Avenue. Organizers say that restaurant shut down, along with another McDonald's and a Long John Silver's in Warren, Mich., a Burger King on West 8 Mile Road in Ferndale, Mich., a Popeyes on Grand River in Detroit and a Subway located inside Detroit's downtown Renaissance Center, which never opened.
Mike Telly, who manages the Gratiot McDonald's, told The Detroit Free Press none of his employees walked out, but said activists walked into his store offering employees $50 to leave work that day. Spokespersons for McDonald's and Burger King told Reuters their Detroit-area establishments remained open on Friday, but the news agency said Long John Silver's had to handle operations with a single manager.
The coalition supporting the campaign includes local faith leaders with the Interfaith Coalition of Pastors, United Food and Commercial Workers Local 876, Service Employees International Union Healthcare Michigan, and the group Good Jobs Now.
Pastor W.J. Rideout III of All God's People Church in Detroit, who is also an activist with Good Jobs Now, was one of many community supporters who came out to the rally. He told The Huffington Post fast food workers in Michigan are treated like "they're in a third world country."
"I have people in my congregation who are hurting, who are making minimum wage," he said. "They barely can survive."
The pastor added that, while McDonald's, Burger King and other fast food franchises pay their workers $7.40 an hour, they often only give workers about 15 to 20 hours of work a week. "How can a person survive?" Pastor Rideout asked. "How can a mother with children, a father with his wife and kids, a grandmother survive on that?"
Angela Terrell, a 25-year-old college student, skipped out of her job at a Detroit McDonald's to attend the rally. Terrell wants union support at her workplace and better wages to help pay her college bills, which she calls "impossible" to manage with her current salary.
"A lot of employers were upset today, such as mine, but it's going to be done," she told The Huffington Post. "We'll keep fighting for it until it's given to us, because that's what we deserve."
Related
Before You Go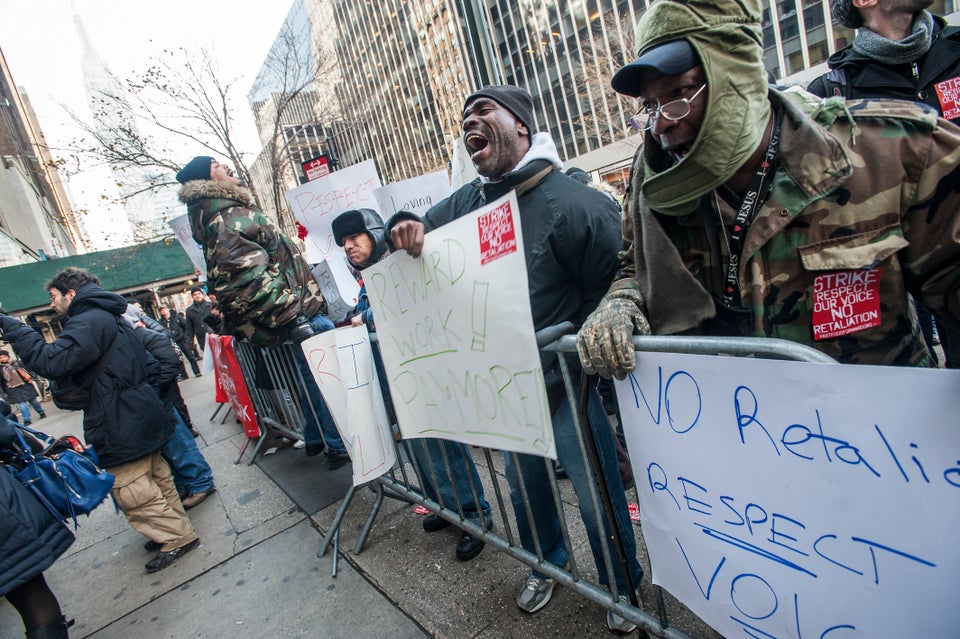 Fast Food Protests In New York City
Popular in the Community