 "I don't want anything taken as a conclusion because there are other options," the governor said during a recent interview with The Huffington Post. "But just going into a bankruptcy, I don't believe that's a good solution."
Under Michigan law, Snyder has several options for dealing with Detroit's financial emergency. The governor could simply choose not to do anything, leaving Detroit bound in an earlier agreement with the state -- an outcome all observers deem unlikely. Snyder also could give Detroit a chance to bargain with its many creditors to reach a compromise on paying back the city's staggering debt. This so-called neutral mediation might prove more popular than the fourth alternative: appointing an emergency manager.
As cities across the state of Michigan found themselves on the brink of fiscal crisis in 2011, Snyder strengthened an existing emergency financial manager law, Public Act 72, to become a more powerful emergency manager law called Public Act 4. Voters repealed PA 4 at the polls last November, but that wasn't the end of emergency managers in Michigan. During a rushed legislative period in which the state's GOP made headlines for passing right-to-work laws limiting unions' powers, Republican lawmakers also passed a new emergency manager law, known as Public Act 436, which goes into effect March 28.
Much like PA 4, the new law vests emergency managers with considerable powers over the municipalities they are appointed to run. "They can unilaterally tear up union contracts, take over pension funds, make and repeal laws, sell public assets, the list goes on," said Tony Paris, an attorney with the Sugar Law Center, in an earlier interview with The Huffington Post.
Since PA 436 hasn't yet taken effect, how it will affect the six Michigan cities and three school districts that currently have emergency managers -- and whether it will survive legal challenges -- remains unclear. (Already, the Detroit City Council, which would lose its power under an emergency manager, has directed the city's Law Department to research the possibility of suing the state of Michigan over the new law.)
Municipalities across Michigan face significant challenges, but the Motor City is in a league all its own. The report prepared by state Treasurer Andy Dillon's review team only underscored the severity of the city's fiscal crisis: Detroit's unfunded pension liabilities and long-term debt total almost $15 billion, and without new budget cuts or an infusion of cash, the city's short-term debt for the fiscal year ending in June will top $100 million. As soon as this summer, Detroit may not be able to pay city workers, staff fire engine rigs or mow the grass at the city's under-maintained parks.
At a media briefing last week, the governor told reporters he has not yet made a decision on how to react to the report. Meanwhile, 14 floors down from Snyder's Detroit offices at Cadillac Place, at least 50 protesters who opposed state intervention in Detroit gathered in the building's lobby holding signs that called the EM law undemocratic. Beneath the soaring marble ceilings, the group of mostly African-American activists joined hands in a prayer for local control.
The state review comes after months of promises from Mayor Dave Bing, who has insisted his administration is capable of solving the city's financial problems without a state takeover.
"My administration has worked diligently to develop and implement a restructuring plan for the City of Detroit," Bing said in a statement sent to The Huffington Post. "Our plan was reviewed and accepted by all stakeholders, including the State and the Financial Advisory Board. We are executing that plan."
But the report from the state financial review team says that no plan put forth so far can deal with the magnitude of Detroit's fiscal crisis. The reviewers highlighted auditing errors, operational dysfunction and systemic challenges that hamper reform. For example, they were unable to find out how many police officers are actually engaged in police work in Detroit, as opposed to administrative jobs -- or even what the department's staffing levels should be.
The option that hasn't been mentioned as often as bankruptcy or emergency management is neutral evaluation, or mediation, which was written into PA 436 as one of the four choices afforded to leaders of Michigan cities that face financial hardship. Michigan lawmakers got the idea from California, where the tactic was used by several communities in crisis, including Stockton (whose officials ultimately filed for Chapter 9 bankruptcy).
Last week, Snyder said that he supported giving parties in Detroit the chance to compromise. "I would describe that as a step that should be taking place regardless of any of the paths. Whether there's no EM, there's an EM, or whatever," he said.
According to the new EM law, local governments and interested parties (like bondholders, unions and pension funds) could undergo alternative dispute resolution for a maximum period of 90 days. Any party seeking money could enter into the financial discussion, moderated by a neutral evaluator chosen by the city's leaders.
Unlike a bankruptcy judge or emergency manager, that neutral facilitator wouldn't be able to force any settlement on participants. He or she would be bound by law to actually be neutral, avoiding even the appearance of a conflict of interest. The text of PA 436 "requires that the neutral evaluator's performance be impartial, objective, independent and free from prejudice."
"Creditors should be called to the table to say, 'Let's start having a rational discussion about this situation,' along with coming up with some shorter-term solutions to provide better service," Snyder said.
Dr. Eric Scorsone is an economist with Michigan State University who contributed some feedback on the new emergency manager law and holds seminars on the legislation. He says mediation is cost-effective, efficient and can be a good tool for cities in trouble -- but most aren't taking this approach with their creditors.
"I think these kinds of conversations need to be held," Scorsone said. "The problem is, there's such a lack of trust that it's really difficult to come to any consensus, because people don't believe the numbers."
If the city was willing to put together a plan for its creditors, requesting neutral evaluation is a possibility, Scorsone said. A trigger written into PA 436 says that if mediation fails after 90 days, the city automatically enters into bankruptcy. That's the kind of leverage that could force both unions and bondholders to the bargaining table.
Even the staunchest opponents of the emergency manager law seem more open to the possibility of mediation. Back in 2011, the Sugar Law Center filed a lawsuit challenging the constitutionality of PA 4, the old emergency manager law. The center also represented referendum supporters in court, helping the measure make its way to the ballot in November.
In a statement emailed to The Huffington Post, John Philo, the center's executive director, said he supported mediation as an option for Detroit. "Mediation can provide an opportunity to bring all stakeholders to the table and obtain lasting solutions to long-term debt issues," he wrote.
Philo, who called the emergency manager law "undemocratic," said that mediation could allow Detroit to negotiate with bondholders and other institutions that are owed money.
"The emergency manager model does not seek buy-in from all stakeholders, but rather seeks to balance finances on the backs of residents and city workers with no comparable sacrifice by bondholders," he wrote. "Any solution, to the city's finances requires shared sacrifice by all, and mediation may provide an opportunity to achieve it."
Scorsone, the MSU economist, believes there's another, more convoluted possibility. If Snyder declared a financial emergency within 30 days of the review team's report, as required by law, but put off his decision on what to do about it until March 28, both the review team's findings and the governor's declaration would be grandfathered in under PA 436.
If that happened, Snyder could present Detroit's leaders with four options, including mediation, that could help the city regain its financial footing once and for all.
"It's very confusing," said Scorsone. "It's really one of the most confusing laws, honestly."
How do Michigan politicians feel about appointing an emergency manager in Detroit? Read their responses.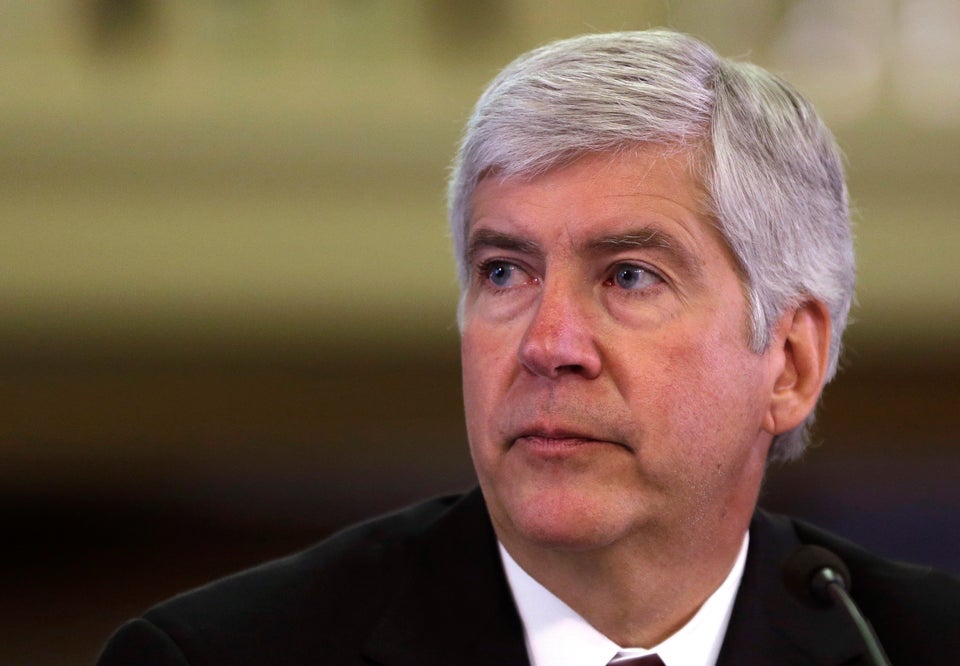 Where Do Michigan Pols Stand On An Emergency Manager for Detroit?