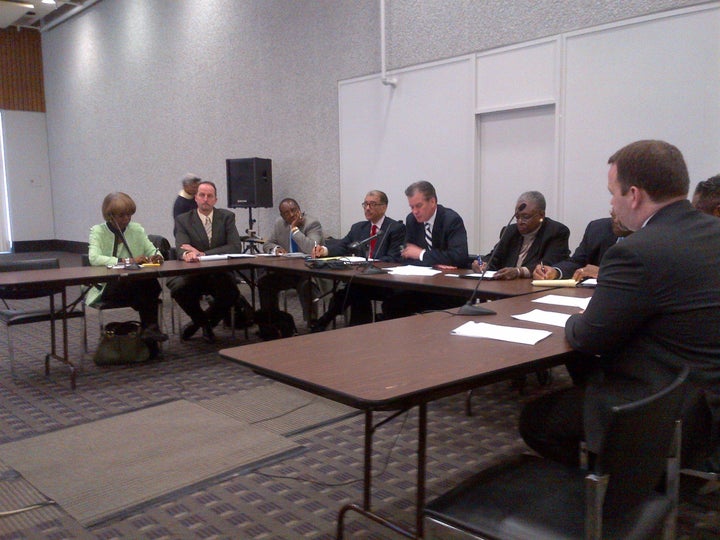 The state-appointed review team charged with examining Detroit's finances seems poised to keep most of its business behind closed doors, despite a recent court ruling that determined the body must meet in public.
The review team met for less than half an hour Tuesday, long enough to take three comments from the public and establish a subcommittee to do most of its important legal work. That subcommittee will continue to meet in private.
Michigan Gov. Rick Snyder named the 10-member board in December, after a preliminary review from the Treasury Department found the City of Detroit will face "probable financial stress." Mayor Dave Bing announced in November that the city will have a substantial deficit and possible cash shortfall of $45 million this fiscal year.
If Detroit cannot get its financial house in order, the city risks a state takeover and the appointment of an emergency manager. An emergency manager could unilaterally break contracts, fire elected officials and sell public assets -- powers that critics say undermine citizen representation and democracy.
The financial review team must determine by March 28 whether to recommend an emergency manager for Detroit or to take some other course of action. Before Tuesday, the board had not met since January, when its meetings were closed to the public.
In an effort to bring more transparency to the emergency manager recommendation process, Robert Davis, an American Federation of State, County and Municipal Employees Council 25 representative, sued the state, claiming a financial review team is a public body and therefore subject to the Open Meetings Act. An Ingaham County Circuit Court Judge agreed with him.
It appeared the state of Michigan would comply with the judge's ruling. But at Tuesday's public meeting, Treasurer Andy Dillon quickly moved the review team to a vote to create a subcommittee that would "discuss statutory options for the financial review team's recommendation to the governor."
Reading from a prepared script, Dillon said the new body would "identify potential risks and benefits in the event of a consent agreement and what key elements and requirements to incorporate into agreement to ensure its effectiveness."
A consent agreement would allow Detroit's mayor more power over the city's purse and more authority to renegotiate contracts with city workers. Snyder has said he would prefer a consent agreement to an emergency manager for Detroit, and Mayor Bing and some members of City Council have also voiced their support for such a measure.
After the full review team adjourned, the subcommittee's members -- Conrad Mallet, Glenda Price, Irv Reid, Brom Stibitz and Dillon -- left to hold their deliberations far from the public eye.
Members of the media and the public who attended the meeting were surprised at the body's maneuver.
Davis, the man who sued to make the review team's meetings public, called the whole process "very comical."
Detroit resident Dennis Sloan, who criticized the emergency manager system during public comment, called the Tuesday meeting a "dog and pony show."
"All the decisions have been made already," he said. "This is just a big smoke screen. Nothing substantive is happening here."
There are no further meetings of the full review team currently scheduled.
Ike McKinnon, a former Detroit Police chief and a member of the full review team but not the subcommittee, seemed reluctant to discuss Tuesday's events, but then said, "There will be much more time and lengthy meetings" as the review team's work progresses.
Davis said he intends to head back to court with a challenge to open the subcommittee's meetings to the public.
Calling all HuffPost superfans!
Sign up for membership to become a founding member and help shape HuffPost's next chapter