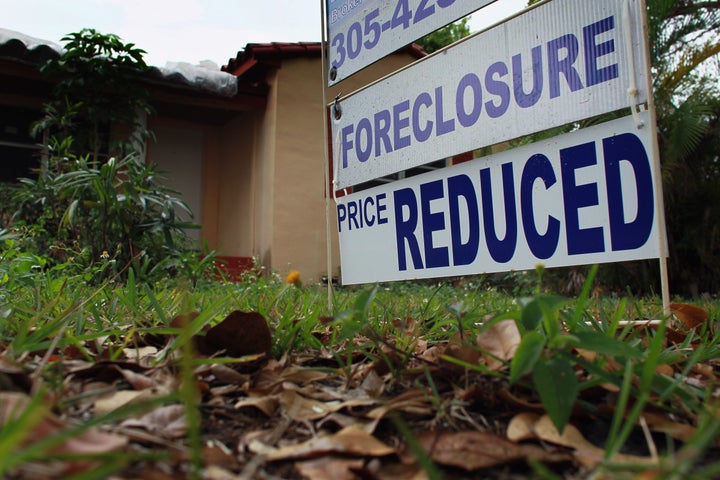 Deal With It, Detroit: Five percent of the city's properties are for sale at $500 auction right now, with 1/2 not expected to sell. So what happens next?
Let's strap on our Detroit x-ray glasses at whydontweownthis.com, look at what's happening with the 20,000 properties at the Wayne County Tax Foreclosure Auction, and get real about improving land use strategies, informing the public, advertising the problems and dealing with all the properties left behind.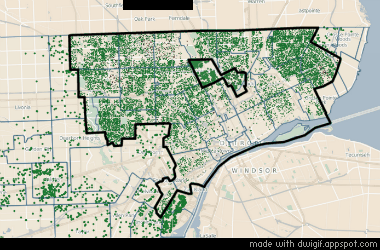 There's something going on in Detroit right now that we should all know about and follow, because it's huge, it's real, it's happening, it touches every neighborhood, it sends waves into the future, and if addressed head-on it could become the gateway to more transparent and inclusive management and problem-solving as relates to the city's physical space.
Today until October 26th, 20,000 Detroit properties are being auctioned online for $500 at the Wayne County Tax Foreclosure Auction.
That's basically five percent of all the 384,861 properties in Detroit, and the world's largest such property auction.
Normally a silent, invisible and anonymous event, it's now clearly mapped out for you with discussion channels and live bid and winner tracking at whydontweownthis.com. If you live in Detroit, you can just type in your address to see what's around you. How to share public information with the public 101.
Some zip codes like 48205 in north east Detroit basically have 10 percent of their properties for sale at the auction (2,224 out of 22,889 properties, with as many again owned by a disparate mix of the City, HUD, the state land bank, and bank banks): http://whydontweownthis.com/us/48205.
If the auction is anything like previous years, we expect roughly half of the properties to not sell. If 10,000 receive no bid, that means $5,000,000 could purchase 2.5 percent of all Detroit's properties.
Will someone do that? It's certainly interesting to consider, especially in a frozen system that needs to be thawed before it can be remolded.
This summer I wrote about an idea called "No Property Left Behind", suggesting that every property without a bid could be crowdfunded and informally landbanked using more open methods for finding new ways to put the land back to use. I spent a lot of time talking to block clubs and neighborhood groups, seeing who might like to function as local administrators, but unfortunately everyone seems afraid to take these properties on because the system is such a mess.
A lot of these properties just need to be dealt with, which is why they're being left behind again and again. So, you know, when do we actually deal with them? Maybe the problem of this auction presents an opportunity.
If there are indeed 10,000 or however many properties left behind after the auction, it looks like the county and city do attempt an effort to put un-purchased auction properties back to good local use, but that the current strategies are un-transparent and unmanageable. In an evolution of No Property Left Behind thinking, what if rather than trying to buy the properties we used WDWOT to clearly show people exactly which properties are left behind after the auction. If we can marry that information with an open application process that includes neighbors requesting things and advertising problems that need to be dealt with, amazing things can happen.
With new web-based tools for managing the process alongside hardworking organizations who've been doing work like this for a long time, we can now efficiently match the people with resources with the people in the neighborhood who have the local knowledge of the big, hard problems that need solving.
I know there are people out there in the world who will help pay for and perform deconstruction on structures that are too far gone, while helping secure genuine neighborhood assets. There are people who will do environmental cleanup, who will help create parks in new open spaces, and who will help solve other problems if Detroit actually advertises them clearly and invites crowdsourced solutions.
With properties freshly left-over from the auction, there's a total logic for why they should be tracked and managed this way, serving as a sort of virtual land bank. Successes from the approach can then be applied to the tens and tens of thousands of other empty buildings and vacant lots not at this auction.
We'll see how it evolves and if people care as we attempt to clearly show what's happening at and what's left behind after the auction on whydontweownthis.com. I hope you'll follow along, contribute your insights, spread word to your friends, family, neighbors and networks, and if you see something on the site, say something, please.
Related
Popular in the Community