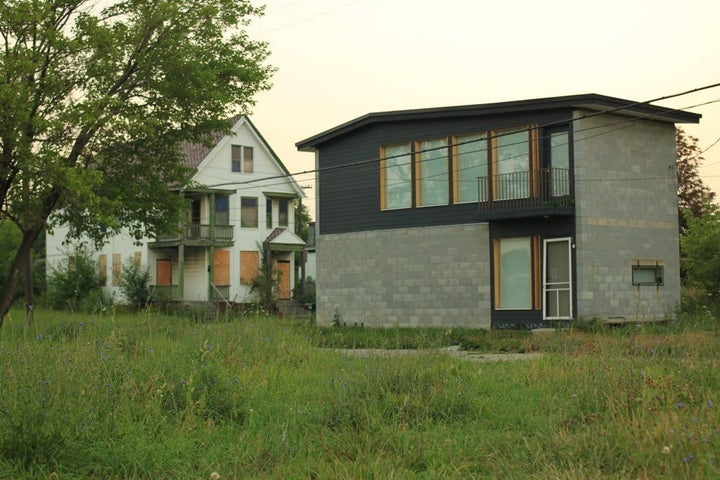 Almost a month has passed since Model D hosted a panel discussion on gentrification. As a speaker that night and someone involved in planning for the event, I have been spending a lot of time thinking about the ways how the discussion unfolded and other forums to keep it going in the future.
One of the things I tried to pinpoint in my opening discussion was the difference between physical and cultural displacement. When we talk about gentrification in Detroit, people often like to look at the macro-level data on people moving into the city, data that don't tell us much other than... there are not a lot of people moving into the city. In this sense, and at this point in time, the physical displacement of individuals and families from their homes in neighborhoods with rising rents is not a major concern. However, this seemed to be a revolving focus for the evening.
There are two problems with stopping the conversation there. By saying that gentrification (physical displacement) isn't happening now, we cut short a sincere discussion of forward-looking affordable housing policy. We don't need to wait for physical displacement to happen before we begin to address ways to make sure it doesn't. The Woodward Corridor Initiative, brought up by Kurt Metzger in his speech, is an excellent example of how to think responsibly about our collective future. Perhaps one of the reasons this didn't come through in conversation was because of the need for panelists to speak on behalf of their organizations, something that can be difficult to do, especially when it comes to a conversation about future plans.
But a second way this conversation was cut short, and perhaps one that is more immediately important, has to do with cultural displacement. By cultural displacement, I mean a sense of place and community and feeling like you have the right to creating the vision for that community's future. Even if people are not forced from their homes due to rising rents, they may feel like their community is less their own than it used to be. There was a palpable undercurrent in the room that Wednesday that had to do with this second idea. And it did erupt occasionally, springing out of themes closely related to gentrification.
One of these was the media in Detroit, including Model D and WDET who sponsored the event. An audience member called for a conscientious assessment of the ways Detroit is covered in the media and whether or not they attempt to "encourage gentrification." If the coverage about the changes happening in Detroit are focused on a small geographic area and with mostly White faces in a mostly Black city, this has the possibility of sending the wrong message: one that emphasizes new faces moving into Detroit instead of focusing on the population that does live here and additionally encouraging movement back to the city.
At one point, moderator Jeff Watrick asked the question of whether gentrification is part of potential ways to address racial segregation in Detroit. And again, this always depends on what one means when they use the term gentrification. But as Kurt Metzger pointed out, the majority of new people moving into Detroit are Latino. When certain types of people become more visible than others through our main media outlets, this strikes an imbalance that hits at the nerve of people's sense of place, their attachment to their communities, and their desire to keep Detroit as their home.
This is at the core of a sense of cultural displacement. Media in Detroit has the opportunity to seize on changes happening across the city in order to emphasize racial and class-based diversity. In this fashion, we can avoid many of the pitfalls of static "Black city/ White suburbs" conversations and suggest instead that Detroit is starting to defy its own stereotypes.

Calling all HuffPost superfans!
Sign up for membership to become a founding member and help shape HuffPost's next chapter