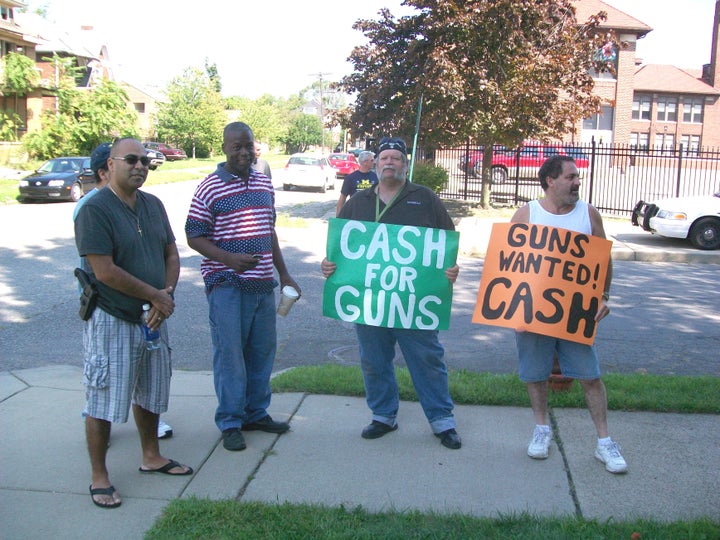 "Save the Guns" might sound like a catchy bumper sticker, but it's also the sentiment that led a group of gun enthusiasts to turn up at a Detroit gun buyback event hoping to prevent firearms from being melted down by police.
The buyback, which took place Thursday at St. Cecilia's church on the city's west side, was organized by the Detroit Police Department in cooperation with the Archdiocese of Detroit and the nonprofit group Crime Stoppers. Those who brought in guns could receive cash in exchange, no questions asked. Payments depended on the type and condition of the weapon. An assault weapon, for example, could have brought a seller up to $100.
Rick Ector is a 44-year-old gun rights activist who lives in Detroit and runs a firearm safety training service. When he got wind of the buyback, he put a call out to fellow gun lovers interested in buying firearms and asked them to show up at the event with cash, proper forms, and a large sign advertising their intentions to individuals intending to turn their guns in to police.
"Selling it at a gun buyback isn't really in your best interest," he said, "because you can sell it on the secondary market or take it to a gun shop and get at least two or three times more than what the police department is offering."
Ector told The Huffington Post his purpose for coming out wasn't to purchase a weapon, but to show his opposition to gun buyback programs.
"Gun buybacks are evil and there are a lot of interested citizens out here that believe that gun buybacks are a waste of time -- they're a waste of public resources," he said.
He claims the programs don't reduce crime and said destroying guns deprive citizens of an important means of protecting themselves. Several studies, including a 1994 analysis of a Seattle effort, have failed to find significant links between buybacks and reductions in crime.
The gun rights activist also expressed concern that police were disposing of evidence. DPD officer Michael Martin, however, assured The Huffington Post that police were doing evidence checks to see if any of the weapons had ever been involved in any illegal activities.
By noon police had rounded up about 100 firearms, including 60 handguns and a couple of assault rifles. Several guns were also purchased by the gun enthusiasts.
Alexander Thompson, 22, was working with the church to get guns off the streets. He expressed annoyance at the presence of the activists and collectors.
"They're undermining the thing were trying to do here, the positive thing," he said.
36-year-old Joseph Branch of Madison Heights was glad to have the opportunity to sell a weapon, a pellet gun his son got from a friend. He thought the program was a good way to rid Detroit of guns -- and keep them out of his son's hands too.
"If I don't have one, he not going to have one," he said. "If he does, he's going to be 18 and get one on his own."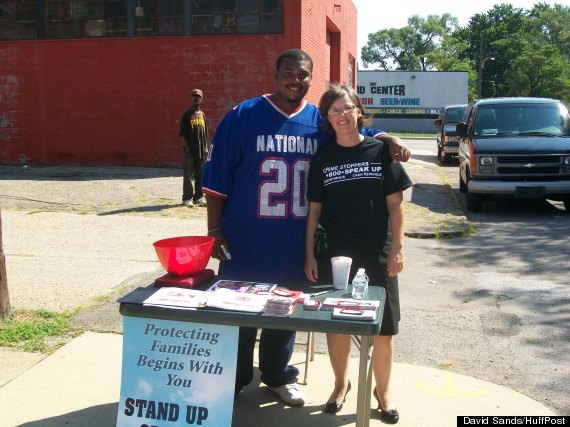 Alexander Thompson of St. Cecilia's Church and Kelly Reay-Harris of Crime Stoppers helped out at the Thursday's gun buyback in Detroit.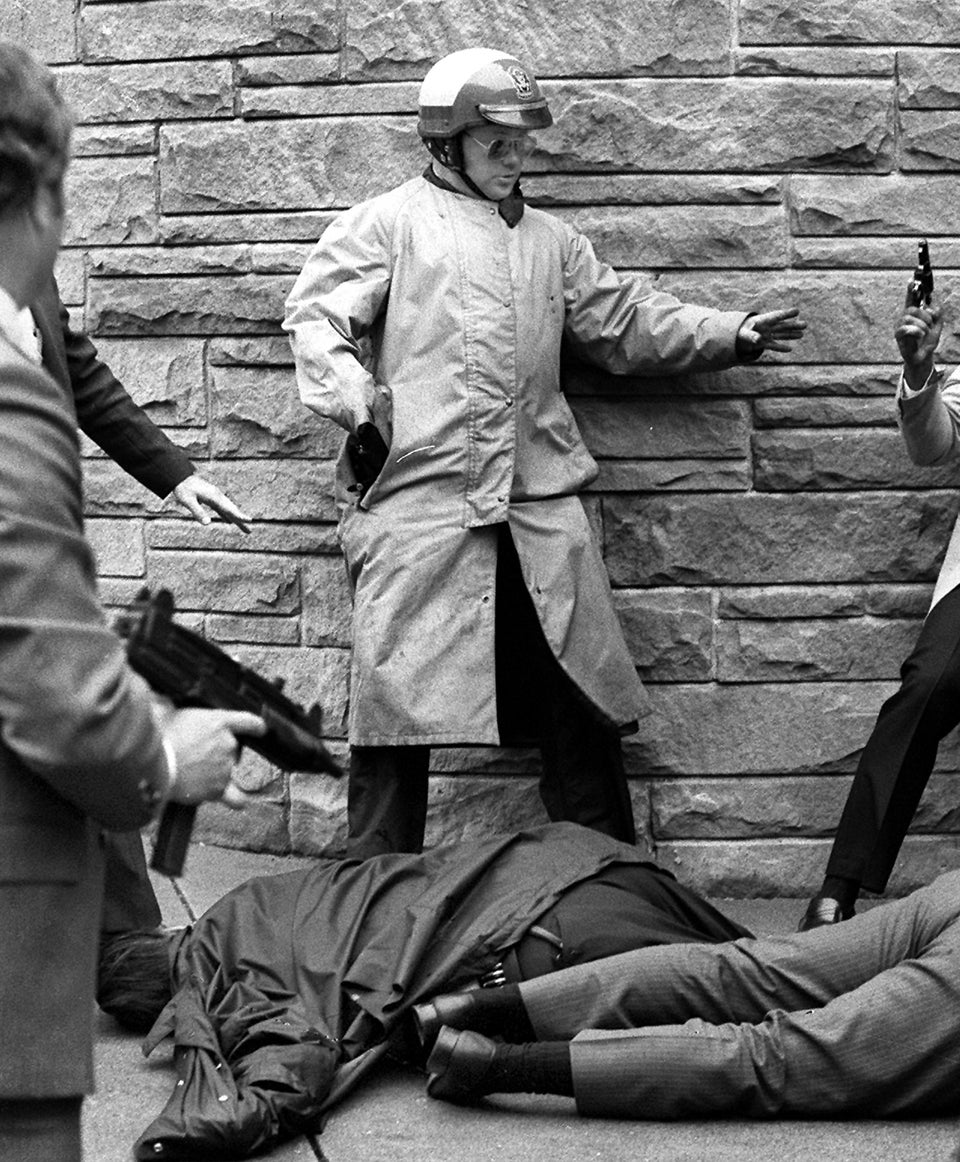 Pivotal Moments In The Federal Gun Control Debate
Popular in the Community